National Hot Chocolate Day Deals 2020: Dylan's Candy Bar, Godiva, Wendy's
National Hot Chocolate Day is today, January 31, and what better way to celebrate than with a hot cup of cocoa? Restaurants, cafes, bars, and stores across the U.S. are celebrating National Hot Chocolate Day today with deals on hot cocoa. Plus, some places are offering hot chocolate with a twist, such as iced, frosted, and alcoholic drinks.
National Hot Chocolate Day 2020
Dylan's Candy Bar
Wendy's
Godiva
Biggby Coffee
Mrs. Fields
Dylan's Candy Bar
Dylan's Candy Bar is offering a buy one get one free deal on all hot chocolate, all day on Friday at the following locations:
New York: New York Flagship, Union Square, NYC Turnstyle At Columbus Circle, The Shops at Hudson Yards
Chicago: 663 N. Michigan Avenue, Chicago, Illinois 60611
Miami: 801 Lincoln Rd, Miami Beach, FL 33139
Los Angeles: 6333 West Third Street, Los Angeles, CA 90036
Wendy's
If you prefer your chocolate iced, head to Wendy's. Today is your last chance to buy Wendy's Frosty Key Tag for $2, which will get you a free junior Frosty at Wendy's with any purchase, every day throughout 2020.
Godiva
Godiva has a sale on its hot chocolate today, including this set of three canisters of cocoa for $39.90, or this hot cocoa mug gift set for $17.47.
Biggby Coffee
Biggby Coffee is celebrating National Hot Chocolate Day by inviting you to try its various hot chocolate flavors, including Cocoa caramella, dark hot chocolate, mellow hot chocolate, and mint hot chocolate, that can be served hot, iced, or frozen.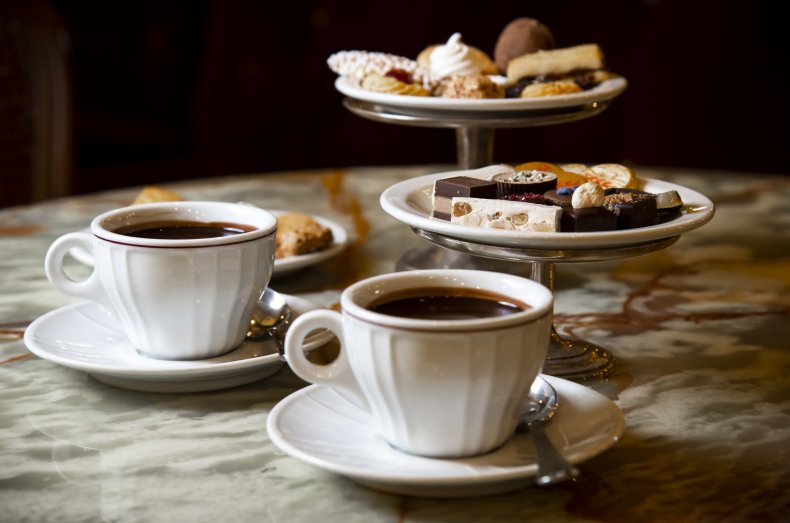 Baskin-Robbins
If it's too hot where you live to enjoy a hot drink but you don't want to miss out on chocolate, Baskin-Robbins has its 31 flavors day today, which gets you a scoop for $1.70 or two quarts of ice cream for $7.99. Flavors include chocolate and Baskin-Robbins has dairy-free options.
Mrs. Fields
If you need a snack to go with your hot chocolate, you can get discounted cookies from Mrs. Fields through February 2 with the code CUPID which will get you 20 percent off.
Local Hot Chocolate Day Deals
Harpoon Brewery
El Dorado Cantina
Godiva at Willowbrook Mall
Harpoon Brewery
For a grown-up twist on hot chocolate, Harpoon Brewery in Boston is serving hot chocolate made with Dunkin' Coffee Porter, which will be available to purchase from 11 a.m. until 5 p.m.
El Dorado Cantina
El Dorado Cantina in Las Vegas is celebrating National Hot Chocolate Day with a Xocolatl Cocktail made with Mexican chocolate, Licor 43, vodka, and an agave chocolate rim, which sells for $12.
Godiva at Willowbrook Mall
Godiva at Willowbrook Mall in Houston, Texas, is offering customers 50 percent of a hot chocolate when you buy one full price.