National IPA Day: 10 Deals to Help Get Your Beer Fix
Americans nationwide will raise their glasses on Thursday and make a celebratory toast for National Indian Pale Ale (IPA) Day. While any beer shared among friends is a good beer, the best kind of beer is the one that you pay less money to drink—and multiple places are giving out deals to mark the occasion.
Drizly, an alcohol delivery service, is giving all new customers in California, Kentucky, Tennessee, Arizona, Colorado, Washington, D.C., Florida, Illinois, Louisiana, Maryland, New York and Rhode Island a $10 discount on orders of $25 or more that are placed on Thursday. All users have to do is use the code "IPA10."
New users can also receive $5 off or free delivery on orders over $20 with the code "IPA5" if they live in certain states, including:
Indiana
Maine
Massachusetts
Minnesota
North Carolina
New Jersey
Texas
Washington
California
Kentucky
Tennessee
Arizona
Colorado
Washington, D.C.
Florida
Illinois
Louisiana
Maryland
New York
Rhode Island
Newsweek subscription offers >
The Wandering Tortoise, a beer shop and tap room in Phoenix, is celebrating all day with $5 pints. On National IPA Day Eve, the establishment posted the "lineup" on Facebook, which included 16 different options to choose from.
Florida residents can enjoy a flight of four IPAs in the LauderAle taproom in Fort Lauderdale, Florida, for only $11. Included in the flight is a milkshake IPA, which owner Kyle Jones told SouthFlorida.com is a style that's more in line with what his customers crave.
"People don't like the super-bitter, piney, over-hopped IPAs as much anymore," he explained. "Milkshake IPAs and hazy IPAs are creamier, crisper and lower in bitterness while still smelling pretty dank."
HopCat, a restaurant and craft beer bar, is giving its Chicago patrons $2 off the IPA of their choice all day long. Sycamore Brewing in Charlotte, North Carolina, is also participating in the holiday and offering IPA pours for $3 in a take-home glass. They're also releasing their DIPA Milkshake IPA Can on Thursday. Zipline Brewing, which has locations in Omaha, Nebraska, and Lincoln, Nebraska, is marking the day with half off its year-round IPA pints and fills at both locations.
Newsweek subscription offers >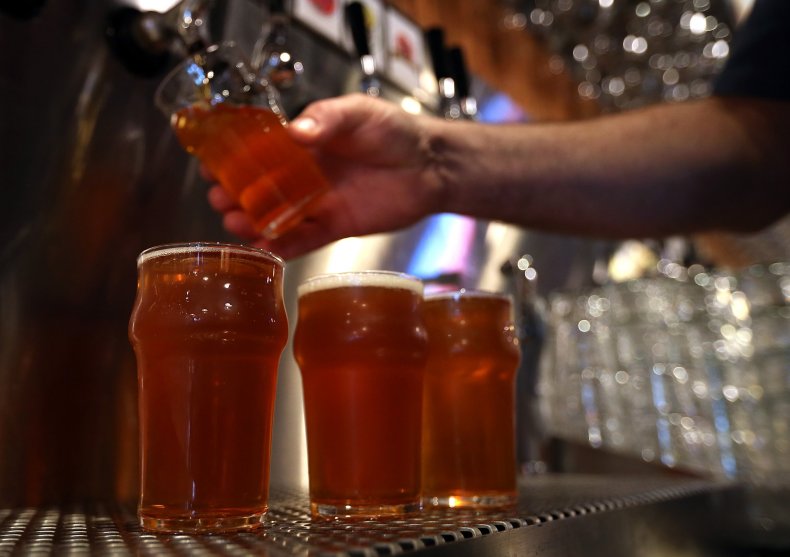 Sweetwater Brewery in Atlanta is hosting a celebration complete with live music, a food truck, 15 percent of IPA related merchandise with the code "IPADAY2018" and a package deal for the festivities. For $25, attendees can tour the brewery, receive two pints, an IPA Day pint glass, and a 16 oz IPA 4-pack to go, according to the Facebook event.
Upslope Brewing Company is giving out complimentary 150 Upslope National IPA Day pint glasses with the purchase of a beer at both its Boulder, Colorado, tap room locations starting at 4:00 p.m. MDT.
Two Roads Brewing Co. in Stratford, Connecticut, is commemorating the occasion with a few deals for patrons. Anyone who comes in wearing a Two Roads IPA t-shirt receives a dollar off their first pint. All IPA-related merchandise will be 15 percent off, and IPA flights will be $10.
In a statement to Newsweek, Two Roads Brewing Co. Master Brewer Phil Markowski explained that IPAs were created out of necessity to supply British troops in India with ales. After shipments spoiled on the voyage, brewers created an ale with a higher hop content to withstand the long journey. Since, then, it's evolved and gained global popularity. Markowski said that IPAs are the most "redefined," "argued over," and "reinvented" beer style in the modern era.
National IPA Day: 10 Deals to Help Get Your Beer Fix | U.S.