Will Democrats Flip the House? Primaries in Pennsylvania Could Foretell Party's Chances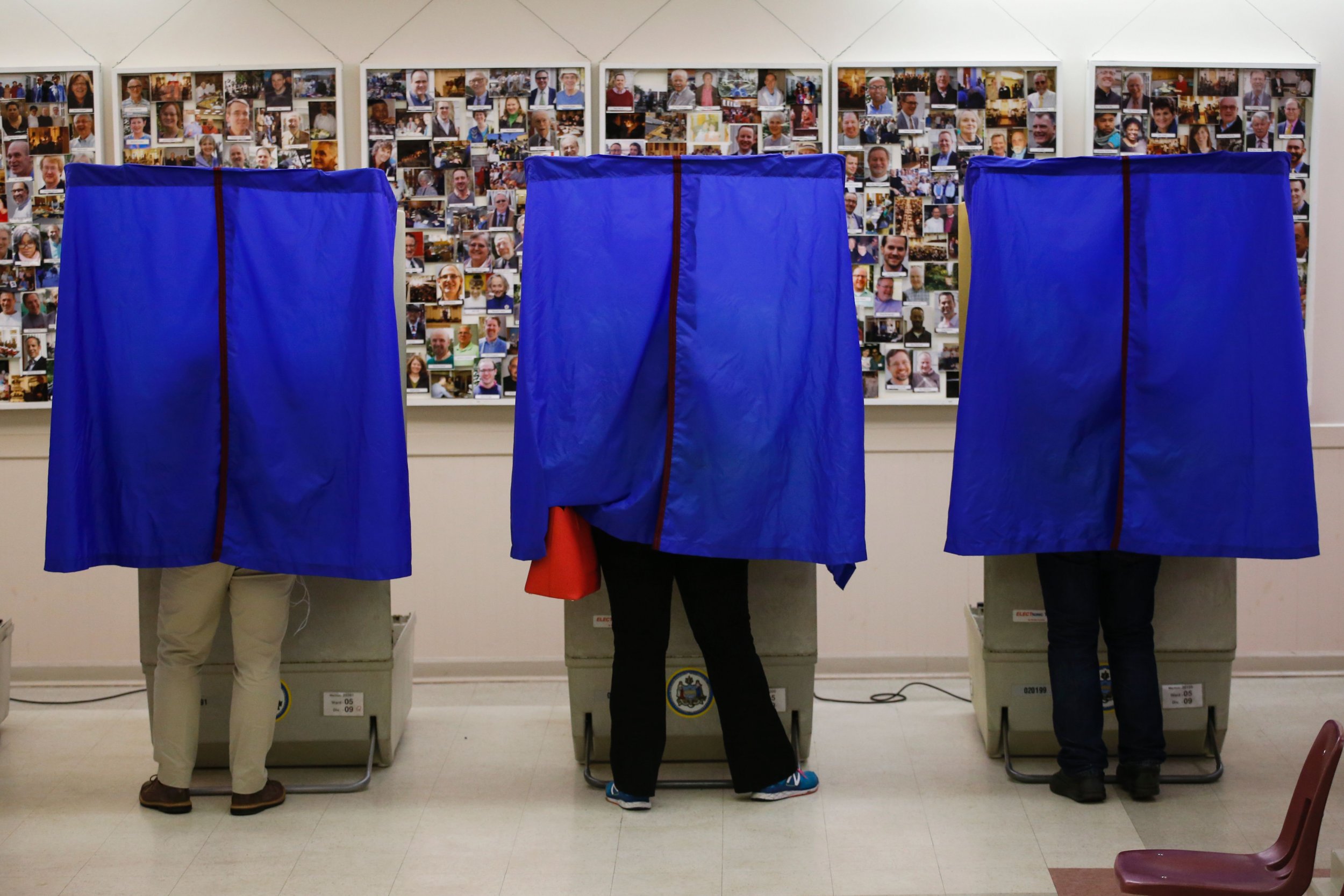 Tuesday night's primary election results may hold the key to whether Democrats will have any shot of retaking the House in November.
Primary elections in Nebraska, Oregon, Idaho and Pennsylvania on Tuesday will all provide helpful data points as Democrats plot to retake at least one chamber of Congress. But it's the the latter—a swing state that went to its first Republican president in almost three decades in 2016—that will give Democrats the clearest idea of just how feasible that is. Democrats' new advantage in Pennsylvania is mostly due to a state supreme court decision which struck down Republicans' proposed gerrymandered district map. The new map formed two new districts where Democrats have an edge they didn't have before, and knocked one safe red district off the map. Democrats have a solid chance of capturing as many as five congressional district seats in Pennsylvania, according to Politico, roughly a quarter of the 23 seats the party needs to win the House.
The candidates who go on to win the party's nomination in those districts have to be the party's best and brightest. If Democrats can't win the Pennsylvania House seats, they could struggle to make up for it in other swing states.
Meaningful dynamics will play out in these races and others. There's a Senate primary where President Donald Trump's influence could help or hurt, an intraparty battle between the Democratic establishment and leftist progressives and multiple districts where the Democratic Congressional Campaign Committee's (DCCC) intervention could thwart Democratic voter enthusiasm altogether and stymie the party's promised blue wave.
Here are just a few races to watch:
Pennsylvania Senate race
Trump is trying to leverage his influence in Pennsylvania's Senate race, where one of his allies, Lou Barletta, is competing for a chance at toppling longtime Democratic incumbent Bob Casey, one of the Senate's most vulnerable Democrats. Casey is running unopposed.
The president featured in Barletta's latest campaign robocall this week, in order to give the four-term House representative a final boost over primary opponent Jim Christiana, a state representative who's positioning himself as an outsider representing those dissatisfied with Trump's failed attempts to disrupt D.C. politics. Barletta is strongly aligned with the president, especially regarding his platforms on border security, immigration and the Republican tax plan, one of the party's only notable legislative victories going into midterms.
"Like me, Lou Barletta is strong on the wall, tough on immigration, and has already cut your taxes," Trump said of Barletta on Monday's robocall. "He was with us all the way. If you, like all the others, want to keep it going this way, go out and vote for Lou. He's helped me all the way down the line."
Cozying up with the president has put Barletta miles ahead of his opponent in terms of fundraising: Barletta has raised $3 million to Christiana's roughly $275,000. But only time will tell if the president's words of support will help or hurt Barletta in November's general election.
Pennsylvania's 1st congressional district
Three Democrats are vying for a chance to unseat Republican incumbent Brian Fitzpatrick in a Republican toss-up district which, under newly drawn district lines, went blue by two points in 2016.
Rachel Reddick, a 33-year-old Navy veteran, is the only woman running for the seat and is trying to deliver on the Democrats' anticipated "pink wave" by nailing the party-backed candidate, Scott Wallace, a wealthy philanthropist and attorney with a political family legacy. In Reddick's words, he's the "Mansplaining Multimillionaire from Maryland."
Wallace has raised over $1.8 million, putting him ahead of both Reddick, who's raised just over $360,000, and Steve Bacher, an environmentalist who has pulled in roughly $47,000. Tuesday's competition is really about Wallace vs. Reddick and who will compete for the heart of the party in a district that has become easily winnable for Democrats.
Pennsylvania's 5th congressional district
A crowded field of Democrats are clamoring for a House seat in the state's 5th congressional district, where a would-be incumbent left office for sexual misconduct allegations and new district lines turned a purple district into a solidly blue one.
Ten Democrats will be on Tuesday's ballot, with no clear front-runner in sight. Margo Davidson and Greg Vitali, both state representatives, should theoretically have more name recognition and institutional support than their other competitors, but neither is close to leading in fundraising, as of April's numbers. Richard Lazer, the former Philadelphia deputy mayor for labor, has earned national attention from Vermont Senator Bernie Sanders—perhaps for his platforms like Medicare for all, a $15 minimum wage and tuition-free college—as well as a progressive PAC that began airing in television spots last month.
But another contender, attorney Mary Gay Scanlon, currently leads in polling.
It's still anyone's game on the Democratic side, and whoever wins will likely have a rather clear path to victory over the presumptive Republican nominee, Pearl Kim, who's running unopposed.
Pennsylvania 7th congressional district
Democratic support in Pennsylvania's 7th is divided among three candidates leading a pack of six in a crowded primary to claim a vacant seat that's leaning Democrat.
Pastor and first-time candidate Greg Edwards has outraised his primary opponents, despite a messy battle with the DCCC, which he said tried to dissuade him from running for the congressional seat. Edwards, a black man backed by the Sanders-inspired group Our Revolution, said the committee suggested he try for a seat lower down the ballot instead, given the opportunity handed to Democrats by the newly redrawn district lines.
"As far as I know, they only targeted one candidate to leave this race—the most progressive candidate, the only candidate of color," Edwards told The Washington Post in March. "Their inability to understand why that's fundamentally wrong says everything." (A DCCC spokesperson told the Post it wasn't unusual for the committee to ask this of a candidate, should a district map be redrawn.)
Trailing Edwards—and not by much—is Susan Wild, Allentown, Pennsylvania's first female solicitor. She's received the backing of women's groups like NARAL and EMILY's List, both of which put significant funding into the 7th-district race.
As compared to Edwards and Wild, progressive Democrats are more wary of primary competitor John Morganelli, a centrist Democrat who's drawn ire from leftists for his stances on immigration (hard-line), abortion (anti) and liberalism in general (sometimes "misguided"). In 2016, Morganelli even suggested he was seeking a position in the Trump administration and praised the president in tweets he has since deleted.
If Morganelli wins, Democrats fear it could lose the party one of its easy pick-up House seats in a district that, thanks to redrawn district lines, went from being one Trump won by double digits to one Hillary Clinton won by just one point in 2016.
Pennsylvania's 14th congressional district
The race for Pennsylvania's 14th may prompt feelings of déjà-vu, but a new district map means a new opportunity for Rick Saccone, who is running in the same district he previously lost to Representative Conor Lamb.
Immediately after his election, Lamb's district was split between the 14th and the 17th, where he's now running, leaving this one to Saccone and his primary competitor, state Senator Guy Reschenthaler, to fight over. Democrats could easily lose the seat no matter who becomes the Republican nominee, given that the new district lines have given the GOP a much larger advantage. Cook Political Report has pegged it a likely Republican district.
Nonetheless, four Democrats will compete against one another on Tuesday in hopes of keeping the seat out of Republican hands, with Robert Solomon, a largely self-funded emergency physician campaigning on health care, leading the pack.