National Latino, Immigration Groups Say Trump Left Latinos Out of Coronavirus Aid, Ask Congress For More Help
National Latino and immigration groups released a letter Monday that criticized President Donald Trump for his coronavirus response that they say disproportionately affects communities of color and immigrants, and urged Congress to pass the latest House relief package, CARES Act 2.
Writing that Trump is "failing Latinos," and citing recent polling data that more than two-thirds of Hispanics either lost their jobs or are facing economic hardship due to the outbreak, the group said the president has instead tried to distract from these facts by announcing a blanket immigration ban.
The letter, put together by Sergio Gonzales of the Immigration Hub, which was created by Laurene Powell Jobs' Emerson Collective, also includes leaders from groups such as FWD.us—founded by Facebook's Mark Zuckerberg—as well as the heads of national Latino groups such as Voto Latino, UnidosUS, LULAC, and Arturo Rodriguez, who led the United Farm Workers for a quarter of a century.
Former presidential candidate Julian Castro, who signed onto the letter, told Newsweek that now more than ever, these communities need support to ensure "systemic gaps in opportunity and achievement aren't made worse.‬"
"We are calling on Congress to immediately pass legislation to protect immigrants and frontline workers, collect important racial and ethnic data on the virus, and invest in communities of color and minority-owned businesses that need our support more than ever," he said.
The legislation the group is pushing is the House-led CARE Act 2, which Speaker Nancy Pelosi said Tuesday Democrats are working on, with Senate Minority Leader Chuck Schumer saying he was interested in hazard pay for essential workers and government assistance for people struggling to pay rent. The signers of the letter said this additional relief is critical, citing a study from left-leaning think tank New America, which said people of color and working-class families are struggling to access the funds made available by relief packages.
"For us it's not just disappointing but outrageous that we have yet to see a stimulus bill passed with meaningful relief for those who have been left out of previous packages, but have been on the frontlines contributing in an essential way to combatting this pandemic and keeping America going," said Janet Murguia, the president of UnidosUS, one of the longest-running Latino organizations in the nation.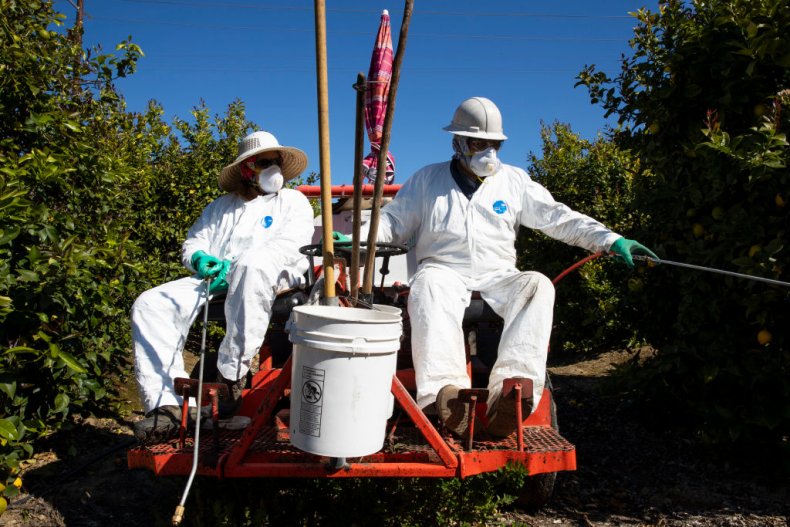 At issue for those who signed the letter are groups who have been cut out or excluded from receiving aid in earlier packages, such as mixed-status families—which means some in the family are U.S. citizens while others are undocumented— as well as farmworkers, 70 percent of whom are immigrants, Cecilia Muñoz, former director of domestic policy under Obama, said.
"It should be clear that our ability to stay healthy relies on their ability to stay healthy," she told Newsweek. "Congress has the ability to combat both the virus and the economic downtown. When we leave people out, we increase the danger to all of us."
"Congress needs to ensure that all families and individuals, regardless of immigration status, have access to testing and treatment, including access to care via Medicaid and financial support," the letter said. "We cannot just reap the benefits of immigrant labor and refuse to shield and defend immigrants against the very same monster they are fighting at the frontlines."
But in a Thursday conference call, Republicans indicated their interest is slowing down new spending until May 4 when lawmakers return to Washington and focusing on making sure the already approved spending is allocated correctly, The Washington Post reported.
The letter also said the Trump administration should extend work authorizations to immigrant workers, including Dreamers and people who have temporary protected status, and that ICE should suspend enforcement activities and release vulnerable detainees in immigrant detention centers where the coronavirus is spreading.
Daniel Garza, president of the LIBRE Initiative, which is part of the conservative Charles Koch network, said farmworkers are especially vulnerable and do deserve some assistance, but the relief packages shouldn't be exploited by political battles that pre-date the crisis.
"Putting food on the table is essential, man," he said of farmworkers. "But we've always said since day one that the situation shouldn't be exploited by members of Congress for old agendas or new government action that is permanent. It has to be targeted to those that have been impacted by the crisis."
Those who signed on said Americans need to understand their reality may be far from the one essential workers are living.
"There is no social distancing in a field, there is no Zoom or work from home for our migrant farmworkers," said Mi Familia Vota executive director Hector Sanchez, whose group works on the ground in Latino communities. "Every day that passes without universal and adequate access to testing and care comes at the preventable cost of human lives."