Police in Washington D.C. Arrest Black Teens For Selling Water Bottles, Because 'Safety'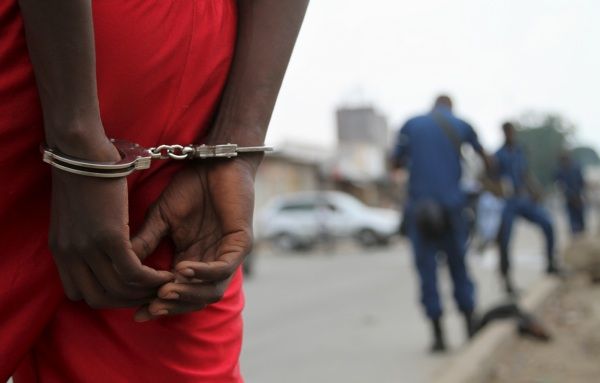 Three African-American teens found themselves in handcuffs on Thursday after they were caught selling water bottles at Washington D.C.'s National Mall without a permit. In a statement, Sgt. Anna Rose of the U.S. Park Police said that the teens—two 17 year olds and a 16-year-old—were placed in handcuffs and detained for the "safety of the officers and of the individuals."
A photo snapped of three plainclothes officers detaining the teenagers near the Mall's Smithsonian Castle went viral Friday after passerby Tim Krepp, a tour guide, tweeted the image of the boys in handcuffs sitting next to a bin of plastic water bottles.
"My kids sell water and everyone smiles at them. These kids do it and get arrested. It IS racist," Krepp wrote, later adding, "God forbid the actual free market be allowed on our National Mall."
The photo sparked public outrage over the authorities aggressive handling of the boys, with several commenters, including Krepp, calling the officers' decision to handcuff and detain the teens a racial injustice.
"There's obviously a racial disparity in how they are treating these young men and other vendors that we see on the mall," Krepp wrote.
However, Rose said that the incident was "blown out of proportion"
"Vending on the National Mall is illegal without a permit," Rose said, adding that the teens were released without charges after their parents arrived to the park's police station.
The park's police are still being requested to explain why the officers decided to handle the situation with such severity. In a letter to park Police Chief Robert MacLean on Friday, Democratic D.C. Council member Charles Allen asked why the agency thought it was appropriate to arrest the teens for something as menial as selling water bottles, NBC Washington reported.
Although Allen admitted that the teens were in violation of the park's vending laws, he noted that the officers would have most likely taken a softer approach if it had been small children running a lemonade stand at the same location.
"While I understand the need to maintain consistency in permitted actions, I do not understand why the enforcement cannot take place with uniformed personnel and actions less severe than handcuffing individuals suspected of the sales. I can't help but think how the reaction by these same officers might have varied if different children had set up a quaint hand-painted lemonade stand on the same spot," Allen wrote. "While still the same violation of selling a beverage without proper permits and licenses," Allen wrote. "I doubt we would have seen little girls in pigtails handcuffed on the ground."
Similarly in Missouri, radical police responses towards African Americans are currently being called into question after a white officer mistakenly shot a black off-duty cop who was aiding fellow officers during a police chase. The off-duty officer's lawyer suggested that the police's "perception" to "automatically fear" a black man may have been why the white cop was so quick to draw his gun on the officer when he did not immediately recognize him.