National Maple Syrup Day: Recipes, How to Make Vegan Maple Syrup, Is Maple Syrup Good for You?
National Maple Syrup Day 2019 is today, December 17, and here is everything you need to know to celebrate the holiday, including recipes that use maple syrup and how to make vegan maple syrup.
How to make vegan maple syrup
You may assume that maple syrup is inherently vegan, but this may not always be the case. The Cedarvale Maple Syrup company says on its website that sometimes butter is used in the filtering process to reduce foaming and make the cooking more even. While Cedarvale says it completely filters out the fat, some vegans don't eat any foods that have been processed using animal products.
However, PETA recommends using maple syrup as a vegan alternative to honey. If in doubt, contact the maple syrup brand you are considering purchasing to find out more about their ingredients and manufacturing process.
Alternatively, to make your own homemade vegan version of maple syrup, combine one cup of white sugar, one cup of brown sugar, one cup of water, and one tablespoon of maple extract. Bring the water and sugar to a boil before reducing to medium heat and adding the maple extract, and simmer for three minutes.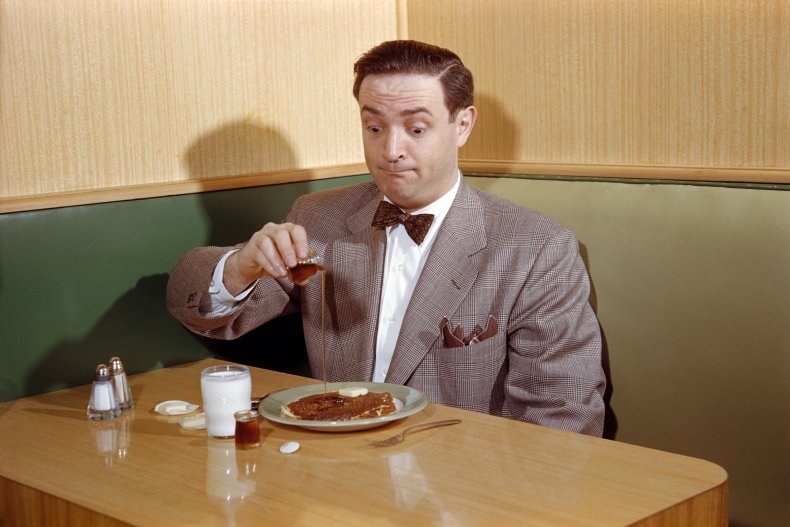 Is maple syrup healthier than sugar? Is maple syrup good for you?
Many people consider maple syrup a healthier alternative to refined sugar. But just how healthy is maple syrup?
Kris Gunnars, a nutrition researcher and founder of Authority Nutrition, wrote in Healthline: "Even though maple syrup does contain some nutrients and antioxidants, it is also very high in sugar. Replacing refined sugar with pure, quality maple syrup is likely to yield a net health benefit, but adding it to your diet will just make things worse.
"Maple syrup is a less bad version of sugar, much like coconut sugar. It cannot objectively be labeled healthy. If you consume it, it's best to do so in moderation—as with all sweeteners."
Recipes using maple syrup
Maple syrup is often used in sweet dishes and desserts, like this recipe for maple syrup cinnamon rolls by Miranda Keyes on the Food Network. Maple extract is mixed into the dough and the glaze, ensuring the rolls are completely soaked in maple syrup.
You can also use maple syrup in savory dishes like this recipe for a maple-glazed acorn squash by Nancy Mueller on Taste of Home. A typically savory dish is transformed into a sweet treat that can be enjoyed as a side or entrée.
If you'd like to incorporate some maple syrup into your Christmas dinner, you could try this recipe for festive maple-glazed ham by Nagi from Recipe Tin Eats. This recipe includes cinnamon, allspice, cloves and oranges for a sweet, seasonal dish.