National Margarita Day 2019: Where to Find the Best Tequila Cocktail Deals
This Friday, the "freakin' weekend" won't be the only thing Americans have to "cheers to," with plenty of deals on to celebrate National Margarita Day on February 22.
While there is much debate around the history of the classic tequila cocktail and how it came to be, what we know for sure is how much the fruity thirst-quencher has evolved since it first emerged on the drinking scene in the late 1930s.
So, whether you prefer your margarita with the standard tequila, triple sec and a swipe of lime or with an infusion of fruity flavors, we have rounded up some of the best deals on offer across the country to help Americans celebrate this most auspicious day.
Here is where to find some of the best margarita deals out there on National Margarita Day:
Newsweek subscription offers >
Margaritaville: Margaritaville would be one of the most obvious places to begin your quest for a low-priced cocktail, with the bar celebrating National Margarita Day with $3.99 margaritas at all of its participating Margaritaville restaurants and LandShark Bar & Grill locations. The day will also be marked by additional deals, including a $2.00 float Gran Gala and $5.99 fried pickles and Margaritaville Las Vegas will be hosting 4 p.m. classes on "how to make the perfect margarita," according to the restaurant chain's website.
Margaritas Mexican Restaurant: With "margaritas" in the name, you can count on a good selection. Margaritas Mexican Restaurant is serving up $6 flavored margaritas, including original, strawberry, ginger, mango, peach and raspberry on February 22, as well as $5 Hornito shots.
Alternatively, Margaritas is giving cocktail fans the chance to celebrate at home, with the offer of a Take-Home Margarita Kit packed with tortilla chips, salsa, guacomole and the restaurant's famous margarita mix, Margaritas Squeeze.
Abuelo's: Mexican restaurant Abuelo's will have hand-crafted margaritas on offer on February 22 at $6.95 a pop, giving tequila fans the chance to try its El Jefe margarita, a "smooth and strong" blend of ultra-premium Maestro Dobel Diamante Tequila, Agavero Orange Liqueur and fresh, house-made sweetened lime juice, topped with a grilled orange." It's "the BOSS of all margaritas," the restaurant says.
Newsweek subscription offers >
Chili's: Chili's already has a $5 margarita special on every month, with February's drink being the "Grand Romance," a special cocktail including tequila, Grand Marnier, pomegranate juice and other flavors. For National Margarita Day, it will be extending its $5 deal to The Cuervo Blue Margarita, Tropical Sunrise Margarita and Blueberry and Pineapple Margarita, calling the drinks deal a chance to meet Chili's "famous trio."
Bahama Breeze: Bahama Breeze is offering $2.22 Classic Margaritas, playing on the date of the national day, February 22. The venue will be offering the deal on both February 21 and 22, however.
Miller's Ale House: Miller's Ale House will be following suit, also offering $2.22 on House or Watermelon Margaritas on National Margarita Day at participating locations. Plus, tequila fans can upgrade to Patron Tequila for just $1.
Chuy's: Chuy's will be celebrating with drink specials all day long with $1.00 off Top-Shelf "Skinny Ritas." The chain will also be featuring $1 floaters all day to "dress up any margarita with your favorite tequila or orange liqueur."
McCormick & Schmick's: During happy hour on February 22, McCormick & Schmick's will be celebrating with $6 Gold Margaritas at participating locations.
On the Border: At On the Border, margarita fans can get a head start, with the restaurant serving up $5 1800 Gran 'Ritas now until February 22nd. The celebratory drink is made with 1800 silver tequila, Gran Gala orange liquor and fresh lime sour mix. You can also throw in a 99 cent "meltdown," which is code for a custom flavor infusion of Blue Curacao, Peach Snapps or Dekuyper Sour Apple–or just an extra dose of tequila, in case you haven't had your fill.
Walmart: Those set on celebrating at home can avoid the bar by ordering everything they need to enjoy a margarita and meal at home, including chips, salsa and various margarita mixes at Walmart. Stores are running a deal of $10 off on orders over $50 so you can get your money's worth in margaritas.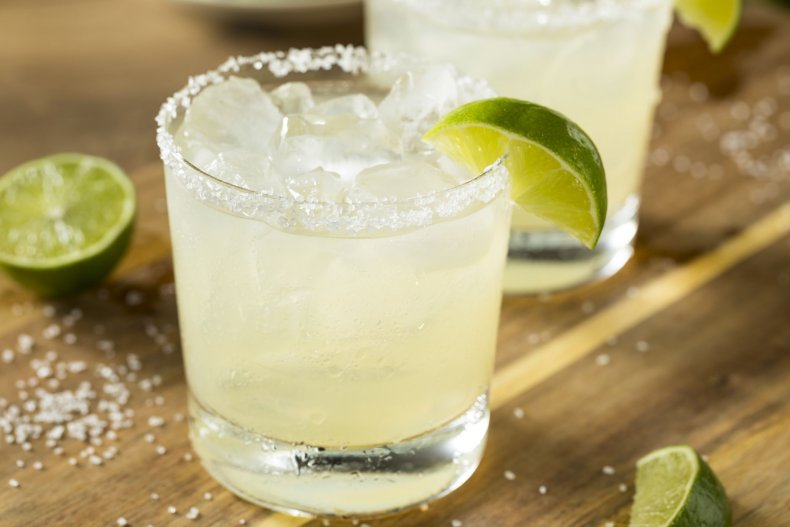 National Margarita Day 2019: Where to Find the Best Tequila Cocktail Deals | U.S.