National Margarita Day Deals at Chili's, Bahama Breeze, Chuy's and More
National Margarita Day is today, and plenty of restaurants are celebrating by serving up limited-time cocktails, plus deals and discounts. Try the Grand Romance Rita at Chili's or the Frozen Pineapple Jalapeño Rita at Chuy's, or stick to the classic original lime margarita at Bahama Breeze.
If you're planning on celebrating National Margarita Day at home, there are numerous ready-to-drink margarita brands available, so you can enjoy a mixed drink with little to no effort.
However, the cocktail's recipe is fairly simple. The classic margarita is made with tequila, lime juice, and Cointreau or Triple Sec, and is typically served with salt around the rim of the glass.
The origins of the margarita cocktail are unclear, though some believe it was created by Carlos "Danny" Herrera at his restaurant Rancho La Gloria, in 1938. Herrera is said to have created the cocktail for an aspiring actress named Marjorie King, who was allergic to all hard alcohol except tequila, according to the Smithsonian Magazine.
Another belief is that the margarita was invented by Margarita Sames in 1948. Sames, who was a wealthy Dallas socialite, is thought to have made the cocktail for her friends, including Tommy Hilton, who added the drink to his hotel chain's bar menu.
However, three years previously, the first importer of Jose Cuervo in the U.S. reportedly advertised with the tagline: "Margarita: it's more than a girl's name."
Although it is unclear where and when the margarita came from, its popularity has prevailed. Nowadays, there are countless twists on the classic lime margarita, so whatever your taste, you're sure to find your perfect drink this National Margarita Day.
National Margarita Day Deals
Chili's
Bahama Breeze
Chuy's
Taco Cabana
Drizly
Chili's
Chili's $5 margarita of the month is the Grand Romance Rita, made with Grand Marnier and Lunazul Tequila, Monin Pomegranate, and Chili's fresh sour. My Chili's Rewards members get free chips and salsa or a non-alcoholic drink with every visit, so sign up to get a free snack to go with your margarita.
Bahama Breeze
Bahama Breeze is celebrating National Margarita Day with $5 classic margaritas. Make the most of the discount, or splash out on Bahama Breeze's premium margaritas, like The Ultimate Margarita, the Coconut-Pineapple Margarita, the Mystic Margarita, or the Dragonfruit Margarita.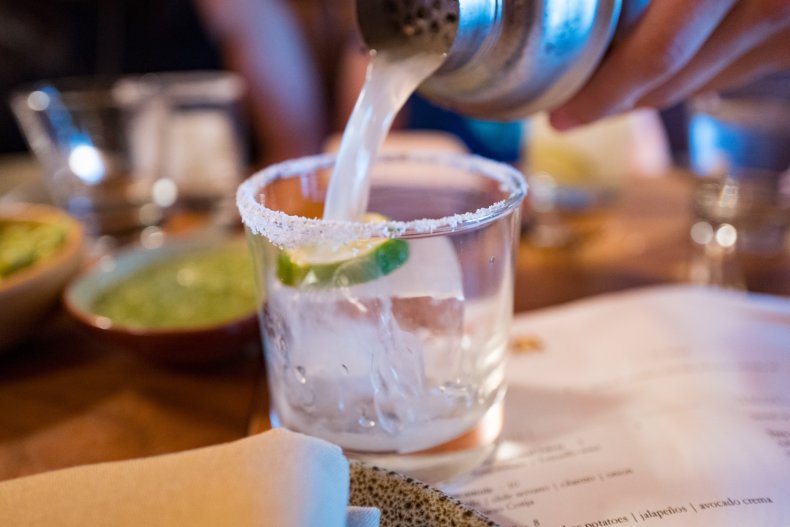 Taco Cabana
Taco Cabana is celebrating National Margarita Day with $2 margaritas, as reported by QSR Magazine. Taco Cabana guests can enjoy limited-time Mango Jalapeño and Strawberry Mint margaritas for just $2, plus lime, strawberry, mango, strawberry mango, and mangonada margaritas for $2. Groups may want to celebrate the day by opting for a lime, strawberry, or mango margarita gallon for $29.99.
Chuy's
Celebrate National Margarita Day at Chuy's and make a regular house or frozen margarita a Grande for an extra $2 (plus, you'll get to keep the commemorative cup), and for $1, Chuy's is selling floaters with an extra pour of tequila.
Additionally, Chuy's is also serving Frozen Pineapple Jalapeño 'Ritas made with Dulce Vida Pineapple Jalapeño tequila, lime, and pineapple juices, for a limited time.
Drizly
If you're planning on celebrating the day at home, Drizly has several ready-made margarita drinks available for delivery, like a 750ml bottle of Skinnygirl Margarita selling for $13.46, a six-pack of Cayman Jack Margarita, selling for $9.99, or a four-pack of Cutwater Tequila Margarita cans for $13.97.
If you're new to Drizly you can get $5 off your first order with the promo code HELLO. The order minimum is $20 and the deal is available in Arizona, California, Colorado, Florida, Illinois, Indiana, Louisiana, Maryland, Massachusetts, Minnesota, New Jersey, New York, North Carolina, Rhode Island, Tennessee, and Washington, D.C.