National Mask Order Could Save U.S. Economy $1 Trillion, Goldman Sachs Says
A new Goldman Sachs analysis suggests a nationwide mask order could save the U.S. economy $1 trillion, or a 5 percent loss in gross domestic product (GDP) caused by renewed lockdown measures.
Research from the investment bank found that wearing face coverings has significant and sizable economic outcomes. The coronavirus pandemic devastated the U.S. economy after lockdown measures were first introduced in March, with GDP plunging 17 percent in the first quarter.
Jan Hatzius, Goldman Sachs' chief economist, and his team examined the differences in population behavior among states by looking at how many respondents reported wearing face masks in their state. The researchers then compared this data to the impact of statewide orders that required residents to wear face coverings in public areas.
The analysts estimated that a national mandate would increase the wearing of face masks among 15 percent of Americans, which would effectively cut an increase in new daily cases of the virus by 1 to 0.6 percentage points.
"Our numerical estimates are that cumulative cases grow 17.3% per week without a mask mandate but only 7.3% with a mask mandate, and that cumulative fatalities grow 29% per week without a mask mandate but only 16% with a mask mandate," the study said.
If the number of infections is reduced, implementing renewed lockdown measures could be avoided and save the economy $1 trillion, according to the study.
In virus hot spot states like Texas or Florida, there could be a 25-point increase in mask usage with a federal requirement. The impact of these mask-wearing residents would inflate the average level of mask use to 15 points.
"If a face mask mandate meaningfully lowers coronavirus infections, it could be valuable not only from a public health perspective but also from an economic perspective because it could substitute for renewed lockdowns that would otherwise hit GDP," Hatzius wrote.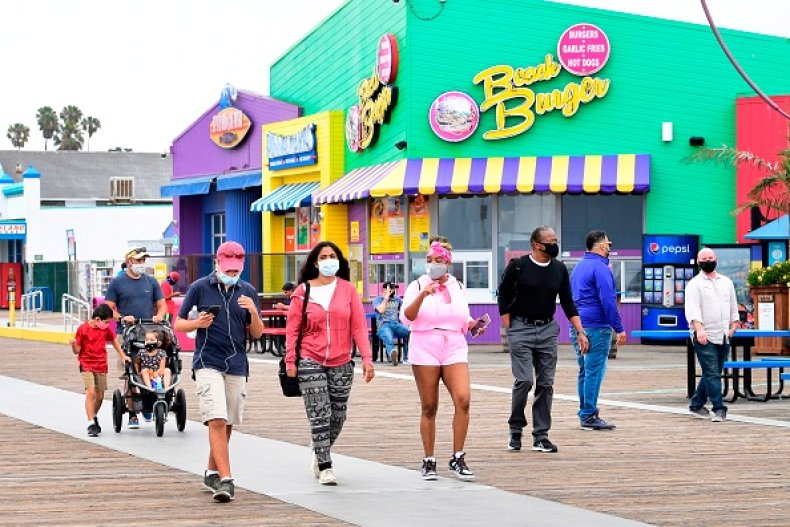 Four states have now reversed their reopening plans as coronavirus cases spike. On Monday, Arizona joined Texas, Florida and California in deciding to bring back lockdown measures.
California Governor Gavin Newsom announced the closure of bars across seven of the state's counties on Sunday, while the other three states have closed all bars statewide. Texas rolled back restaurant capacity from 75 percent to 50 percent on June 24.
With the country seeing a massive surge in virus cases in numerous states this month, many lawmakers have called for a mandatory mask order. While there are statewide orders in 16 states and the District of Columbia, President Donald Trump has yet to issue a mandate for the country and has resisted wearing one himself.
On the other hand, presumptive Democratic nominee Joe Biden has promised to require all Americans to wear face coverings in public if elected.
"It may be inconvenient. It may be uncomfortable. But it's the right thing to do as an American," Biden said at a press conference on Tuesday. "Everyone needs to wear a mask in public. Period."