National Meatball Day Deals 2020: Discounts and Promo Codes at Bertucci's, Buca di Beppo, Olive Garden
Today, March 9, is National Meatball Day and restaurants across the country are celebrating by offering deals and discounts on meatball dishes. As the holiday falls on a Monday, many restaurants, including Bertucci's and Buca di Beppo, Olive Garden and La Rosa's, are serving up Meatball Monday deals, on spaghetti and subs.
So head to your favorite Italian restaurant today to celebrate an extra special Meatball Monday on National Meatball Day.
National Meatball Day Deals
Bertucci's
Buda di Beppo
Cattle & Claw
La Rosa's
Olive Garden
Romano's Macaroni Grill
Uno's Pizzeria and Grill
Bertucci's
Spend National Meatball Day at Bertucci's for its Meatball Monday deal—get 50 percent off meatball dishes including meatball appetizers, spaghetti and meatballs, meatball sandwich (lunch only) and meatball pizza/calzones.
Buca di Beppo
Every Monday, Buca di Beppo sells its Spaghetti with Meatballs and Meatball Subs with 50 percent off when guests dine in. The Meatball Subs are available only for lunch on weekdays, until 3 p.m.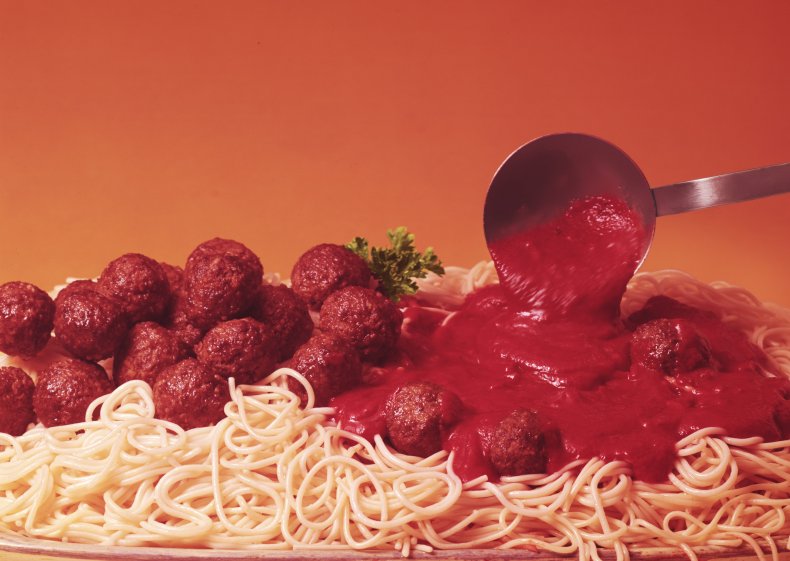 Cattle & Claw
Cattle & Claw at Sofitel Los Angeles at Beverly Hills is offering guests 50 percent off their traditional Pepe's Meatballs, a dish served with polenta and mascarpone, and usually costs $13. This deal is available for lunch and dinner on National Meatball Day, March 9.
La Rosa's
La Rosa's hosts a Spaghetti-a-Plenty night every Monday and Tuesday. Guests can order spaghetti, breadsticks, and salad for $6.19, with an extra charge for meatballs. Kids can order spaghetti with a meatball, Go-Gurt and a drink for $1.99.
Olive Garden
On National Meatball Day, try Olive Garden's "never-ending" stuffed pastas with prices starting at $11.99. Choose from Cheese Stuffed Shells, Stuffed Ziti Fritta, or Cheese Ravioli, add either Alfredo, Traditional Marinara, Meat Sauce, or Five Cheese Marinara, and finally top with meatballs, (other toppings include shrimp and scallops, grilled chicken, and crispy shrimp fritta).
Paisano's
Get the family special at Paisano's to enjoy five pounds of spaghetti and meatballs, a large salad, garlic bread, and a two-liter soda for $39.99 plus tax with the promo code pai701.
Romano's Macaroni Grill
Join Romano's Macaroni Grill's eClub to get $5 off your next visit, which you can put towards the Spicy Ricotta Meatballs, made with beef, veal, pork, and ricotta meatballs, with caramelized onions, red chile, and an arrabbiata sauce.
Uno's Pizzeria and Grill
Enjoy a meatball marinara dish with two other sides, including Chicken Wings or Bites, Guac and Chips, Buffalo Chicken Quesadilla, or Mozzarella Sticks at Uno's Pizzeria and Grill. Deals vary by location, so check with your local restaurant for ways to save on National Meatball Day.
Newsweek has affiliate partnerships. If you make a purchase using our links, we may earn a share of the sale.