National Muffin Day 2020: Deals at Target, Walmart and More
Today is National Muffin Day, February 20, which celebrates the baked bread available in various forms across the globe. It is often enjoyed with a spread like jam or butter. Today's a good day for muffin lovers to bag some discounts at select venues that may be offering muffin deals to mark the occasion.
The typical quickbread muffin with a domed top appeared in American cookbooks from around the 19th century. These sweet muffins are made with flour and bicarbonate soda as a raising agent.
The unsweetened flatbread muffins commonly known as English muffins originated in Europe and first appeared in literature around the 18th century. The word "muffin" may even be an amalgamation of the Greek bread "maphula," which is said to refer to a cake baked on a hearth or griddle, and the old French word "mouffin," which means "soft bread."
Muffins can perhaps be eaten as a healthy food when topped with nuts or made with blueberries and other nutritious fruits, but in some cases they can be even less healthier than a doughnut due to their high calorie count. "Contrary to what you might expect, muffins are rarely lower in calories," Karen Collins, a registered dietitian, previously told NBC News.
"Unfortunately, the bakery muffins for sale are hardly better [than doughnuts]. Most contain from 11 to 27 grams of total fat. Of that total, 2 to 8 grams are saturated fat. Although the trans-fat content of muffins is extremely low in most cases, the total saturated fat plus trans fat of giant bakery muffins is only slightly less than doughnuts.
"Reduced-fat muffins are usually a better option. They have only 2 to 5 grams of total fat, and only 0 to 2 grams of that is saturated fat. And unlike other reduced-fat products, the sugar content in these muffins is generally the same as in regular muffins. Calories remain in the 300 to 400 range," she added.
But National Muffin Day is probably the one day you can indulge a little. Below are some great deals on offer for those celebrating all things muffin.
Muffin Deals
Bag a bulk tray of Bimbo Mini Mantecadas Mini Muffins (8 packs with two mini muffins per pack) for $14.16 at Walmart.
Get a box of 20 Chocolate Chip Muffins from Entenmann's for $12.99 at Walmart.
Buy a box of 20 Blueberry Mini-Muffins from Hostess for $11.95 at Walmart.
Chocolate addicts will enjoy this Triple Chocolate Chunk Muffin Mix from Duncan Hines, priced at $3.19 for a 18.2-oz box at Target.
For those of you who might be feeling too guilty to indulge, try making a somewhat healthier option with this Blueberry Lemon Protein Packed Muffin Mix by Kodiak Cakes, priced at $4.99 for a 14-oz box at Target. Made with 100 percent whole grains and 18 grams of protein per serving, this guilt-free muffin might be just for you.
Another slightly healthy option might be this Gluten-free Honey Cornbread Muffin Mix, made with real honey and whole grains. Available at Target for $3.99 for a 15-oz box.
Buy a Gluten-Free Lemon Poppyseed and Cinnamon Streusel Muffin Duo batch of 12 muffins for $24.99 at Harry & David. Get a 10 percent discount for a minimum purchase of $79 (or a 15 percent discount for a purchase of $129 or more and a 20 percent discount when spending $179 or more) at Harry & David using the code HDBEST.
My Favorite Muffin, the gourmet muffin bakery chain, claims to offer muffins with a unique "cake-like crumb structure and texture that sets us apart from any other muffin you've experienced." Some of their unusual flavors include Pumpkin Spice, Cherry and Blueberry Cheesecake and Boston Cream Pie. Prices may vary according to branch. Find your nearest venue here to drop by on National Muffin Day.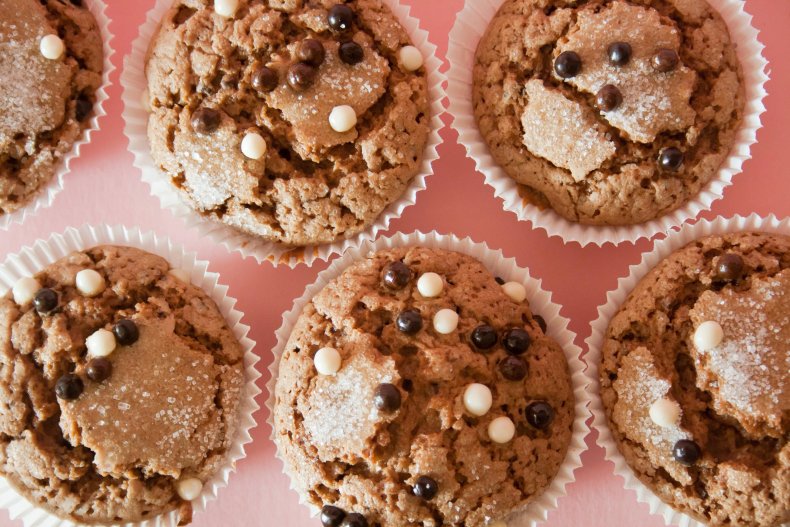 Buy either a 12-cup or 24-cup nonstick mini-muffin pan from Calphalon for $29.99 at Bed Bath & Beyond, which comes with a $50 bonus gift card with every $295 Calphalon purchase.
Get an Advance Select Premium nonstick 24-cup mini-muffin pan from Wilton for $13.99 at Bed Bath & Beyond (members price $11.99). Free shipping for orders over $39.