National Nachos Day 2019: Best Deals from On The Border, El Loco Pollo, Moe's Southwest Grill and More
Today marks National Nachos Day, a day that celebrates the delicious Tex-Mex dish that is enjoyed by Americans across the country.
What are nachos?
Defined by Merriam-Webster, nachos are a combination of tortilla chips topped with melted cheese and often additional savory toppings, such as hot peppers or refried beans. Some variations of the dishes include salsa, guacamole and minced beef.
Who invented nachos?
According to an analysis done by Yelp, Mexican cuisine has risen in popularity over the last 15 years, with restaurants being consistently loved by the population. Nachos have been loved by people in Mexico and the U.S. for over half a century, as written in a story that first appeared in San Antonio Express on May 23, 1954, according to Merriam-Webster.
The article describes how the dish was created in 1940 by Ignacio "Nacho" Anaya Garcia. Born in 1895, Garcia was a chef at a restaurant in Piedras Negras, a small town in Mexico.
Adriana P. Orr, who was a researcher for the Oxford English Dictionary, corroborates this story in a newsletter, which was turn published as a blog in 2012. Researching the origin of "nacho", she learned from the food editor of the San Antonio Express that Garcia worked for the old Victory Club as a chef, and had assembled the first nachos for "some Eagle Pass ladies who were on a shopping trip during the 1940s."
Orr also writes that the author of a feature article for the Dallas Morning News confirmed that Garcia invented nachos in 1943 through an interview with his son Ignacio Anaya, Jr. The name for the dish comes from Garcia's nickname, Nacho, which is a derivative of Ignacio.
However, there are discrepancies with other sources. The word nacho was first used early as 1948 without reference to Garcia, according to Merriam-Webster.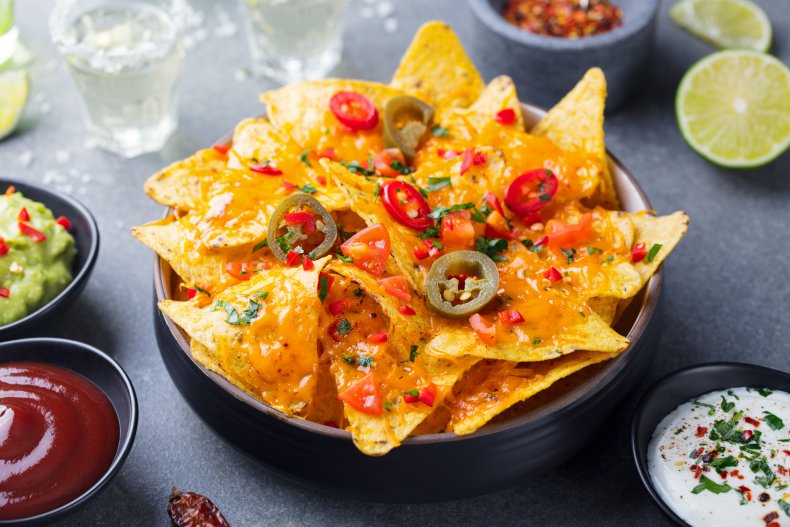 National Nacho Day Deals 2019
If missing out on deals is "nacho" thing, Newsweek has got you covered with promotions from some of the favorite Mexican or Tex-Mex food brands in the U.S.
On The Border:
Nachos will be half price and "stacked to the max" on National Nachos Day, according to the company's Facebook page. Prices and participation may vary by location.
Moe's Southwest Grill: Moe's Reward Members can visit their local Moe's Southwest Grill or order online and get deliciously cheesy nachos for only $4.99.
Qdoba: Join the rewards program to rack up points and get offers such as chips and salsa and bonus points.
Taco Bell: The chain isn't doing anything specific for National Nachos Day, the company told Newsweek, but nacho lovers can still get their hands on its Grande Nachos Box to celebrate.
Chipotle: No offers have been confirmed for National Nachos Day, but customers can still get offers through the rewards program.
El Pollo Loco: Get the new Chicken Nachos Combo for $5 to celebrate the holiday.
Chevy's Fresh Mex: Get a free appetizer with one adult entrée, just for signing up to the company's loyalty program.
Buffalo Wild Wings: Get exclusive offers and free food by joining the rewards program.