National Nachos Day 2020: Best Deals from Moe's Southwest Grill, Taco John's and Others
Today (November 6, 2020) is National Nachos Day—so grab your salsa and guacamole and tuck into these deals from some of your favorite restaurants.
For anyone new to the dish, nachos are a combination of tortilla chips topped with melted cheese and often additional savory toppings. These can include hot peppers or refried beans. Some people like to include salsa, guacamole and minced beef with their nachos.
According to Statista, who had analyzed data from the U.S. Census data and Simmons National Consumer Survey (NHCS), 230.88 million Americans used Mexican food and ingredients in 2019.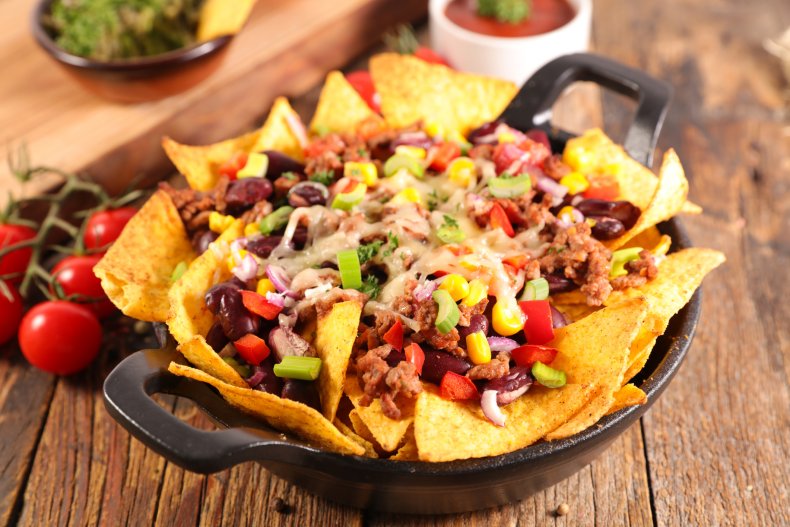 Who invented nachos?
According to Merriam-Webster, nachos have been loved by people in North and South American for more than 50 years. In a story by San Antonio Express in 1954, the inventor of the dish was Ignacio "Nacho" Anaya Garcia, who created it in 1940.
Adriana P. Orr, who was a researcher for the Oxford English Dictionary, confirmed this in a blog in 2012. She said that while researching the origin of nachos, she learned from the food editor of the San Antonio Express that Garcia worked for the old Victory Club as a chef. He created the first nachos for "some Eagle Pass ladies who were on a shopping trip during the 1940s."
Orr also writes that the author of a feature article for the Dallas Morning News confirmed that Garcia invented nachos in 1943 through an interview with his son Ignacio Anaya, Jr. The name for the dish comes from Garcia's nickname, Nacho, which is a derivative of Ignacio.
However, Merriam-Webster said that the word nacho was first used early as 1948 without reference to Garcia.
So where can you get the best deals on nachos today? #
Moe's Southwest Grill is offering its Moe Rewards members $5 off Nacho Kits. Each kit serves four to six people and includes a choice of two proteins, two whole bowls of queso, beans, pico de gallo, sour cream, jalapeños and salsa.
For non-members, if you sign up before 8:00 am ET on November 6, 2020, you can take advantage of the offer too.
To get free chips and nacho cheese, sign up for the Taco John's app today. In honor of National Nachos Day, you can get fresh-made chips topped with the brand's nacho cheese sauce without getting out your wallet.
Some deals that are not necessarily related to National Nachos Day, but get the job done all the same are:
Del Taco: Get a free three-layer queso nachos with any purchase. You can also get free delivery of nachos if you use code "DELTACONOW" on Postmates.
On the Border: Get $5 nachos all day—according to Thrillist, this is normally only during Happy Hour, but they've seemingly made an exception for National Nachos Day.
Taco Bell: Get free delivery on orders over $12 on Grubhub.
Miguel's Jr.: Uber Eats offers free delivery for this restaurant as well as DoorDash—new customers can get free delivery with a $15 minimum order.