National Oyster Day 2019: Best Deals From Oyster House, Ocean Prime, Urban Farmer, Shaw's Crab House and More
Today (August 5, 2019) is National Oyster Day and Newsweek has fished the internet to find you the most shell-shocking deals on offer, that will leave a salty taste in your mouth.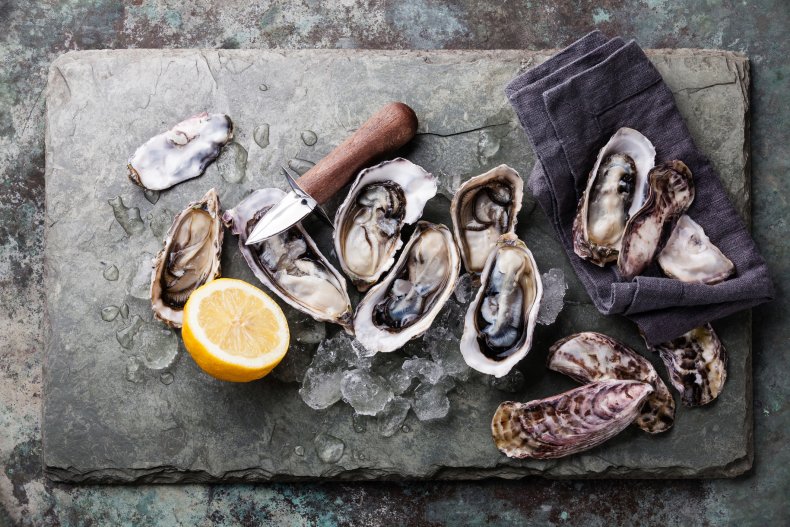 The Independent: On Monday, the restaurant located in Somerville, Massachusetts, will be selling oysters for $1 from 4:00 p.m. until sell-out. Grab them while you can.
Charlie's Kitchen: Order a minimum of six oysters from this Cambridge sea-food hotbed and only pay $.50 per one from noon until 5:00 p.m. Thereafter, on Monday, it's a $1 from 5:00 p.m until 9:00 p.m.
Monument Restaurant & Tavern: This Boston eatery sells oysters for $1 each from 5:00 p.m. until sold out.
Warren Tavern: Another Boston favorite offers oysters for $1 each between 3:00 p.m. until 6:00 p.m.
Drift Fish House & Oyster Bar: Starting at 5:00 p.m., Drift will serve specials like oysters on the half shell ($15/dozen), wood-fired dynamite oysters (four for $15), crispy oyster roll sliders ($5 each) and angels on horseback ($4 each) on National Oyster Day.
The Big Ketch Saltwater Grill: Both Buckhead and Roswell locations are offering half-off deals on a dozen raw oysters on August 5.
Oyster House: Available for $1 each during happy hour, 5:00 p.m. until 7:00 p.m., will be the Blackberry Oyster from the Chesapeake Bay, as well as two oyster sliders for the price of $9.
Ocean Prime: National Oyster Day guests can enjoy six oysters topped with a lemon and Tabasco frozen granita for $11.50.
Royal Boucherie: Guests can order a dozen oysters and split of Domaine Laurier Methode Champenoise for $30, or get a dozen oysters with a bucket of six 12-ounce bottles of Miller High Life for the same price. From 5:00 p.m, guests can get five oysters covered in crunchy cornmeal with house-made remoulade for $6.
Urban Farmer: The Logan Square restaurant will offer oysters on the half-shell for $3.75 each with lemon and mignonette.
Shaw's Crab House: The locations in Chicago, Schaumburg and Quality Crab & Oyster Bah are offering half-priced oysters. Timing for offers depends on the location.
Other specials include:
Classic Grilled Oysters: 4 piece freshly shucked Delaware oysters, topped with garlic butter and a sprinkle of panko breading, grilled until hot and panko is golden for $14.95, plus tax.
Oyster Bah Fried Oysters: 4 piece fresh oysters fried crispy in a blend of flour, paprika, garlic and black pepper, served on the half shell with tartar sauce for $14.95, plus tax.
Fried Oyster Po Boy: classic French roll, 4 piece crispy fried oyster, shredded lettuce, sliced tomato and tartar sauce, served with fries and coleslaw for $18.95, plus tax.