National Pancake Day: Deals and Coupon Codes from IHOP, Pancake Pantry and more
Today is National Pancake Day, an awareness day for all things batter, bacon and maple syrup. To help you get the most out of this scrumptious day, Newsweek has trekked through the internet to find you the best pancake deals for breakfast, lunch and dinner.
Pancakes are considered to have been around since the dawn of time. According to National Geographic, researchers believe that Stone Age cooks used grinding tools to make flour out of cattails and ferns, mixing the powder with water and baking the mixture on a hot rock. This produced something very similar to modern-day French pancakes, or crepes.
Since then, throughout the ages, the pancake has been a staple food in many a diet. The Greeks and Romans ate pancakes sweetened with honey, the Elizabethans ate them with spices, rosewater, sherry and apples, and the American colonies ate pancakes made with buckwheat or cornmeal.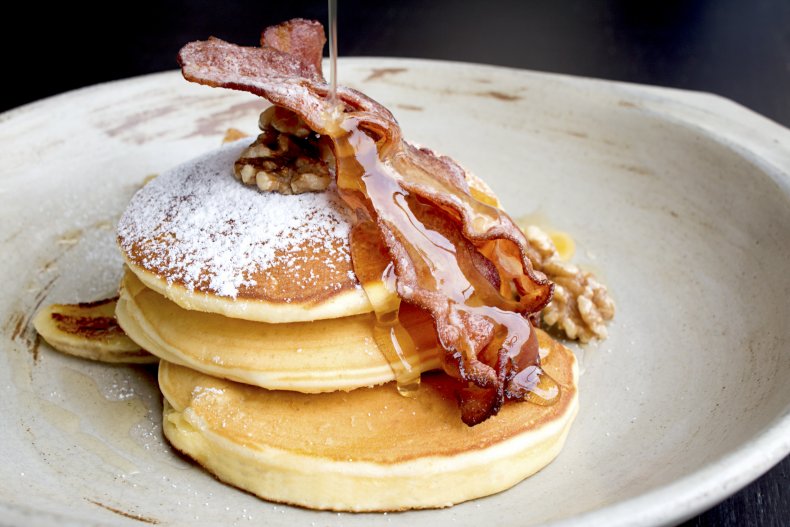 Today's pancakes are normally made from flour, butter, milk and eggs, but there are many variations. People can also add maple syrup, bacon, chocolate sauce or spread, strawberry sauce, or sugar and lemon.
National Pancake Day Deals 2019
IHOP: Start your day off with a big pancake breakfast at one of America's biggest chains. Get 15 percent off breakfast orders at IHOP using the code "breakfeast" at the checkout. Credit: CouponFollow.com
Prepared Pantry: Get free German Pancake or Pannekoeken Mix with a $5 purchase. Use code "3PAN". Credit: RetailMeNot.
Birch Benders All-Natural pancakes: For protein lovers, this pancake and waffle mix is a dairy- and sugar-free formula that can help you prepare a quick breakfast. Credit: Groupon
Restaurants.com: Get a $10 gift certificate to IHOP for $4. Credit: Groupon
Amazon Prime Now: Groupon has a promo code that can be used on the website's amazing pancake selection. Use code 10PRIMENOW. Credit: Groupon
Door Dash: Not specifically on pancakes, but use code DOORDASH25 to get 25 percent off your first purchase. Credit: Coupons.com
Grubhub: Get $12 off any first-time Grubhub app order of over $15. Use code GHFR04HXMXJLQZ0. Credit: RetailMeNot.com
Uber Eats: Get 70 percent off your first order with the food delivery service using code EPIC70. Credit: SlickDeals.net
Postmates: Get $100 in free delivery credit using code RMN100. Credit: RetailMeNot.com
Seamless: Sign up to the food delivery service as a new customer and get $25 off the first order.
goPuff: Go to this website to generate a code you can enter at checkout to get $20 credit when signing up as a new customer. Credit: CouponChief.com
Delivery.com: Use code radb758d to get $10 off your order, which could be used on bringing in pancakes. Credit: RetailMeNot.com
Instacart: Get 40 percent off your first order using code CWATSON29D14E. Credit: RetailMeNot.com