Innovative, environmentally friendly transportation technology is planned to be tested in U.S. national parks as part of a pledge government officials signed Wednesday, the Associated Press reported.
Interior Secretary Deb Haaland and Transportation Secretary Pete Buttigieg signed the pledge in an effort to improve tourists' experiences and to help curb some of the environmental impacts from a recent surge of visitors to national parks.
AP reported that under multimillion-dollar pilot programs stemming from the $1 trillion infrastructure law, national parks could see technologies such as self-driving shuttle buses, electric scooter or bike stations and charging stations for zero-emission electric cars.
Another feature in development is a real-time information app, which would give park visitors notifications on road closures and parking, as well as guides to bus stops and rideshares for those who don't want to drive in.
Yellowstone National Park will most likely see these changes implemented the quickest. The surge of travelers to national parks, most likely due to people wanting to spend time outside after a year of pandemic lockdowns, was strongest at Yellowstone, the park seeing a record number of visitors this year.
Haaland told AP that the partnership can help to advance "innovations and access to public spaces."
"As our national parks and public lands experience a surge of visitation, we must be innovative in our approaches to welcome people from every ZIP code, while also ensuring that we pass on these natural and cultural resources to future generations," Haaland said.
For more reporting from the Associated Press, see below.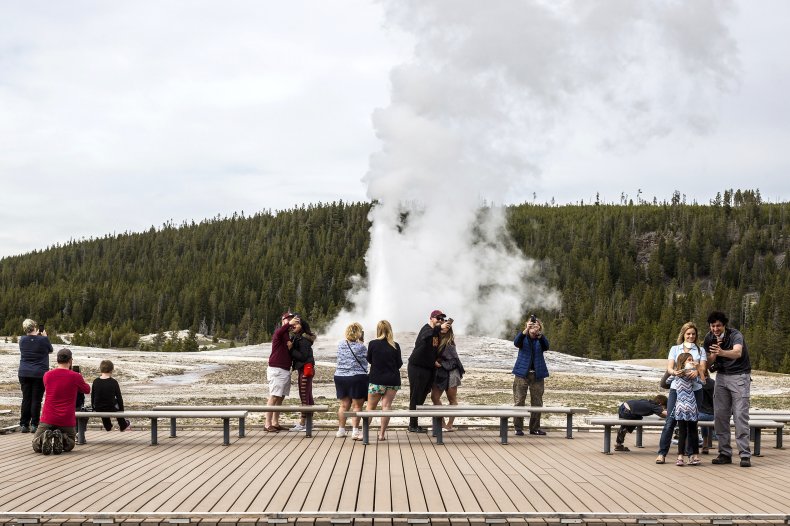 Haaland's department said it was striving to replace its 20-year-old National Park Service shuttle fleet with electric vehicles, a process begun earlier this year. In February, for instance, park officials said it would seek to add 26 electric shuttles and 27 charging stations at Zion National Park in Utah with the help of a $33 million transportation grant.
Buttigieg said the joint initiative would "keep our most prized national wonders accessible and safe for all Americans." He and Haaland toured a trail widening project on Wednesday for bicyclists and pedestrians along the Potomac River in the nation's capital.
Over the summer, Yellowstone was the first to begin a limited test of eight-passenger automated shuttles. The shuttles, which ran 6 to 12 mph and traveled within the Canyon Village campground and adjoining visitor lodging area, had a safety attendant on board to pull the brake in case of unforeseen hazards.
The park has seen its busiest season ever with about 4.8 million visits so far in 2021. Due to growing crowds, vehicular demand is expected to exceed current capacity at the park by 2023, with roadways and parking already over capacity in peak months.
The bipartisan infrastructure law signed by President Joe Biden this week provides up to $1.5 billion a year for the National Park Service, as well as $200 million a year in discretionary grants aimed in part at addressing climate change and protecting wildlife.
That's on top of $1.9 billion annually over five years approved by Congress last year for long-deferred renovation projects in national parks, national forests and other sites that has spurred recent construction around the country, including the trail widening in Washington.