National Pasta Day 2019: How to Get Free and Cheap Pasta at Buca Di Beppo, Olive Garden, Bertucci's
Today, October 17, is National Pasta Day. What better way to celebrate than by going to your favorite pasta restaurant? The top Italian chain restaurants in the U.S. have deals and promos through October, but National Pasta Day is a great excuse to make the most of them. Here are some of the best offers out there.
Buca di Beppo
Buca di Beppo is celebrating World Pasta Month, not just National Pasta Day, with three new dishes: Shrimp Limoncino, Roasted Vegetable Genovese, and Pork Ragu with Pappardelle. You could also win a custom 6-day trip to Italy, complete with airfare, accommodation, transfers, tours and cooking classes. All you have to do is complete the form on their website!
Olive Garden
Join Olive Garden's eClub for a free appetizer or dessert when you buy two entrees. Alternatively, indulge in the never-ending pasta bowl starting at $10.99 for a limited time only. Choose your pasta, such as spaghetti, fettuccine or linguini, a sauce, like alfredo or marinara, then finally, choose your topping, such as meatballs, crispy shrimp fritta or garden veggies. You also get unlimited soup or salad, as well as breadsticks.
Romano's Macaroni Grill
Join Romano's Macaroni Grill e-club for $5 off your next visit, or enjoy a feast for five people for $25 between Sunday and Thursday from 4 p.m. for a limited time. You can also get a free entree when you purchase a lunch entree with a Dr. Pepper, through October 31. The Macaroni Grill is also offering you the chance to win a vacation to Italy, as a trip for two to Tuscany to visit the restaurant's winery is up for grabs.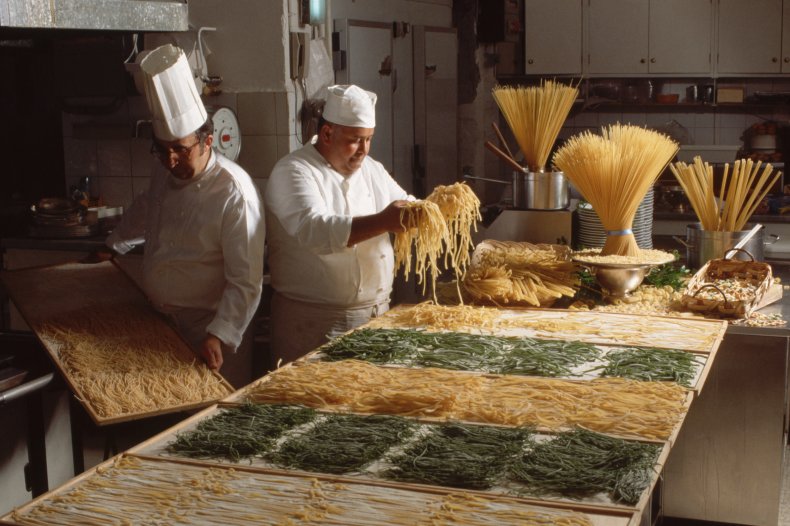 Uno Chicago Grill
Uno Chicago Grill has tons of deals varying from restaurant to restaurant, but they're typically (or at least a variation of) buy one pizza and get one of a lesser value for $6. Additionally, you can choose from a family deal, a party deal or a big party deal for discounted pizza and meal combos. Plus, the chain has $2 rosé sangrias with an excuse generator, if you need one.
The Old Spaghetti Factory
Sign up for The Old Spaghetti Factory Family Club for rewards on your birthday (and half birthday), plus special offers. You could win a $50 gift card for The Old Spaghetti Factory by posting a photo from your visit with the hashtag #MyFactoryFamily.
Bertucci's
Signing up to Bertucci's e-club will get you a free pizza, birthday and anniversary gifts, plus exclusive offers. Enjoy Bertucci's lunch menu until 3 p.m. Monday through Friday for $8.99 or make the most of their new early-bird menu between 3 p.m. and 5 p.m. Monday through Friday for $9.99
Maggiano's Little Italy
You can get $10 your next visit by signing up for Maggiano's Little Italy's e-club. Enjoy Maggiano's carryout Lasagna Bundle for $50 through October 20. You'll get four pieces of lasagna, a choice of salads and two desserts to share.