National Pastry Day: 9 Pastry TikToks to Make at Home
National Pastry Day is here. Of course, positioned in the middle of the holiday season, this special day is another great excuse to put your baking skills to use, indulge in some sweet and savory bites and celebrate the art of the pastry.
First, a brief history lesson: Pastries have been around for centuries. According to the Great British Chefs blog, it is believed that they originated in ancient Egypt, Rome and Greece. Those pastries began as flour-and-oil based. Centuries later, in the medieval period, puffier pastries became more common.
As per Eater, the first "celebrity pastry chef" ever was Marie-Antoine Carême in the late 18th and early 19th century. Carême is credited for bringing pastries into the world of grande cuisine in France. He had a patisserie in Paris, and the windows were filled with elaborate, delicious displays. Legend has it, according to Eater, that Carême may have also been the first person to "pipe" meringue using a pastry bag, and he may have been the first person to master the perfect cream puff (an underrated delicacy).
Now, pastries have become more diverse (and more delicious) than ever before. MasterClass notes that although there are many different pastries, there are five different types of pastry doughs: flaky, shortcrust, puff, Choux and filo. Each dough is flour, water and fat-based. The ratio of the ingredients and the type of fat, however, is what sets each apart.
Celebrate National Pastry Day by stopping by one of your local bakeries for a treat. Or maybe try to learn a new recipe, or revisit an old favorite, courtesy of step-by-step baking videos on TikTok. The short-form video platform has become a great resource to learn how to cook, and pastry baking is no exception.
To commemorate this pastry-centric holiday, we've rounded up a few mesmerizing and mouth-watering TikToks that will make you preheat your oven and reach for a bag of flour as soon as possible.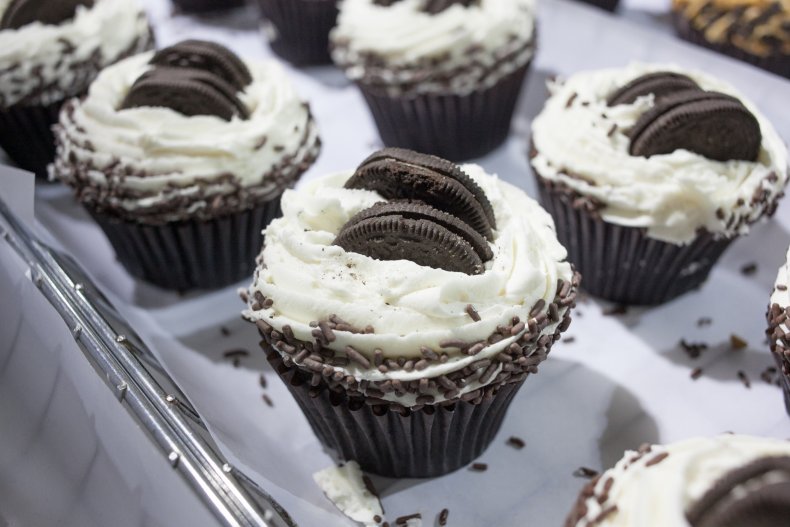 Baklava
These flakey desserts are layered with honey, pistachios and can be topped off with icing (and more pistachios!). Cinnamon and cocoa powder are great ways to add extra spice to these sophisticated pastries. The video here shows spring roll pastry dough being used, but the TikToker actually recommends phyllo pastry dough in the comments section.
Cinnamon Rolls
These icing-covered, larger-than-life cinnamon rolls will make you rethink your weekend breakfast plans. The secret to making perfect cinnamon rolls is to roll the dough before cutting each individual roll, instead of vice versa. Mixing in butter is also key for the cinnamon-sugar layers to achieve the perfect consistency, as seen in this video.
Cream Puffs
"Fancy French desserts are my guilty pleasure," this TikToker wrote in the caption of this video. These delicacies are covered in powdered sugar and stuffed with chocolate cream. To minimize the mess in making cream puffs, this TikToker used plastic piping bags for forming the puffs and inserting the cream. This will also keep the batch of cream puffs uniform.
Croissants
Filled with buttery and flakey goodness, these desserts get their name from their elegant crescent shape. Pro tip: The most efficient way to evenly fill the layers with melted butter is by brushing it on, as this TikToker demonstrates.
Macarons
Decadent and filled with ganache, these French treats are worth the time and patience that goes into making them. Per the comments section of this video, the key here is to let the macarons rest before baking them, which allows the shell to set and harden. That way, the TikToker who made the clip noted, the macarons don't crack while they're in the oven and they maintain their smooth exterior.
Mince Pies
Extensive prep and precision cutting skills come in handy for this holiday classic. The full instructions for these star-shaped, fruity pastries can be found in subsequent TikToks. This chef's recipe calls for apples, raisins, cranberries, and a bit of brandy to give it a tart flavor.
Pop Tarts
These gourmet pop-tarts are fresher, fluffier and more decadent than those you can find at the supermarket. This recipe recommends baking them at 425 degrees F for 10 minutes, and then lowering the temperature to 350 degrees F for another 10 minutes. This trick will give the pastries a crispy, golden coating, this TikTok chef mentioned in the comments section.
Pumpkin Pasties
Any Harry Potter fan who always wanted to try a pumpkin pasty should look no further than this video. Use pumpkin puree (not pumpkin pie filling) to get the right consistency for these treats. Although the TikTok only shows pumpkin pie spice added to the filling, don't be afraid to sprinkle in some cinnamon and nutmeg for extra flavor.
Zucchini & Cheddar Scones
Not all pastries are sweet! This zucchini-based scone is savory and pairs great with soups. One person commented on the video below that you can bypass squeezing the liquid out of the zucchini by grating, freezing and thawing them ahead of time.