National Pepperoni Pizza Day 2019: Best Deals From Domino's, Papa John's and Mountain Mike's
Whether you like your pizza Chicago-style or New York-style, it is best topped with pepperoni.
In the U.S., the pizza industry is worth nearly $46 billion as of September 2018, with the top pizza chains dominating the industry with nearly a 60 percent slice of the market, or $26 billion. Independent and small chains are becoming increasingly popular too - and are worth nearly $19 billion as of last year.
Coming just two days after National Cheeseburger Day, National Pepperoni Pizza Day is celebrated on September 20.
The spicy cured dried sausage might sound Italian, but its origins stem from the gold old U S of A. The word "pepperoni" means "big peppers" in Italian, with the first known mention of pepperoni way back in 1919 in New York City, when Italian immigrants used American ingredients to make the topping. Since then, it has gone on to become a beloved staple across pizzerias nationwide.
Newsweek subscription offers >
To mark the occasion, here are some of the best deals and offers across the U.S.
It's also worth checking with your local pizza joint to see if they have any deals available too.
Mountain Mike's wants customers to celebrate with a Mountain-Sized pepperoni pizza that's covered with 200 of its legendary crispy mini pepperoni slices. The chain is offering $5 off any Mountain-sized pizza and $3 off any large pizza from September 20 to October 4 for dine-in, delivery and carry-out.
Newsweek subscription offers >
Throughout the day on National Pepperoni Pizza Day, Villa Italian Kitchen will treat its guests to free pepperoni slices with the purchase of an additional pepperoni slice, allowing fans everywhere the chance to enjoy twice as much pizza. To redeem, guests must simply mention the deal at the time of purchase.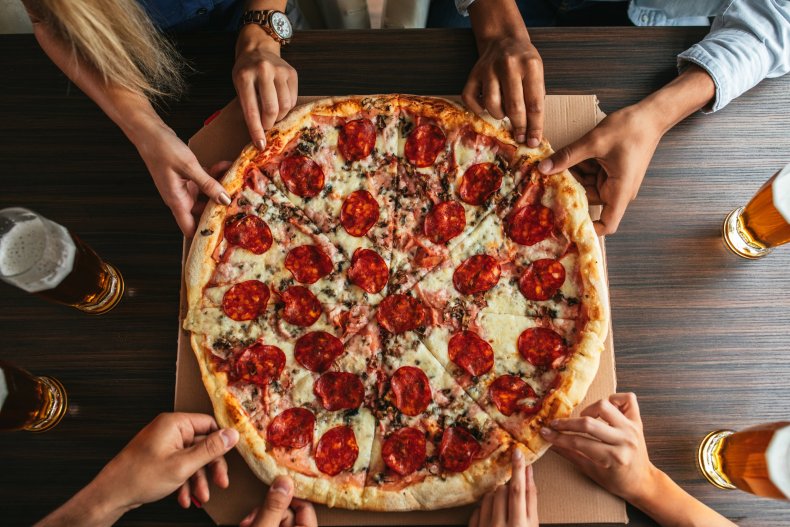 Celebrate one of the best days of the year, National Pepperoni Pizza Day, at Varuni Napoli - head there on September 20 for a delicious pepperoni pie during their one-day-only offer. For only $25, indulge in the pizzeria's Bastarado pie and a 16oz glass of Peroni.
There are a number of offers available at Venezia's, including buy one 16″ XL Pizza at regular price, get up to three 16″ XL Cheese Pizzas for only $7.00 each. Head to the "coupons" section of the website for more deals.
For the remainder of September, Lucky's will be featuring our heart-shaped pizza for $12.99 in honor of National Pepperoni Pizza Day on September 20.
The two pizza chain giants usually offer a number of good deals, so it's worth checking online to see what's available. There's no better excuse than National Pepperoni Pizza Day.
National Pepperoni Pizza Day 2019: Best Deals From Domino's, Papa John's and Mountain Mike's | Culture