National Pierogi Day: The Best Pierogi Deals
Today, October 8, is National Pierogi Day. Celebrate these delicious dumplings with the best pierogi deals across the U.S. Learn about the Polish dish with our top pierogi facts and then head out to try some for yourself. Check out our guide to the best places to eat pierogi below...
What is pierogi?
Pierogi are Polish dumplings made from unleavened dough and various sweet or savory fillings.
Popular fillings include meat, cheese and potato, sauerkraut, and fruit.
A popular variety in the US is Ruskie Pierogi, which comes from an area of pre-war Poland called Red Ruthenian, according to Tasting Poland. It is made with mashed potatoes, cottage cheese, and fried onions.
Pierogi are often dipped into sour cream.
According to Polska Foods, pierogi have been around since the 13th century, though their origin is unknown.
In September 2019, a woman named Beata Jasek broke the world record for the most pierogi made in one hour, according to The First News. Jasek made 1,066 in just one hour.
Pierogi is the plural form of pierog, which is not commonly used.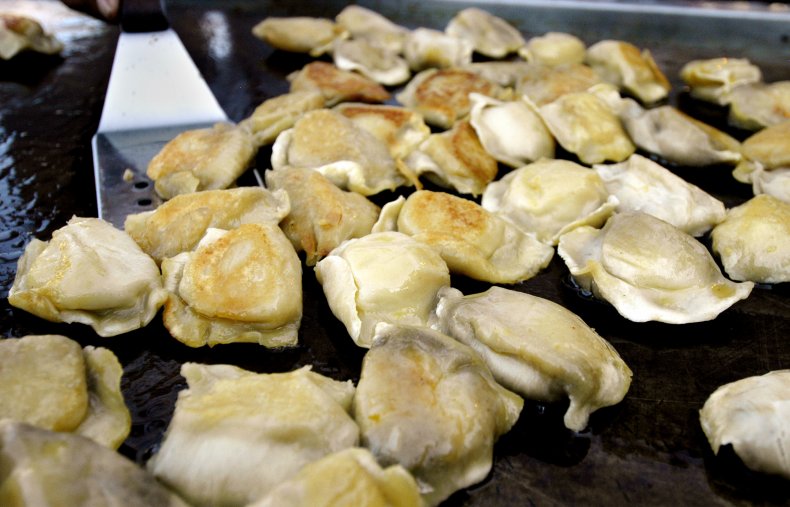 The Best Pierogi Deals
Rudy's Strudel, Cleveland, Ohio
Pierogi fans in Ohio can head to Rudy's Strudel on National Pierogi Day. According to the bakery's Facebook post, visitors can expect (aside from pierogi), live polka, trivia, giveaways and more. Rudy's Strudel was established in 1948 and serves classic European food with a modern twist.
Patina 250, Buffalo, New York
National Pierogi Day happens to fall during New York's Local Restaurant Week, from October 7-13. Head to Patina 250 to check out their home-made pierogi filled with potato and leeks, served with applesauce, sour cream, and onions. The deal is one starter and one entree for lunch for $20.19 and a three-course meal for dinner for $40.19. Patina 250 serves seasonal dishes using fresh, local ingredients.
Krakow Deli, Woonsocket, Rhode Island
This traditional Polish deli in Rhode Island is celebrating National Pierogi Day with a deal of 12 cheese and potato pierogi for $6.99 from 11:30 a.m. to 8.00 p.m. Krawkow Deli Bakery Smokehouse are known for their traditional Polish food, such as sausages, and for hosting pierogi cooking classes.
How to make pierogi
If you want to make pierogi to celebrate the national day, it's surprisingly easy. According to this recipe from The Spruce Eats, blend potatoes then mix with cheese and sauteed onions and season. Add your flour to a bowl and make a well, then add the egg, salt, and water. Knead the dough and let it rest for 20 minutes. Then, roll the dough out thinly and cut with a 2 inch round. Add some filling into the middle of each circle, then seal the edges of the dough with some water. Boil the pierogi until they rise to the surface, then serve with caramelized onions and sour cream.