National Pizza Week Deals from Pizza Hut, Domino's, Little Caesar's and More
Starting today (Sunday, January 12) it is National Pizza Week—a five-day event that sees pizzeria offer deals to dough lovers across the country.
To bring you the best deals out there, Offers.com has provided Newsweek with some of the tastiest treats at some of your favorite restaurants. If you're a fan of pizza-themed merchandise, Newsweek has you covered there too.
National Pizza Week 2020 Deals
Bertucci's: Get a free meal for your child when purchasing an adult meal for $8.99 or more. Available on Wednesday only. And on Tuesday, get a free large cheese pizza when you buy any large pizza. Good for dine-in or carry out after 4 p.m. local time
BJ's Restaurant & Brewhouse: For its Monday special, get half off any large deep dish or tavern cut pizza as well as $5 brewhouse margaritas
Blackjack Pizza: This place has several offers for you to take advantage of:
Blaze Pizza: Take advantage of its Take Two deal and get a half pizza plus your choice of one side salad or four Dough Knots for $9.95
Domino's: One of these deals much tickle your tastebuds:
Get two of the following menu items for $5.99 each: Medium two-topping pizza, bread twists, salad, marbled cookie brownie, specialty chicken, oven-baked sandwich, stuffed cheesy bread, eight-piece boneless chicken or pasta in a dish
Also, get the St. Jude Meal Deal for $19.99 and enjoy two medium one-topping pizzas, 16-piece parmesan bread bites, eight-piece cinnamon twists and a two-liter of Coke. A dollar from each purchase is donated to St. Jude Children's Hospital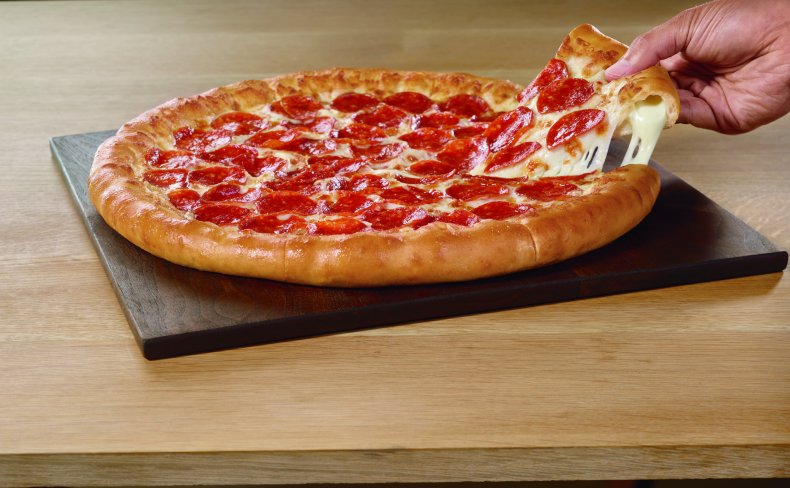 Fresh Brothers:
Get $5 off on online orders over $20 when you use the code PICKUP5
Also, get $10 off on online orders over $35 when you use the code PICKUP10
Get $15 off on online orders over $50 when you use the code PICKUP15. Please note that all orders must be picked up at the store
Godfather's Pizza: Get $3 off on large pizzas and $4 off on jumbo pizzas
Hungry Howie's: Choose any two of the Mix & Match items for $5.99 each and you can also get its new stuffed Howie bread for $6.99—choose from pepperoni, bacon, jalapeno or cheese
Little Caesar's: Get its Hot-N-Ready "ExtraMostBestest" Thin Crust Pepperoni Pizza for $6.49—available from 4:00 p.m. to 8:00 p.m. local time only
Monical's Pizza: Get a 14 inch thin crust pizza with up to three toppings for $20. It includes a family garden salad and soft drinks
Mountain Mike's Pizza: Get 15 percent off on large pizzas
Papa Gino's: Get two large cheese pizzas each for $10.99
Papa John's: Taste its new extra cheesy Alfredo garlic parmesan crust pizza priced at $10. It features the brand's new garlic parmesan crust topped with an Alfredo sauce and a 4-cheese blend
Pizza Hut: Get its large Meat Lover's Pizza for $10—it comes topped with pepperoni, Italian sausage, ham, bacon, beef, and pork. Customers can also get 50 percent off menu priced pizzas when you use the code FIFTYOFFNY for limited time only
Shakey's: Get the PCM party combo starting at $9.99—PCM for one includes an individual two-topping pizza with two pieces of chicken and Mojo potatoes
Pizza themed apparel
Amazon: You'll find plenty of pizza-themed clothing, including a Pizza is Always the Answer T-Shirt and pizza pajamas
Etsy: If you're looking for a subtle piece of jewelry or everyday wear, there are plenty of small pizza-slice pendants (made with your choice of metal) from the artists on Etsy. If your friends enjoy pizza just as much as you do, you'll also find pizza friendship necklaces. Each friend can wear a slice, and all the slices (when put together) form an entire pizza
Kohl's: The retailer has all kinds of pizza gear from sweatshirts to beanbags in the shape of a pizza and get 15 percent off on orders over $100 while you're at it
Overstock: The online store for everything home-related has a huge array of pizza ovens, pizza cutters, pizza stones and more. Get free shipping on orders over $45
Party City: Throwing a pizza party? Party City has pizza party-themed cups, paper plates and table covers—get up to $10 off with the latest coupons and promotions
World Market: Bake your next pizza in a terracotta oven to give it an artisan wood-fired pizza flavor—this promo code gets you an extra 10 percent off
Zazzle: If you are a pizza super-fan, Zazzle will help you celebrate that fandom with pride. Among your options are a T-Shirt depicting Space Cat Spinning a Pizza Turntable, pizza socks and pizza watches. Use code ZAZZLETHANKSCo to get 15 percent off on any order
Please read all coupon details and call your local restaurant to make sure the offer is eligible for your location.
Newsweek has affiliate partnerships, so if you make a purchase using our links we may earn a share of the sale.