National Pumpkin Day 2019: How to Get Free and Discounted Pumpkin Treats at Baskin Robbins, Krispy Kreme
National Pumpkin Day is today, October 26. Pumpkins are used around this time of year for carving, creating jack-o'-lanterns, decorating, cooking and, of course, making delicious pumpkin- and pumpkin spice-flavored treats.
Celebrate this season's favorite flavor with free and discounted dishes and snacks, with pumpkin-spiced ice cream, doughnuts, cakes and more. What's more, lots of restaurants like Basking Robbins, Krispy Kreme, and Sprinkles are offering discounted or free pumpkin treats, with promo codes and e-clubs.
Baskin Robbins
Claim a free scoop of ice cream when you download the Baskin Robbins app. Enjoy a free scoop of Baskin Robbins' festive Pumpkin Pie ice cream to celebrate National Pumpkin Day. Baskin Robbins is also celebrating Halloween with $1.70 scoops all day long on October 31.
Krispy Kreme
Get Krispy Kreme's Pumpkin Spice Cake doughnut for free when you sign up for Krispy Kreme Rewards. It's an old-fashioned, glazed pumpkin doughnut, which is perfect for the holiday season. Krispy Kreme also has a range of Halloween doughnuts featuring monsters like Slimon and Mumford.
Mrs. Fields
Enjoy discounted pumpkin treats like a pumpkin cake and pumpkin cookies at Mrs. Fields. Give pumpkin-flavored gifts like the Ghost Town Crate and Jack O'Lantern combo box. Plus, take 15% off your order with the discount code OCTOBER. The code is valid online only and throughout the month of October.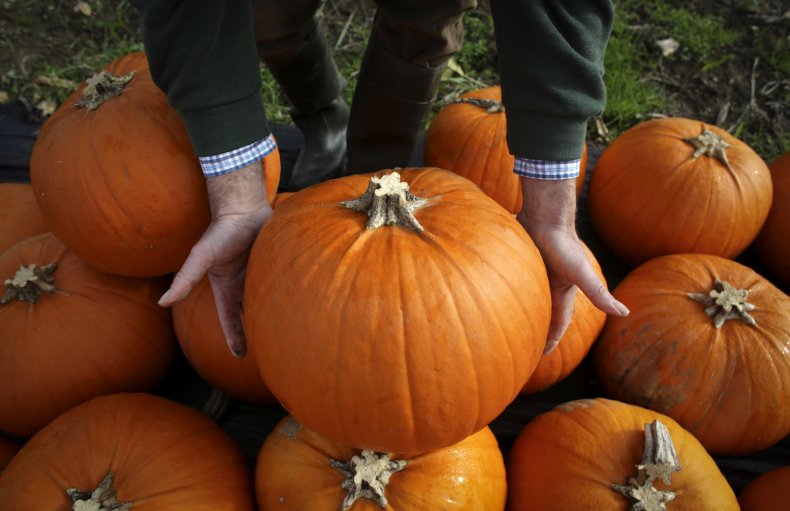 Sprinkles
Try a pumpkin cupcake from Sprinkles on National Pumpkin Day. It's a pumpkin cake spiced with ginger, clove, nutmeg and cinnamon with cinnamon cream cheese frosting and is available through November 30. Take 10% off your next order when you sign up for Sprinkles Perks. You can find Sprinkles in Arizona, California, DC, Florida, Illinois, Nevada, New York, and Texas.
Magnolia Bakery
Leading up to Halloween, it is no surprise that Pumpkin Spice is the cupcake of the week at Magnolia Bakery. The featured cupcake of October 21 to October 27 is made with pumpkin, dries cranberries and spices, and topped with cream cheese frosting.
Smoothie King
You can buy one pumpkin smoothie and get another for free at Smoothie King on October 26. Choose from the Pumpkin Coffee High Protein Smoothie, Pumpkin D-Lite Smoothie, Pumpkin Slim-N-Trim Smoothie or the Vegan pumpkin Smoothie. Use the Healthy Rewards app with your purchase to claim the offer.
Top Pumpkin Facts
The word "pumpkin" was first used in Cinderella. Until then, they were known as "gros melons" which translated into "pompions."
In 2005, the largest pumpkin pie ever was baked and it weighed 2020 pounds.
Pumpkins are fruits, not vegetables, as they have seeds on the inside.
Illinois grows the most pumpkins in the U.S. The state harvests 12,300 acres of pumpkins annually, according to the Farmers' Almanac.