National Pumpkin Pie Day 2019: Deals From Harry & David, Gourmet Gift Baskets and Smart for Life
Today (December 25, 2019) is National Pumpkin Pie Day as well as Christmas Day in the U.S. The traditional American dessert has been gracing our tables during Fall and Winter since the 17th century and it doesn't look like it's going to stop anytime soon.
Who invented Pumpkin Pie?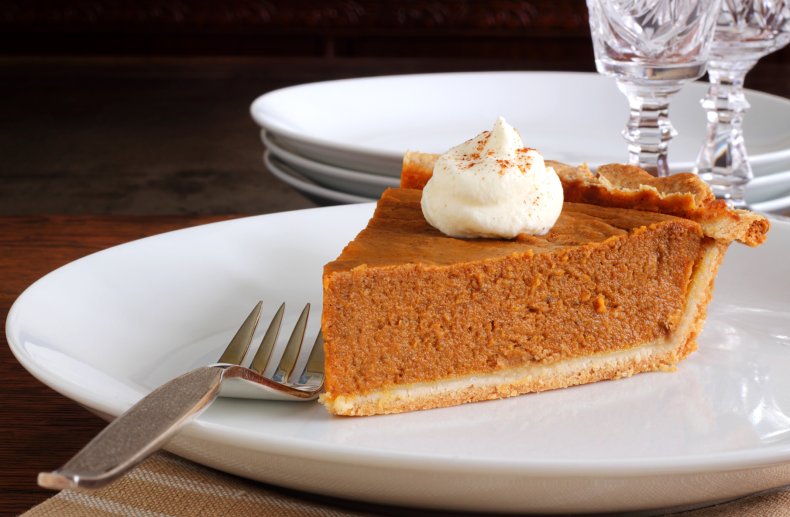 Did you know that the word "pumpkin" originated from the Greek word for "large melon?" According to What's Cooking America, the word—pepon—was changed by the French into "pompon" and the English pronounced it as "pumpion" or "pompion."
There are many theories about how pumpkin pie was invented or how it started to become a tradition. What's Cooking America writes that the Native Americans of New England would take pumpkins to the new English settlers as gifts, which eventually led to pumpkin becoming a traditional ingredient in Thanksgiving.
Later on in the 17th century, a French chef called Francois Pierre la Varenne published a cookbook called Le Vrai Cuisinier Francois (The True French Cook), which featured the first recipe of pumpkin pie with the crust, according to book The Story of Food.
This differed from the method used by the American settlers earlier in the century as they could not create a crust. They actually put ingredients, including fruit and milk, into a ripe pumpkin.
Another British cookbook, The Accomplisht Cook, published in 1685, also featured an early version of the recipe. It was named "pumpion pie", according to How Stuff Works.
Then, in 1796, an American cookbook was published by Amelia Simmons, featuring a recipe which is thought to be the first recipe that matches the pumpkin pie of today.
According to What's Cooking America, the book, American Cookery, featured two "Pompkin Pudding" recipes that used cream, eggs, sugar, mace, nutmeg, ginger and other ingredients.
How do you make pumpkin pie?
Today's pumpkin pie is available to many ready made in superstores or bakeries, but making one at home has never been easier. Most recipes use sugar, cinnamon, ginger, eggs, pumpkin puree, evaporated milk and cream (for serving).
For vegans, Instagram foodie, The Minimalist Baker, has created a vegan, gluten free pumpkin pie using only 10 ingredients. The recipe is available on her blog or readers can watch the video below.
National Pumpkin Pie Day Deals
To help readers get their pumpkin pie fix this holiday season, CouponFollow.com has provided Newsweek with exclusive codes so Americans can get themselves a good deal. A good Christmas present if ever we saw one.
Newsweek has affiliate partnerships. If you make a purchase using our links, we may earn a share of the sale.
National Pumpkin Pie Day 2019: Deals From Harry & David, Gourmet Gift Baskets and Smart for Life | U.S.