New Senate Report Alleges NRA Planned Moscow Trip, Brokered Ties With Russian Agent Maria Butina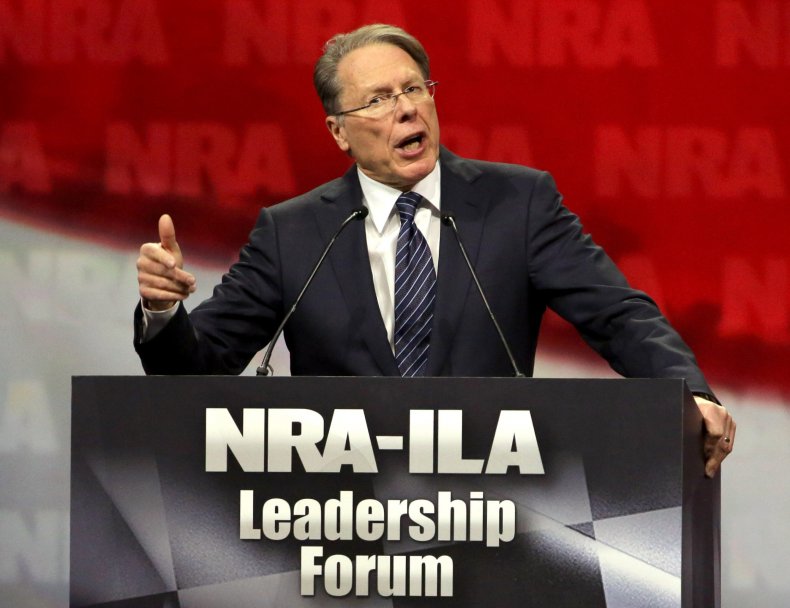 A report released Friday from Senate Finance Committee Ranking Member Ron Wyden (D-OR) revealed new evidence documenting the National Rifle Association's ties to Russia and its awareness of efforts by unregistered foreign nationals to infiltrate the organization in order to gain access to conservative political kingmakers.
"The NRA and [its] representatives provided the Russian nationals direct access to Republican Party leaders at events including its Annual Winter Board Meetings and NRA Annual Meetings, and facilitated additional access to conservative organizations like the Council for National Policy, National Prayer Breakfast, and multiple outdoor recreation and sporting goods wholesaler events," the report alleged. "Documents provided in the course of this investigation and those made public by the DOJ show that the Russian nationals used the NRA's December 2015 trip to Moscow to deepen personal relationships with NRA officers and representatives that they expected they would later be able to exploit in furtherance of their conspiracy."
Russian agent Maria Butina was at the heart of this conspiracy. While she worked on behalf of Russian government interests in establishing backchannels to influential conservative circles, she did so covertly, in contravention of the Foreign Agents Registration Act. In December 2018, Butina pleaded guilty on federal felony charges and was sentenced this year to 18 months imprisonment.
Butina's work was facilitated by her former employer and apparent handler, Alexander Torshin, a former Russian lawmaker and senior official at the country's Central Bank.
Wyden's report "confirms Butina and Torshin utilized a network of Russian oligarchs and high-ranking Kremlin officials" to lure NRA leaders and influential persons to Moscow "with promises of lucrative business opportunities." This reportedly included companies that were subject to U.S. sanctions.
These allegations of business impropriety mirror other scandals currently engulfing America's most powerful gun-rights lobby. The NRA has, in recent months, endured reports of lavish spending and pervasive conflicts of interest that appear to have enriched organization insiders at the expense of the NRA's non-profit imperatives.
Wyden on Friday renewed these same governance concerns, but this time presented new evidence that the reported financial misappropriations extended to the NRA's foreign activities.
"Members of the NRA delegation participated in the Moscow trip primarily or solely for the purpose of advancing personal business interests, rather than advancing the NRA's tax-exempt purpose," the Senate Finance Committee Democrats wrote.
While the NRA eventually distanced itself from the 2015 Moscow trip, the report alleges that the group's executive staff and organizational resources were used in its planning and execution. The delegation of NRA associates was also apparently aware that their travel would be used by Torshin for his domestic political purposes.
Senate Minority Leader Chuck Schumer released a scathing statement in response to the new information contained within the report, reiterating the importance of continuing to scrutinize the NRA.
"The report from the Senate Finance Committee shows the NRA has been engaged in business activities and self-dealing that likely violate nonprofit rules under the tax code," he said in a press release. "The NRA has abused its tax-exempt status and essentially become a business enterprise that its board members and leadership use for lucrative personal business opportunities, including in Moscow. As the disturbing truth continues to surface, the NRA's status as a tax exempt entity needs to be thoroughly investigated."
In response to a request for comment, William A. Brewer III, the NRA's outside counsel, provided the following statement:
"This report promotes a politically motivated and contrived narrative. An avalanche of proof confirms that the NRA, as an organization, was never involved in the activities about which the Democrats write. This report goes to great lengths to try to involve the NRA in activities of private individuals and create the false impression that the NRA did not act appropriately. Nothing could be further from the truth."
Brewer continued, "As noted by the committee Republicans in their rebuttal, this report is a transparent effort to justify yet another 'fishing expedition' into the NRA."
NRA spokesman Andrew Arulanandam disputed the report's characterization of the organization's 2015 Moscow trip, especially the notion that the NRA sanctioned or officiated it.
"Certain NRA members made the trip of their own accord," he said in a written statement. "The record reflects it was not an official NRA trip. NRA CEO Wayne LaPierre was opposed to it and, at his directive, no NRA staff members or employees attended."
This article has been updated to include a comment from the Senate minority leader and a response from the NRA.