13 Best Bottles of Wine to Celebrate National Rosé Day
Soft and vibrant bubbles of rosé brut Champagne can fill a glass as brightly as the sun rises in the early mornings of June. The way a chilled, acidic Nero d'Avola instantly cools the roof of the mouth is, perhaps, just as splashy and refreshing as an afternoon dip in the pool. And one certainly doesn't need to travel far from home just to experience a breezy tropical evening—a blend of Shiraz, Tempranillo, Grenache and Sangiovese is an exotic escape all on its own.
No matter the hour or the place, the pink drink that is rosé somehow always manages to bring the absolute best out of the day. Why do you think fans of the wine live by the code, "Rosé all day"?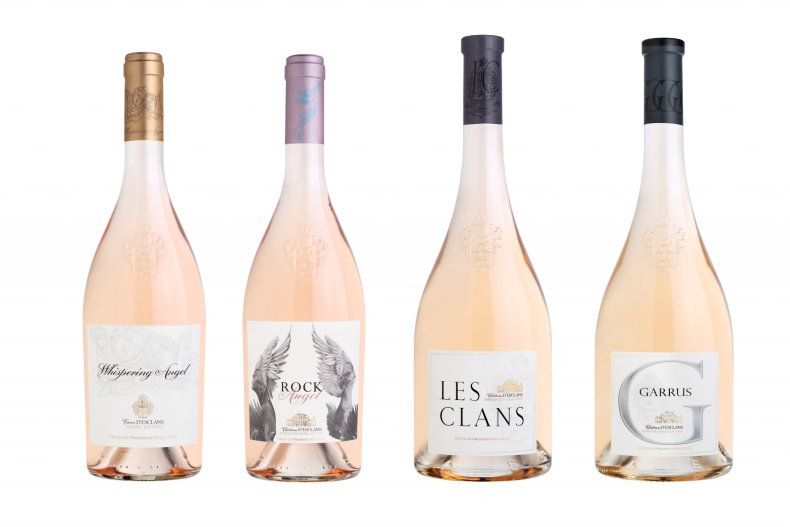 More than likely rosé will be what's on the menu for plenty of people across the U.S. on Saturday during National Rosé Day. Whether you're celebrating with a glass of pink juice for breakfast, lunch or dinner—or all three—we've compiled a list of some of the best bottles to try on the national holiday.
Schramsberg Brut Rosé: You want to spend National Rosé Day polished and refined? Then treat yourself to the flavorful, structured and dry bubbles of Schramsberg. Bright in flavor and color, the sparkling wine is delicious all on its own but stands up incredibly well to brunch plates and tapas bites. Retails for about $47.
Chandon Rosé American Summer Limited Edition: Intense and fruity bubbles shine through in this special edition of sparkling pinot noir. Flavors of ripe strawberry and fresh red cherry are creamy, crisp and refreshing on the palate. Retails for about $20.
Nicolas Feuillatte Palmes d'Or: National Rosé Day is a feat that only comes once a year, so if you want to spend the day completely balling out, there's only one way to do it: With Nicolas Feuillate's luxurious and elegant Palmes d'Or. Simply exquisite in bottle design and taste, the champagne comes alive with fruity character enriched by subtle, creamy bubbles. We're not going to tell you that you have to share, but its celebratory nature makes it a perfect wine for partying with your fellow rosé appreciators. Retails for about $160.
Mezza di Mezzacorona Rosé: Produced in the foothills of the Italian Alps, this rosé features a soft rosy hue that compliments the mountain rose and peachy aromatics it exudes. On the palate, its effervescent texture leads to a mousse-like finish with delicate fresh fruit flavor. Retails for about $13.
Stemmari Rosé: Made of Nero d'Avola, a grape native to Italy, Stemmari Rosé is bursting with berry flavor but it maintains a nice balance of minerality and freshness. While it's great with light dishes—like that afternoon strawberry and apple-topped salad you've been thinking of—it also pairs well with grilled vegetables and white meats like chicken and fish. Retails for about $10.
Marqués de Cáceres Excellens Rosé: A blend of Garnacha Tinta and Tempranillo leads to the pale-pink color and vivacious, silky-smooth taste of this Rioja-based expression. Floral aromas strike the nose while on the palate, the wine is ripe with white peach and pear notes. The medium-body wine is complete with a nice lingering finish. Retails for about $10.
LVE Cotes de Provence Rosé: There's a possibility John Legend traveled to Provence, rosé's birthplace, to to the vines of Grenache, Cinsault and Syrah that make up this pale pink beauty, because angelic melodies of peach blossom and apricot are front and center on the nose, while the wine tastes like a harmony of strawberry and white nectarine. The serenading finish is full of body and length but also features a bit of minerality. Retails for about $25.
Cape Mentelle Rosé: In the bottle, Cape Mentelle Rosé is the closest you'll likely ever get to drinking a sunset. Basking in warm pink hues, the wine—comprised of Shiraz, Tempranillo, Grenache and Sangiovese—is fresh with acidity and minerality reminiscent of white flowers growing out of stone. While the floral notes may lead you to believe the wine is as subtle as sweet as the golden hour, the taste is quite radiant with all the makings of a festive, sweeping violet evening. Zesty notes of Meyer lemon and jasmine shine through while the finish lingers with splashes of red currant and rose petals. Retails for about $20.
Hampton Water Rosé: If the beach is on the agenda for National Rosé Day, then you'd best be spending it diving into a bottle of Hampton Water. Far from the salty taste of the Long Island Sound, the blush-colored wine is ripe in watermelon notes and fresh-picked strawberry. A subtle minerality extends brings a long-lasting finish, which will likely lead you to pour another glass. Retails for about $25.
Smoke Tree Rosé: Packed with aromas of grapefruit and nectarine, the smell of this wine extends to its citrusy and elegantly acidic flavors that are complemented by notes of passion fruit, strawberry and a hint of lemon. Leaning towards the drier side of rosé, Smoke Tree Rosé offers a crisp, refreshing and memorable finish. Retails for about $20.
Whispering Angel Rosé: The brainchild of Rosé Godfather Sacha Lichine, Whispering Angel is full of fresh character and ripe berry personality. Easy to drink, with a smooth and round finish, this rosé pairs well with poolside or rooftop sipping and is enjoyable all on its own. Retails for about $21.
Chateau d'Esclans Rock Angel Rosé: Do you want a rosé that can stand up to light dishes and full-on entrees too? Look no further than Rock Angel. With a texture as rich as satin, the full-body wine has a complex structure ripe with red berry and zest notes that can wash down the typical cheese and charcuterie but pairs exquisitely with main courses like salmon, duck and lamb chops. Retails for about $36.
Chateau d'Esclans Les Clans Rosé: A subtle upgrade to the Rock Angel, Les Clans is similarly divine in complexity and taste. While the varietal features minerality and acidity reminiscent of lemon rind, the medium-body wine is flattered with fruit-forward notes of clementine, ripe peaches and papaya. It also pairs well with a variety of food, and unlike most rosés, Les Clans can be drunk now or later. So if you want to put it to the side for next year's National Rosé Day celebrations, the 2018 vintage will likely only taste even better next year. Retails for about $70.