National Sandwich Day 2019: Free or Cheap Sandwiches at Subway, Jack in the Box, Firehouse Subs
National Sandwich Day is today, November 3. Celebrate with free and discounted sandwiched from Subway, Jack in the Box and more. Plus, get ready for the return of Popeye's chicken sandwich—it's back today.
Check out our guide below on how to get discounts, promos and offers for free and discounted sandwiches for National Sandwich Day.
Subway—6" for $2.99
Sign up to get Subway deals sent to your phone and you can get a 6" sub for just $2.99.
Additionally, you can gift a cookie with discounted prices of $1 for 1, $2 for 3, or $8 for 12.
Jack in the Box—Free Jumbo Jack or 15% Off
You can get a free Jumbo Jack with the purchase of any large drink. The Jumbo Jack is made with a 100% beef patty topped with lettuce, tomato, pickles, chopped onions, and mayonnaise on a bun. Or, you can download the app and get 15% off your first purchase.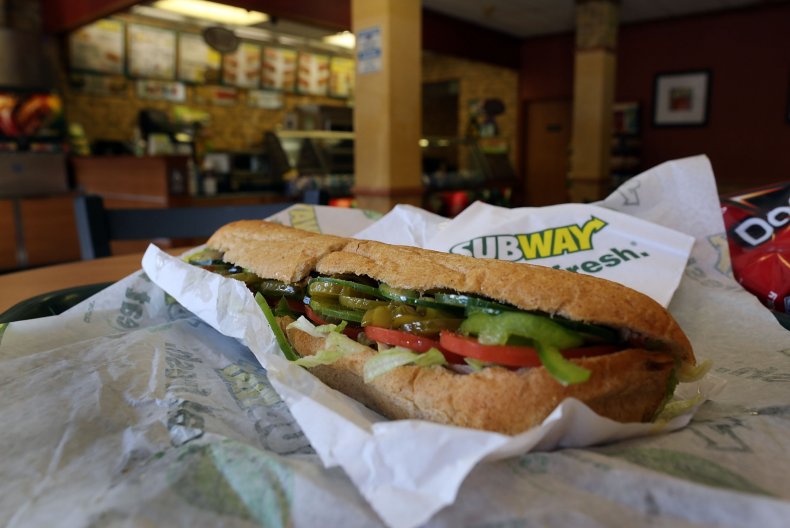 Jimmy John's—Free Surprise Sandwich
For National Sandwich day, Jimmy John's Freaky Fast Rewards members can order an Original or Favorite Jimmy John's sandwich and earn a free surprise sandwich. Customers will get either an 8-inch Favorite, 8-inch Original, Frenchie or the new Little John. The offer is available at participating around 2,500 locations nationwide.
Popeye's—Relaunch of the Chicken Sandwich
Popeye's famous Chicken Sandwich is finally coming back and what better day to return than National Sandwich Day? Head to your local Popeye's today to get your hands on the long-awaited chicken sandwich. It sold out in just under two weeks when it was launched back in August but it will be served in stores today.
McAllister in Atlanta—Free Delivery
As reported by Atlanta On The Cheap, Atlanta-based McAllister is offering customers free delivery on DoorDash for National Sandwich Day. Five locations across Atlanta will be participating in the deal, but check ahead to see if your local restaurant is included.
Firehouse Subs—Free Medium Sub
What's better than a free sandwich on National Sandwich Day? Here's a coupon for a free medium sub at Firehouse Subs. Its specialty subs include Smokehouse Beef and Cheddar Brisket, Firehouse Meatball, and New York Steamer.
Top Sandwich Facts
According to History.com, the sandwich was invented in 1762, when John Montagu, the 4th Earl of Sandwich, ate meat between two pieces of bread so that he wouldn't have to leave the gambling table.
Americans eat more than 300 million sandwiches every day, also according to History.com.
According to The List TV, an oblong sandwich can also called a hero, hoagie, potbelly, grinder, sub, torpedo, blimpie, wedge and po' boy.