National Sangria Day Deals From La Pulperia, National 27, Pepe by José Andrés and More
Today (December 20) is National Sangria Day and Newsweek has poured every effort into finding the best deals to help readers enjoy happy hour this Friday before Christmas.
What is Sangria?
Popular in Spanish-speaking countries, sangria, is a punch made with red or white wine mixed with sugar and plain or sparkling water. It is also flavored with citrus fruit and served chilled. The word "Sangria" is derived from the Latin for "blood" and the drink itself dates back to the Middle Ages. Unlike today, water was unhealthy to drink so people turned to fermented drinks as they carried a lower risk of causing illness. Sangria became popular in Europe and came to American soil at the Spanish World Area in the 1964 World's Fair, according to Fix.com.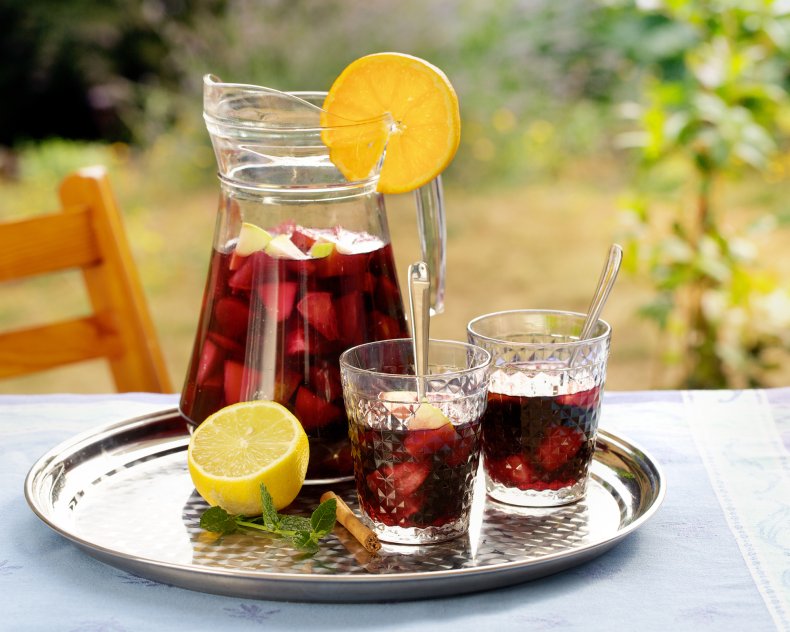 Traditionally, Spanish sangria uses wine made from Tempranillo grape, which is also used for the famous Rioja region wines.
Instagram foodie the Minimalist Baker created her own sangria recipe after she visited Barcelona, Spain in 2013, according to her blog. She makes the wine-based drink with just six ingredients and in five minutes, meaning that Newsweek readers could have their own version of this Spanish delight quicker than it could take to make a cup of coffee.
National Sangria Day Deals 2019
La Pulperia: The New York City bar is having a special in honor of National Sangria Day; for $12, they will be offering either Red Malbec, White wine, Rose or Apple Cider Sangria, the company told Newsweek. For those looking to share with friends, La Pulperia will be offering any of the above sangrias in their famous YOLO glass for $30 (regularly $45)
National 27: Enjoy $5 glasses of sangria made with house-infused wine, fruit, liqueurs, spices and brandy, according to the website. Choose from five flavors including; red, white, passion-ginger, mango-lime and raspberry-peach. Make your reservation here.
Pepe by José Andrés at Disney Springs: Celebrate National Sangria Day at the Disney resort with sangria for $6.
Sahara Las Vegas: Between midday and midnight today get $5 red sangria at CASBAR Lounge and Paradise Lounge.
Harpoon Hannas: The Fenwick Island restaurant is offering sangria for $2 between 4:00 p.m. and 7:00 p.m. local time on December 20, 2019
El Sarape: Get 50 percent off sangria at the Mexican bar on National Sangria Day
The Wine Spies: CouponFollow has provided an exclusive 10 percent off during National Sangria Day with code WINECF10. Check out the full selection at winespies.com