National Security Adviser Rejects Claim That Trump Invited Putin to the U.S. Ahead of Election
White House National Security Adviser Robert O'Brien dismissed reports that President Donald Trump had invited Russia's President Vladimir Putin to the U.S. ahead of the November presidential election.
NBC News reported Sunday morning that four sources had said that Trump has told staff that he would like to hold a summit with Putin within the coming months prior to the general election on November 3. But O'Brien rejected those claims, while asserting that the administration would be open to hosting the Russian leader in the future.
"We're not having a summit with Vladimir Putin before the election," O'Brien said in an interview with NBC News' Meet the Press on Sunday morning. "What Putin has floated is doing a P5 meeting with the P5 and Germany and Russia to try and bully the U.S.," he said. (P5 is a reference to the countries that are permanent members of the United Nations Security Council, which include the U.S., France, U.K., Russia and China. Germany is also a member, and these nations are generally referred to as the P5+1).
"So the U.S. doesn't want something here?" Meet the Press host Chuck Todd interjected.
"No, we've rejected that and it's not just Russia," the Trump official responded. "What the Russians are proposing is a summit with Russia, Germany, Iran and the other P5 members to try to bully the U.S. back into this terrible JCPOA deal [Iran nuclear deal], which was the worst appeasement since Munich," he added.
But O'Brien did say that the Trump administration would be happy to host a summit with Putin in the future. "At some time, we'd love to have Putin come here, hopefully to sign a terrific arms control deal," he said.
Trump's tenure in the White House has faced constant scrutiny over his ties to Russia. The president's business, the Trump Organization, was moving forward with a Moscow Tower project during the 2016 presidential election. Meanwhile, Russian intelligence interfered in the election, attempting to influence Americans' sentiments against his Democratic rival Hillary Clinton and in Trump's favor.
The president also publicly called for Russia to interfere during a campaign event, urging the U.S. rival to leak Clinton's hacked emails. The emails were later released via WikiLeaks and subsequently linked to Russian intelligence operatives through an investigation led by special counsel Robert Mueller.
Although Mueller's probe did not find sufficient evidence showing that the Trump campaign conspired with Russia in its interference effort, it documented numerous interactions between campaign officials and Russian operatives. Multiple members of the president's campaign staff were criminally charged and prosecuted as a result of the inquiry.
While Trump has repeatedly spoken favorably of Putin and held controversial meetings with the strongman leader, he has insisted that his administration has been exceptionally tough on Russia. The White House has imposed stringent sanctions on Russia and armed Ukraine, which is currently involved in a conflict with Russian-backed separatist rebels.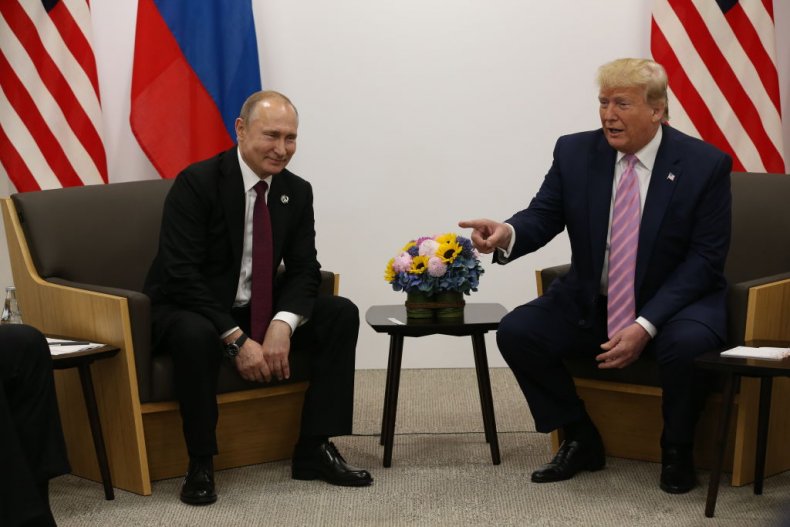 But Trump has also pushed for closer ties and cooperation with Russia, which many have criticized. He has repeatedly voiced his desire to reinstate Russia as a member of the Group of Seven industrialized nations—formerly known as the Group of Eight. Russia was suspended from the organization—which now includes just the U.S., U.K., France, Germany, Japan, Italy and Canada—following Moscow's annexation of Ukraine's Crimea region in 2014.
O'Brien on Sunday once again insisted that Trump has been tough on Russia, despite his positive remarks about Putin and his desire to have Russia return to the G-7. As concerns mount over Russian interference in the upcoming 2020 election, the White House adviser insisted that the U.S. is taking appropriate precautions.
"We've put so many sanctions on Russia, there's almost nothing left to sanction," he said.
Newsweek reached out to the White House for further comment, but did not receive a response by the time of publication.