National Security Chief Says China Too Tried to Hack Election, China Said It 'Doesn't Interfere'
After U.S. intelligence previously alleged Russian and Iranian attempts to interfere with the upcoming U.S. presidential election, White House national security adviser Robert O'Brien said the government has evidence that China has also made attempts to do so.
But Beijing—like Moscow and Tehran—has denied engaging in such activities.
"China doesn't export ideology, interfere in other countries' domestic affairs, seek to alter others' systems, or intend to have ideological confrontation with the United States or any other country," Chinese Foreign Ministry spokesperson Zhao Lijian told Thursday's daily press conference in Beijing. "We act on our words."
He then called on the U.S. to make a similar pledge.
"If the United States is candid enough, it can declare its intention to the world like China did: the United States doesn't seek to export ideology, change other countries' political systems, or meddle in others' internal affairs," Zhao said. "I believe such a commitment, once made by the U.S. government, will be warmly welcomed by all."
National Intelligence Director John Ratcliffe revealed late Wednesday that he, along with FBI Director Christopher Wray, had evidence that Russia and Iran had attempted to influence the upcoming elections and that the latter was behind an email operation spoofing the far-right group Proud Boys by sending videos in their name containing false information about voter fraud.
Ratcliffe claimed the campaign was "designed to intimidate voters, incite social unrest and damage President Trump"—a view shared by the president himself shortly after on his Twitter account. The emails in question appeared to aggressively advocate for Trump's reelection, bearing the warning "Vote for Trump or Else!"
When O'Brien commented on the matter the following morning on Fox News, he said there was even more to the story.
"It's not just Russia and Iran, it's China," O'Brien said, "and there are several other countries we have not gone public yet on, but we're taking major steps to protect the elections."
He said Beijing's involvement was part of a larger conspiracy.
"China goes about trying to cultivate local leaders, mayors, governors and congressmen, and convince them that if they don't vote China's way or if they don't do what China wants, China won't invest in their districts or in their cities and that sort of thing," O'Brien said.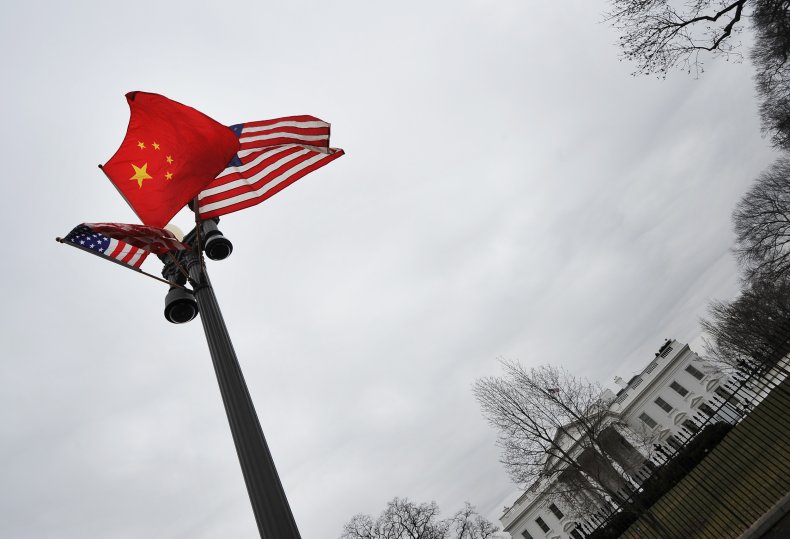 The accusation by Trump's national security adviser came a day after he penned an op-ed in Foreign Affairs in which he argued that the Chinese Communist Party's "ideological agenda extends far beyond the country's borders and represents a threat to the idea of democracy itself, including in the United States."
"Washington must understand that the fight against Chinese aggression first requires recognizing it and defending ourselves against it here at home, before it is too late," he wrote.
The argument was dismissed by Chinese officials as a slur that said more about Washington than Beijing.
"O'Brien is judging China's intentions by the United States' own mindset," Zhao told reporters. "His claim is ignorant of history and reality, full of strong ideological bias and the Cold-War mentality."
He claimed President Donald Trump's administration is playing politics with the claims.
"By hyping up ideological confrontation, a small group of U.S. politicians are trying to drag the world into a new Cold War," he said. "It is against the trend of the times to revive McCarthyism, an unpopular act that is doomed to fail."
Russia and Iran have also dismissed U.S. allegations that they were trying to influence the U.S. vote as part of a domestic campaign.
Kremlin spokesperson Dmitry Peskov said Thursday he was commenting on the issue "with regret."
"Accusations are pouring in every day, they are all absolutely groundless, they are not based on anything," Peskov said in comments sent to Newsweek by Moscow's embassy in Washington. "It is rather a tribute to the domestic political processes related to the upcoming [US presidential] election."
In a separate statement sent to Newsweek, Iranian mission to the United Nations spokesperson Alireza Miryousefi also denied O'Brien's allegations.
"Unlike the U.S., Iran does not interfere in other country's elections," Miryousefi said. "The world has been witnessing the U.S.' own desperate public attempts to question the outcome of its own elections at the highest level. These accusations are nothing more than another scenario to undermine voter confidence in the security of the U.S. election, and are absurd."
He declared Tehran's neutrality in the race and called on Washington to cease publishing such allegations.
"Iran has no interest in interfering in the U.S. election and no preference for the outcome," Miryousefi told Newsweek. "The U.S. must end its malign and dangerous accusations against Iran."