National S'more Day Deals, Giveaways and Freebies
Today (August 10) is National S'more Day and people across the U.S. will be looking for excuses to settle down in front of a campfire and nom on their favorite snack.
In honor of the day, Newsweek has sat through campfire canons and singed some hairs to bring you the best deals and giveaways.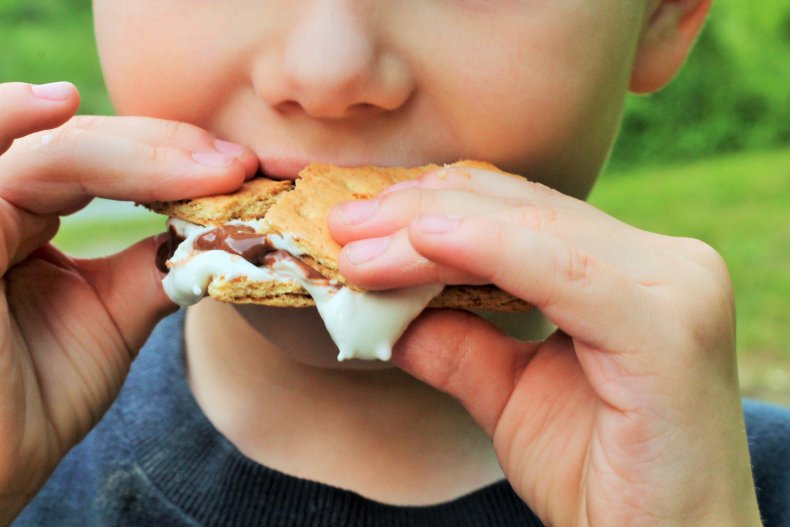 National S'more Facts
Did you know that s'more is short for "some more"? Here are some more facts, courtesy of Hershey:
Nearly 90 percent of Americans have had a s'more
S'mores folklore suggests that s'mores were named right by the campfire; after eating one, young kids chanted "gimme some more!" which blended together to sound like s'more. The first recipe was published in a 1927 Girls Scouts book
Americans buy 90 million pounds of marshmallows every year; half are toasted over a fire during summer months
For the third year in a row, the town of Morrisville, North Carolina will change its name to S'Morrisville to commemorate the holiday
National S'more Day Deals
Belgard: Like salt and pepper, s'mores and a campfire are a perfect pair. To make sure you're all set up, Belgard is launching a competition for someone to win its Ashland Fire Pit Kit. Participants can enter at www.belgard.com/smores by sharing their fireside memory or recipe by August 31, the company told Newsweek.
SMASHMALLOW: The all-natural, gluten-free and non-GMO marshmallow brand is offering 20 percent discount on all orders on SMASHMALLOW.com over the National S'more weekend. Use code "SMOREBETTER" and you could also be with a chance of being gifted a customer "S'more to Love" t-shirt with orders over $50. Only the first 50 orders of this will be in with a chance, the company has told Newsweek.

Also, consumers can catch the SMASHMALLOW S'more Vehicle to celebrate the holiday and end of summer with complimentary s'more smash-ups coast-to-coast or sample SMASHMALLOW on National S'mores Day at over 160 Super Target stores nationwide.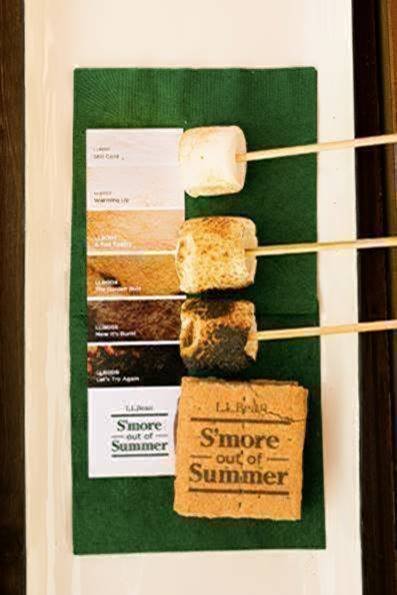 The S'more Swatch helps you decide which is your favorite type of cooked marshmallow.
L.LBean
L.L.Bean: The brand is giving away free s'mores at all its stores on National S'more Day. Just head to your local L.L.Bean store to celebrate on Saturday, August 10. You can also grab yourself a S'more Swatch so you can find the perfect coloring for you and your friends, the company told Newsweek.
Kermit's Outlaw Kitchen: There's an incredible Elvis Presley-inspired variation of the beloved American dessert being served here, the company has told Newsweek. The signature Elvis' Coal Roasted Banana Boat features a whole banana, chocolate, marshmallows, graham crackers and honey. It is wrapped in foil and tossed in the hot coals of their wood-burning grill, served with sweet magnolia gelato–a perfect last taste of summer.
BALEENkitchen at Solé Miami: The boutique resort in Sunny Isles Beach, Florida, offers various services and amenities including a daily fireside happy hour on the beach with build-your-own complimentary s'mores, the company told Newsweek. S'mores on the beach? What more could you want?
1833 Kitchen & Bar, Inns of Aurora: Guests can indulge on the S'mores Tart from 1833 Kitchen & Bar, the company has told Newsweek. A decadent way to enjoy a childhood favorite, the S'mores tart is made with dark chocolate ganache, graham cracker crust, salted caramel, marshmallow cream and vanilla milk, and pairs deliciously with the restaurant's selections of local Finger Lakes wine.
Deer Path Inn: Blending its English heritage with a classic American campfire treat, the Deer Path Inn's S'mores popover is a graham cracker-dusted chocolate popover pastry filled with warm Hershey's chocolate sauce. For a savory twist, the popover is paired with a bacon marshmallow spread, sweetened with organic maple syrup, the company told Newsweek.
Firelight Camps: This glamping site located in the Finger Lakes region of central New York not only offers elevated, furnished tents surrounded by hiking trails through the gorgeous Finger Lakes foliage, they also sell branded s'mores kits to guests to enjoy over the communal campfire, it told Newsweek. The gourmet s'mores packs are made from scratch and created with locally-sourced ingredients.
Crowne Plaza HY36: Providing the ultimate camp experience for traveling families visiting New York City, the Crowne Plaza HY36 offers an in-suite artificial campfire and DIY s'mores kit as part of its Hibernation Vacation Suite package, the company told Newsweek.