National S'Mores Day 2020 Deals and Recipes
National S'mores Day is on August 10, 2020—24 hours dedicated to a treat that delights many Americans on their camping trips.
According to Hershey's, nearly 90 percent of Americans have had a s'more. Americans buy 90 million pounds of marshmallows every year. As told to Newsweek by the chocolate company, s'mores were named right by the campfire when young children chanted "gimme some more", which came together to sound like "s'more". The first recipe was published in a 1927 Girls Scouts book.
The town of Morrisville, North Carolina, loves the day so much that it has changed its name to S'Morrisville to commemorate the holiday—this will be the fourth year it has done so. Many brands will also release limited edition products, including Jelly Beans Candy Company.
To help people across the country celebrate s'mores, Newsweek has brought together deals and freebies that don't require a camping trip. Don't miss out—some of these start during the weekend.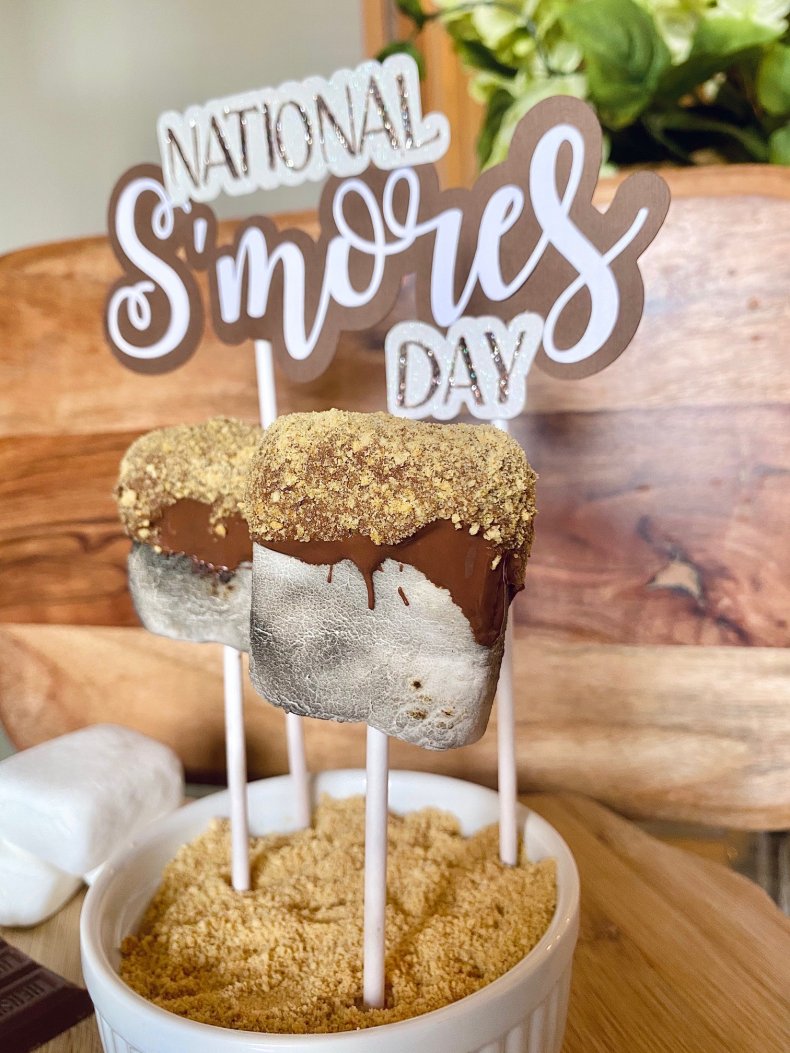 National S'more Day 2020 Deals
Stuffed Puffs: The chocolate-filled marshmallow brand is celebrating big this year on August 10 and the company told Newsweek what Americans can do to get their hands on the yummy treat:
Nationwide: Stuffed Puffs will be running a social giveaway on Instagram (@stuffedpuffs), where users can win 30 free bags of Stuffed Puffs. To continue the celebration, fans can use code BETTERSMORES20 on stuffedpuffs.com for 20 percent off all products from August 7 to 10.
New York City: Stuffed Puffs is partnering with ice cream shop New Territories NYC with a co-branded Stuffed Puffs S'mores Milkshake. For one-day-only, fans will have a chance to try a special dessert made by the dessert retailer for free, while supplies last. A graham cracker shake blended with brownies, Stuffed Puffs marshmallows and chocolate chips and topped with fudge, chocolate sprinkles and a Stuffed Puffs S'more. Fans must RSVP here.
Insomnia Cookies: On National S'mores Day, customers can add a free deluxe s'mores cookie to their cart if they have the promo code via the brand Instagram Story scavenger hunt, which is taking place on August 10 in the morning.
Girl Scouts Cookies: According to WKBW, the Girl Scouts of Western New York is giving away a free package of Girl Scout cookies with any purchase made at one of its shops. Curbside pickup is available and the offer will run between 1:00 p.m. and 4:00 p.m. ET, on August 10, 2020.
The following locations will honor the offer:
Buffalo Service Center, 3332 Walden Ave., Suite 106, Depew, NY 14043
Jamestown Service Center, 2661 Horton Rd., Jamestown, NY 14701
Lockport Service Center, 5000 Cambria Rd., Lockport, NY 14094
Rochester Service Center, 1000 Elmwood Ave., Door 9, Rochester, NY 14620
National S'more Day Recipes
If you don't want to venture out or want to get creative in the kitchen, Frank Majowicz, executive chef at Hyatt Regency Lost Pines Resort & Spa, shares his top tips and recipes for creating the tasty treat at home.
You'll be wanting s'more once you've finished creating these beauties.
Frank Majowicz's Top Tips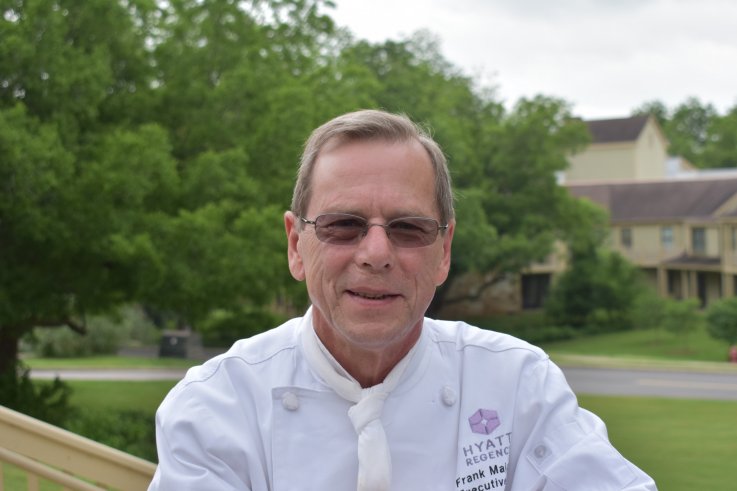 The executive chef at Hyatt Regency Lost Pines shares his tips for National S'mores Day
Hyatt
If you don't have access to a campfire set-up, there are several easy ways to roast a marshmallow at home. You can get creative by using a cooking torch, or by broiling marshmallows on a baking sheet until the top side is golden brown, and then flipping each marshmallow and repeating.
In addition to the traditional ingredients of graham crackers, chocolate bars, and marshmallows, have some fun and get creative with additional toppings and recipe variations. I've tried s'mores recipes with everything from peanut butter to brownie chunks, and each unique recipe is delicious in its own right.
Chocolate Chip Cookie S'mores
Ingredients:
2 chocolate chip cookies
1 roasted marshmallow
4 pieces of a Hershey's Milk Chocolate Bar
Directions:
Roast a marshmallow over a fire or in the broiler until its golden brown.
Place the Hershey's Milk Chocolate Bar and the roasted marshmallow between two home-made or store-bought chocolate chip cookies.
Don't wait a second longer and eat it up.
Reese's Banana S'mores
Ingredients:
Graham crackers
1 roasted marshmallow
1 original-sized Reese's peanut butter cup
Sliced bananas
Directions:
Roast a marshmallow over a fire or in the broiler until its golden brown.
Place the Reese's, sliced bananas, and marshmallow between two graham crackers.
You still here? Gobble it up!
S'mores Pops
Ingredients:
Melted Hershey's Milk Chocolate Bar
1 roasted marshmallow
Crushed graham crackers
Directions:
In a small stovetop pot, melt the Hershey's Milk Chocolate Bar on low heat.
While the chocolate is melting, roast a marshmallow over a fire or in the broiler until its golden brown and crush up the graham crackers into a separate dish.
Once the marshmallow is roasted, remove it from the fire or stove remove the roasting stick and insert a cake pop or lollipop stick.
Dip the roasted marshmallow in the melted chocolate until it is fully covered and then roll it in the crushed graham crackers.
Do not waste another minute and eat it.
S'mores Sunday
Ingredients:
Vanilla ice cream
Sprinkles
Crushed graham crackers
Marshmallow fluff
Hot fudge
Directions:
Scoop the desired amount of ice cream into a bowl.
Add a generous amount of the remaining ingredients as ice cream toppings.
Go to your bedroom, without anyone knowing, and eat it all to yourself.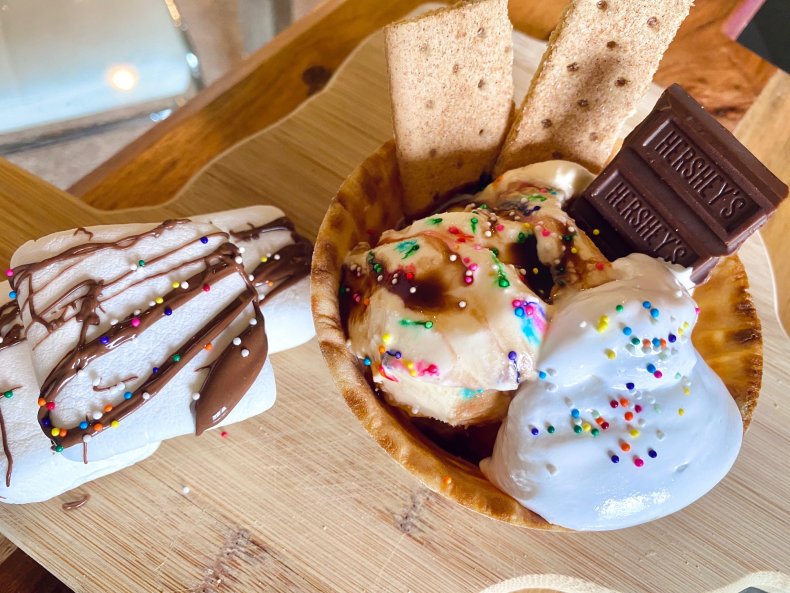 Newsweek has affiliate partnerships. If you make a purchase using our links, we may earn a share of the sale.