National Student Walkout Day: March for Our Lives Teenagers Write Powerful Letter to NRA
Three high school students from New Jersey who helped organize the March For Our Lives have written a fiery letter to the National Rifle Association (NRA) in an effort to fight gun violence.
The letter, titled "Dear National Rifle Association: We Won't Let You Win. From, Teenagers" and written by Darcy Schleifstein, Zachary Dougherty, and Sarah Emily Baum, appeared in the op-ed section of the New York Times on Wednesday. The teenagers tell the NRA that they are the "future leaders and voters of this country" and will remember the politicians who took donations from the association.
"We will flex our muscles at the ballot box, too. Many high school seniors will cast their first ballots this November, and in 2020, a majority of today's high school students will most likely be able to vote in their first presidential election. And we will not forget the elected officials who turned their backs on their duty to protect children," the letter reads.
The letter comes as thousands of students across the U.S. participate in the National School Walkout Day, one month after a gunman opened fire at Marjory Douglas High School in Parkland, Florida, killing 17 people.
The teenagers also commend New Jersey Governor Phil Murphy and corporations like Dick's Sporting Goods, Walmart, and FedEx that have placed restrictions on purchasing guns or have cut ties with the NRA. They say Generation Z will be the generation to end gun violence.
"We are the future of this country, yet we can no longer assume that we are safe from mass shootings in our schools. Nor can we assume our elders will protect us. Instead, we have to work ourselves to end senseless killing, not just for our sakes, but for the sakes of future generations of Americans," the letter reads.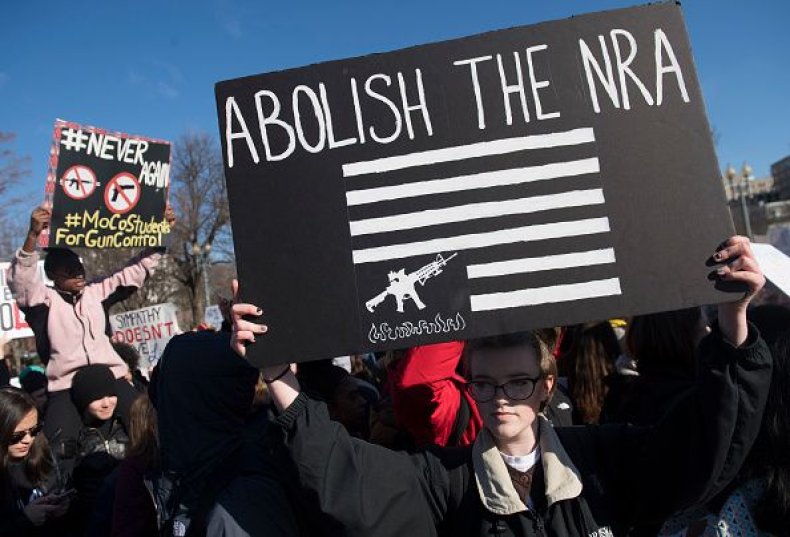 Schleifstein, Dougherty, and Baum are involved in the 19-student group who organized New Jersey's March For Our Lives on March 24, which is just one of the 736 marches taking place that day.
"We implore students, their parents, teachers, school administrators, religious leaders, corporate executives and elected officials across the country to join any march, no matter where they are, and fight to make our schools safe," they wrote.
Recently, the NRA filed a federal lawsuit against gun control legislation that was signed by Florida's Governor Rick Scott, which states that it will raise the age of buying guns from 18 to 21.