National Sundae Day 2019 Recipes and Deals from Dairy Queen, Blue Bunny and More
Today (November 11, 2019) is National Sundae Day which also coincides with Veterans Day in the U.S. Check out Newsweek's article on Veterans Day deals to treat your military and veteran family members.
While to many it is a symbol of cold sugary goodness, the history of the ice cream sundae reads more like a Shakespearean tragedy. Firstly, there is much contention about where the name "sundae" came from. According to What's Cooking America, some historians believe that it was created in response to the "Blue Laws" which stopped the selling of ice cream sodas on Sundays because it was a religious day.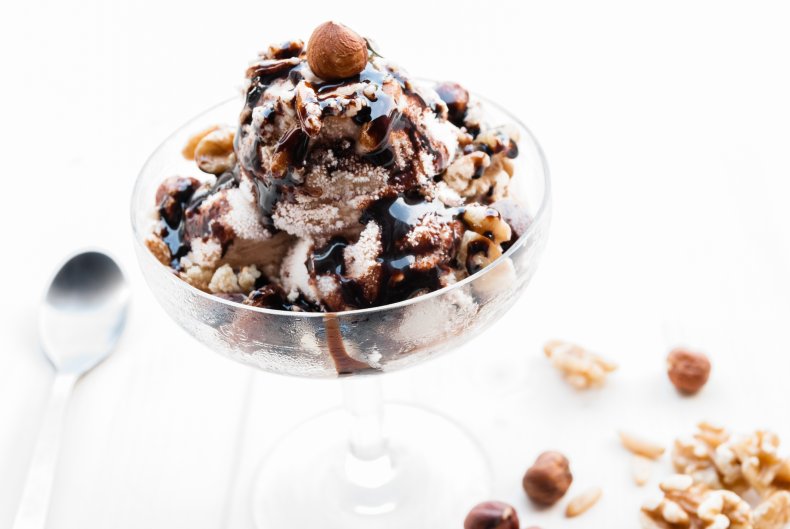 But the rivalry between Two Rivers, Wisconsin, and Ithaca, New York, is where the drama of the ice cream sundae comes into its own. Both cities profess that the invention of the ice cream sundae happened in their location, with letters and barbs between the mayors of the cities dating back to the 1970s, according to What's Cooking America. To some, it's also known as the "Sundae War."
One theory is that in 1881 the first ice cream sundae was invented by accident in Two Rivers, Wisconsin, according to the Two Rivers Historical Society. In an article by What's Cooking America, an ice cream parlour owner had to compromise with a customer who had ordered an ice cream soda; because of the Blue Laws, this wasn't permitted. The owner, Ed Burners, decided to put ice cream in a dish and pour chocolate syrup over it. A similar theory exists for Ithaca, New York.
But as Laura B. Weiss, food historian and author of Ice Cream: A Global History, the ice cream sundae has existed in many forms over the years and has "evolved" into what we know it as today: "For example, there was the French coupe; ice cream sauced with fruit and other toppings," she told Newsweek.
What we know as the ice cream sundae is what Weiss calls the "modern sundae" and she agrees that it was born because "ice cream sodas were considered too frivolous to consume on Sundays." However, the mystery regarding which city invented the sundae first remains: "Who came up with this idea first has vanished in a puff of whipped cream."
National Sundae Day Deals
Cold Stone Creamery: Get a free $10 eGift when purchasing $40 in gift cards online.
Braum's: During the holidays the ice cream brand offers two special sundaes; the Pecan Caramel Cinnamon Crumb Cake Sundae and the Peppermint Brownie Sundae. Single sundaes are $1.79 and double dip sundaes are $2.69. It also has weekly specials for customers to take advantage of, which can vary by location.
Dairy Queen: Match two super snacks for $4, which includes a small ice cream sundae.
Carvel: While there isn't anything advertised for November 11, two days later on Wednesday customers can buy a classic soft ice cream sundae and get another free.
Baskin & Robbins: When customers download and login to the store's app for the first time, they will get a free scoop of ice cream.
Blue Bunny Ice Cream: Sign up for the email newsletter and get 75 cents off any Blue Bunny Ice Cream, Load'd Sundaes Cup or Novelty Pack. Restrictions may apply.
Ice Cream Sundae Recipes
For those who want to stay in or make a special treat for their veteran and military family members, here are some tutorials to help recreate the magic of an ice cream parlour at home.
Outrageous Ice Cream Sundaes: Forget the typical chocolate syrup; Gemma Stafford, a professional chef originally from Ireland, has created three out of this world sundaes. Perfect for the experimental bakers. Try her Lemon Meringue Pie Sundae, Strawberry Shortcake Sundae and Banoffee Pie Sundae recipes.
Vegan Hot Fudge Sundae: Ice cream isn't often vegan-friendly, given it's made from dairy, however food blog Hot for Food has created a vegan alternative which might even be better than the dairy variety.
The Ultimate Ice Cream Sundae: For competitive families, this recipe is perfect. Food vlogger Matt Stonie has created the ultimate ice cream sundae, made up of 30 scoops of ice cream and 17 toppings. It is definietly not for the faint hearted; the dessert is a whopping 11,000 calories.