July 17 is designated National Tattoo Day, and the art of tattooing, which dates back to China in 2100 B.C., shows no sign of ending anytime soon. As designs become consistently more intricate, a new tattoo rose to popularity in the wake of the 2016 election—the face of President Donald Trump. While it's certainly not as popular as, say, a moon or an arrow, the design has found a place on various people's bodies.
Illinois-based tattoo artist Charles David Tracy told Newsweek that he's completed only one Trump tattoo so far but has two more people scheduled for the tattoo.
"The folks who want them seem to be supporting the president," he explained. "I really can't label them as Republicans or Democrats. To be honest, it's not really my business. As long as the client is happy, I'm happy."
The tattoo of Trump that he completed is a complex design that looks nearly identical to the president, who is pictured in a suit and tie with a stern expression on his face. No detail was spared on the tattoo, which even depicts the crow's feet along the president's temples.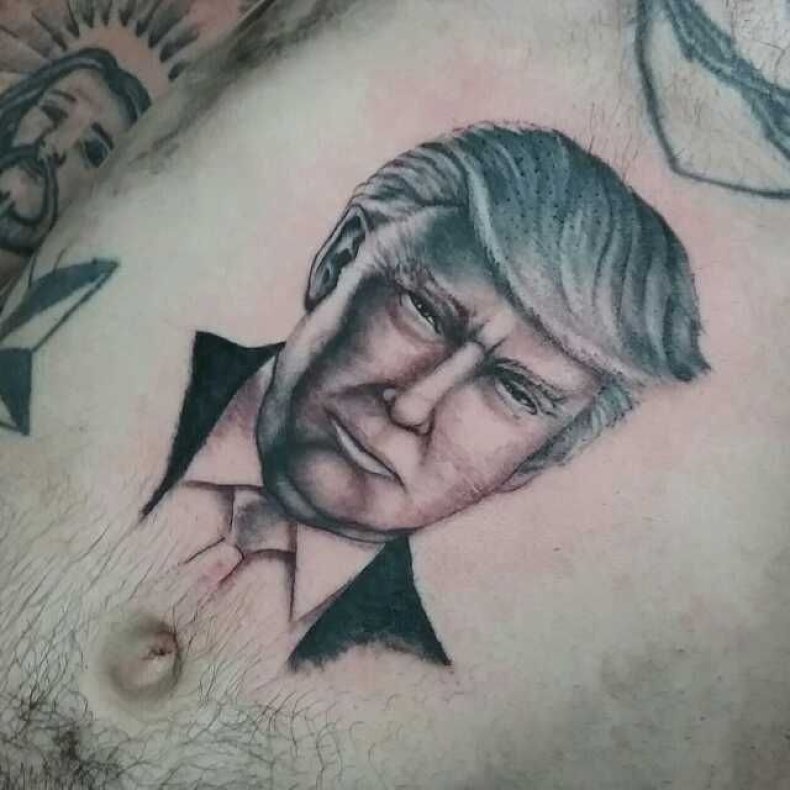 Dustin Kendig, a Portland-based tattoo artist, told Newsweek that he's completed four Trump portrait tattoos. Unlike most of the tattoos he's done of Trump's face, which are usually based on modern portraits, he said the most interesting tattoo was for a man from Texas who wanted a portrait of the president in his younger years.
He believed the client was a Trump supporter and Kendig said it was a fun tattoo to do because of how much "people love to hate" Trump. While all of the people who asked for Trump tattoos seemed to support the president on some level, he added that they weren't "super into politics" and thinks they may have gotten the tattoos just because the "anti-Trump people are so extreme."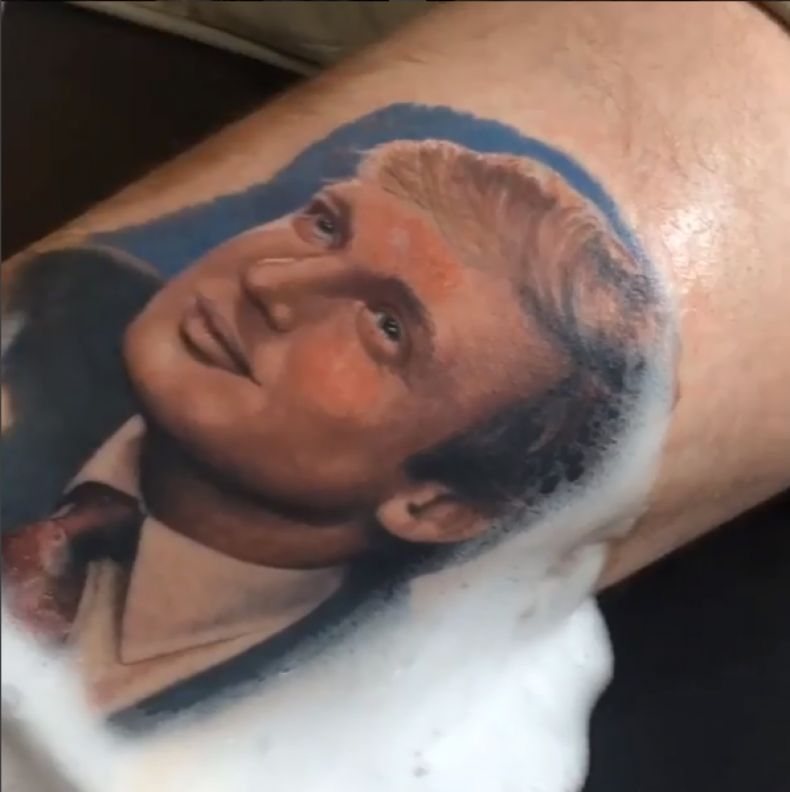 "I never once did a [President Barack] Obama tattoo," Kendig told Newsweek. "I think it's just cause the hatred is so strong."
Ahead of Trump's surprise win during the presidential election, the Clay Dragon, a New Hampshire tattoo shop, said tattoos of the Republican candidate would be done for free. Tattoo artist Bob Holmes applauded Trump for running the country like a business and told WFXT that anyone who doesn't think the country is a business is naive.
While his most popular design was for the "Make America Great Again" slogan, Holmes told WFXT that he has had a few appointments for portraits. During the yearlong promotion, Holmes completed 78 tattoos and told The Daily Beast that he's had people come from across the country to get a design done.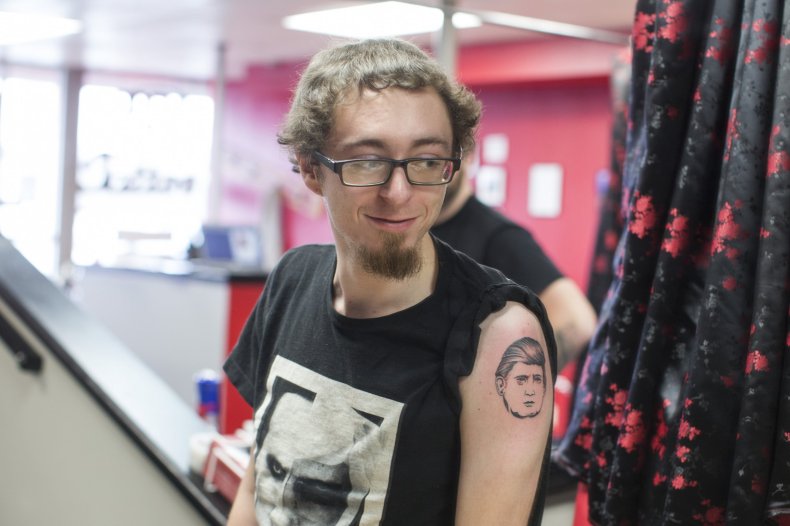 "Nobody's saying, 'I'm going to punch you because you have a Donald Trump tattoo,'" Bill Fowler, who has a tattoo of Trump's campaign slogan, told The Daily Beast. "I want to make America great. This is my statement, he just happened to coin it. I want America to be great, don't you? Everyone wants America to be great, and we're not anymore."
During a rally in Ohio on March 14, 2016, supporter Anthony Borbell caught the attention of photographers with his tattoo of the president's face, which he had placed on his upper right arm.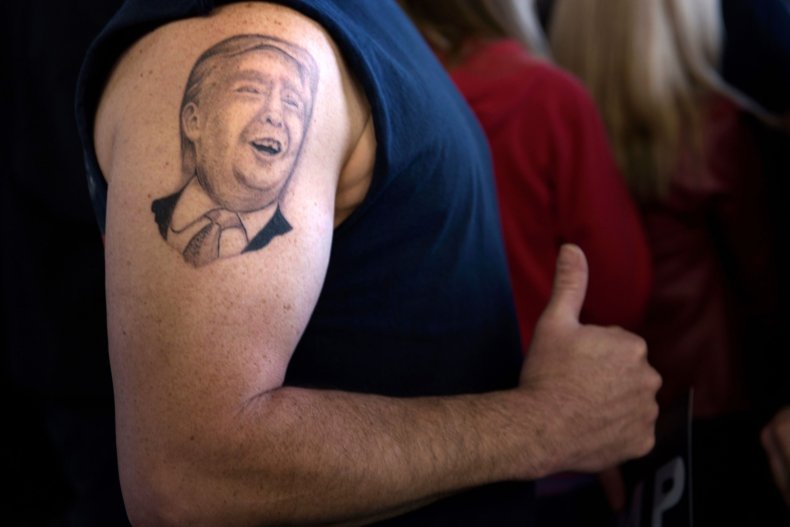 While Trump hasn't taken Holmes up on an offer to get a free tattoo, he did come face-to-face with at least one tattoo that was inspired by his campaign. In May 2016, after a campaign rally, Trump signed a man's arm right underneath where the supporter had a tattoo that said "Make American Great Again," accompanied by the outline of the future president's profile.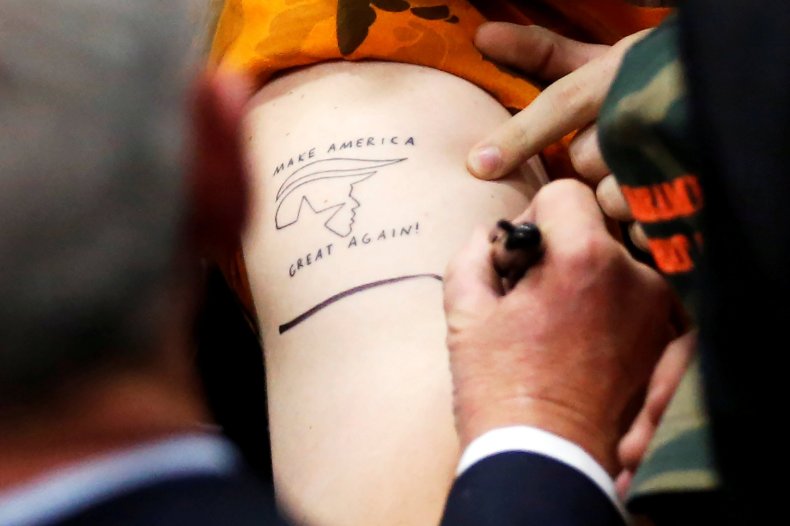 However, not everyone who gets a Trump tattoo is a fan. One man posted a photo of his tattoo, which depicts Trump as the DC Comics character the Joker, on Instagram to mark the day the president arrived in the United Kingdom.
"Some mangled apricot hell beast has graced our shores with his presence today," he captioned the photo.
Another Trump tattoo depicted the president's hair on fire. The artist, Megan McGonigle, thanked her client on Instagram, whom she described as being "equally disgusted by the current state of affairs."
Other people have opted for less-permanent solutions to show their support or disdain for the president, with temporary tattoos supporting his re-election and the declaration "He's my president." Inkbox, a temporary tattoo company, also came out with a "nasty woman" tattoo for those who want to show their disagreement with the president, who called his election opponent Hillary Clinton a "nasty woman."
This article has been updated to include the response from Dustin Kendig.