National Tequila Day 2020: Deals for Taco Cabana, Pasta Eater, Chilli's and More
Today (July 24, 2020) is National Tequila Day—24 hours dedicated to the Mexican spirit that is responsible for the making and losing of memories.
To help Americans get into the spirit of this celebration, Newsweek has researched deals, discounts and freebies that are up for grabs this Friday and watered it down to give you the best money-saving tips for the beginning of your weekend.
What is Tequila?
Apart from making us happy, tequila is a distilled alcohol made from the blue agave plant, which grows in Jalisco, Mexico. The plants produce sugars such as fructose and can only grow in rich, sandy soil at an altitude of 1,500 meters.
According to Win Calendar, the Aztecs created fermented beverages from the agave plant before the arrival of the Spanish in 1521. In an article by The Atlantic, the Aztecs would also use the agave for food and shelter—the flesh could be eaten and the leaves would be dried and woven into clothing, floor mats and thatched roofs. They would also use the fermented beverage, which was more like beer than a spirit, as part of religious ceremonies to communicate with their gods.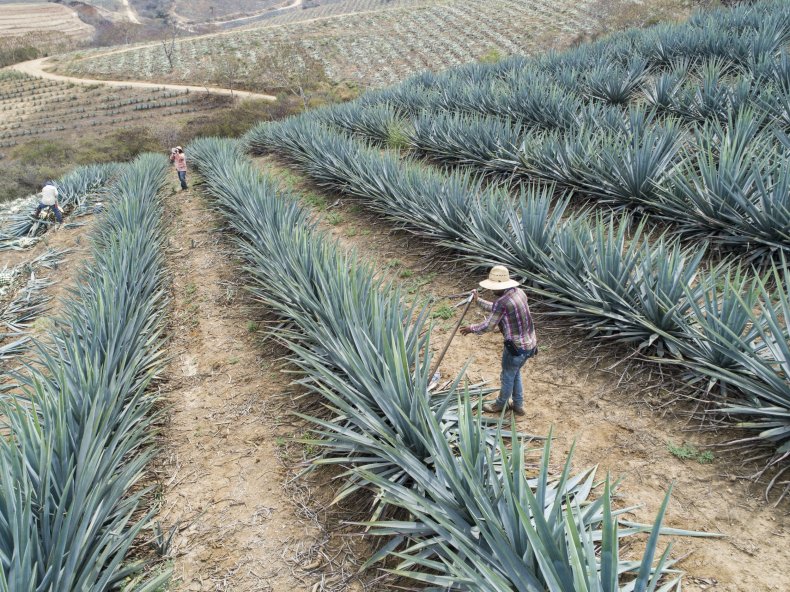 "The spirit is made when the leaves are sheared, to reveal the heart of the plant referred to in Spanish as the 'piña,'" Patrick Pistolesi, head of mixology at NIO Cocktails, told Newsweek. "The ripe hearts are then quartered and roasted to allow the starches to convert into fermentable sugar. They are then squeezed and the resulting juice ferments for up to four days, before being distilled to reach the desired alcohol content." From here it is bottled or aged for up to three years.
According to Pistolesi, distillation of agave in Mexico dates back to the 17th century.
"By the 19th century, the spirit had made its way north of the border as transportation routes expanded," he said. "In the 20th century, tequila became the drink of choice in the southwest during Prohibition and also helped fill the gap in alcohol supply during World War II. Today, tequila is a global industry worth many billions of dollars with its biggest export partner being the U.S."
While tequila can be drunk on its own, mainly as a shot, it's also used in cocktails such as Margaritas. Bonefish Grill provided Newsweek with a tried and tested recipe for its Perfect Patron Cucumber Margarita.
Perfect Patron Cucumber Margarita Recipe
Create the perfect Margarita thanks to Bonefish Grill
Bonefish Grill
Ingredients:
Your Favorite Silver Tequila 1.25 oz
St. Germain Elderflower Liqueur .25 oz
Fresh Lime Simple Syrup 1 oz
English Cucumber Slices 1" wide 3 each
Method:
In a mixing glass, combine all ingredients with ice packed to the rim.
Shake with a martini shaker.
Pour all ingredients into a rimmed margarita glass.
For a little added flavor, add fresh mint, basil or cilantro to your margarita.
Garnish:
Bonefish Grill's signature margarita rim for this cucumber flavored cocktail is black pepper and salt.
Feel free to use just salt if you want to keep a traditional margarita rim.
To make the rimmer, just combine equal parts salt and pepper, then rim.
To keep sodium down, only use ½ or ¼ of the rim for garnish.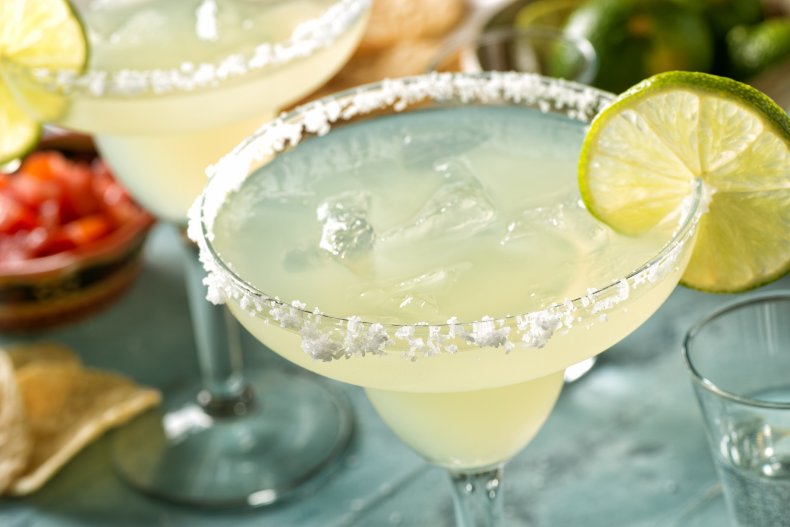 Who Has Deals on National Tequila Day 2020?
Pasta Eater: Deals don't just cover tequila on this day of celebration—treat yourself to some yummy pasta with your spirit. On July 24, 2020, between 5:00 p.m. and 10:30 p.m. local time, customers of Pasta Eater can get a jug of a tequila-based cocktail and Italian finger food for $35. New Yorkers can enjoy this deal whilst maintaining social distancing at the restaurant, which is located on 9 E 17th Street, New York, NY 10003.
ReserveBar: Get $20 off Patron Tequila bottles using code BUDDY via the Don't Pay Full website.
Flaviar: Did someone say free membership? Get three free months on Flaviar Membership plus free shipping by using Don't Pay Full.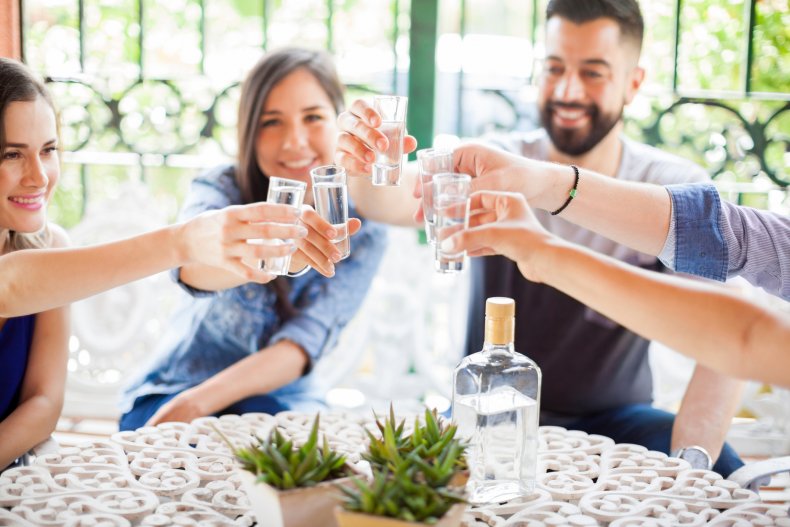 Saucey: Another free shipping and money off offer—get $5 off your first order when you visit via Don't Pay Full
Liquorama: Like buying your tequila in bulk? This offer is for you. Save an extra $10 off $100 and over tequila orders using code TENOFF.
Drizly: Get $5 off your first tequila purchase with code DRIZLYDEAL.
BEVMO: Another Don't Pay Full offer. Save up to 35 percent off tequila products by using this link.
Taco Cabana: Make sure to make the most of the Tex Mex's $2 Strawberry, Mango or Blue Margaritas after 10:30 a.m. local time. According to the website, these are available to go.
Teepublic: This one is for those who like to show their love for tequila through their fashion sense. Get 20 percent off when buying four or more masks and 30 percent off tequila t-shirts using the code EVILSCIENCE.
Cheddar's Scratch Kitchen: In honor of National Tequila Day, this restaurant is offering Cheddar's Scratch Kitchen's Texas Margarita to go for $4.99. Feel like lining your stomach? You can pair it with Cheddar's takeout menu or Family Bundles starting at $24.99. To order online for curbside pickup visit Cheddars.com.
Chili's: According to RetailMeNot,Chili's will offer three of its tastiest margaritas for $5 each—Presidente, The Grand Sunset and the Dreamy Frose Rita—when dining in or ordering them to go (depending on your area's rules).
As alcohol selling rules vary by state, please refer to your nearest restaurant for information and restrictions on buying takeaway tequila.
Newsweek has affiliate partnerships. If you make a purchase using our links, we may earn a share of the sale.
Correction 7/24/20, 12:00 p.m. ET: This article was updated to correct the spelling of Liquorama and to correct details of the deal on offer.