National Tequila Day: Best Deals for Cheap Margaritas, Shots and Floaters
For anybody who needs a reason to party this midweek, it is National Tequila Day—andrestaurants across the nation are more than happy to enable your longing agave.
The spirit is one of Mexico's most iconic alcoholic exports and one the U.S. drinks up eagerly. Sales of the drink, made from the blue agave plant native to Mexico's Jalisco state, rely on huge demand in the U.S.—where 83 percent of all exported tequila ends up, Mexican news agency Notimex reported. The spirit is also a key ingredient in margaritas, meaning Tuesday is a reason to celebrate for mezcal purists, as well as those who enjoy the sweetness of the citrus cocktail.
Tequila giant Jose Cuervo is offering shots of its Cuervo Tradicional tequila for $1 in 22 bars across the country, with participating venues in the Washington D.C. area, as well as areas near Orlando, Houston, San Diego and Chicago. The company's event on Facebook lists all bars and restaurants taking part in its offer, though the offer is only valid until stocks last and it will be on a first come, first serve basis. Some Mexican and Tex-Mex restaurant chains have also announced their own tequila-themed promotions, stretching into the latter half of the week.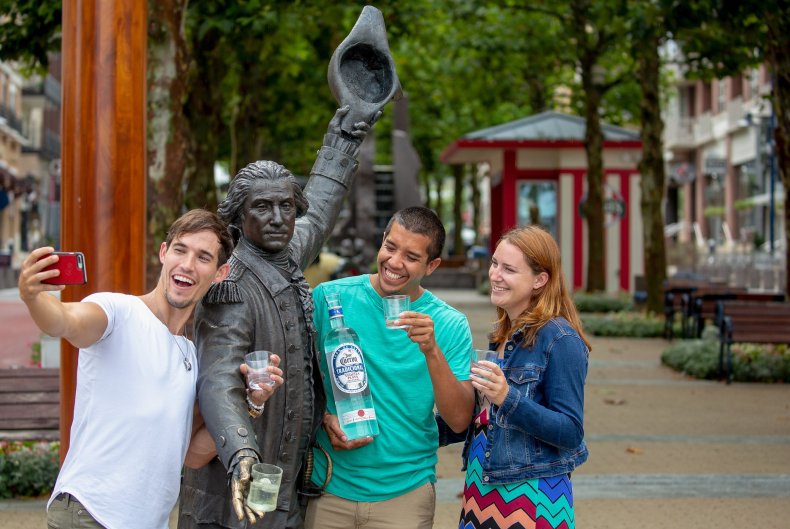 Chili's Bar and Grill has added a tequila promotion to their menu, offering three margarita options, each priced at $5. Texas-based chain El Fenix is offering their small margaritas for $1 each in honor of the holiday, Bahama Breeze Island Grille is pricing their classic margaritas at $5 until Thursday in all but two locations, while Californian chain El Torito is giving away free tequila-themed t-shirts to its first 25 customers after 3 p.m.
Chuy's restaurants are offering $1 margarita floaters or $1 off the restaurant's premium cocktail, the Perfect Margarita, according to the chain's Facebook event. Tex-Mex chain On The Border is offering $2 'ritas until Thursday. Taking a different approach to celebrating National Tequila Day, 1800 Tequila invited hip-hop artists to record an exclusive track. Local bars across the country have also unveiled promotions on tequila-based drinks.
Read More: Champagne lost for over a century has been unearthed in France and it may still be drinkable
Despite its popularity in the U.S., tequila also carries some degree of infamy as it topped a recent study of the most hangover-inducing drink. Edging past vodka at (20.8 percent), tequila received 22.9 percent of Americans' responses when asked what drink gives the worst hangovers, a poll by Addictions.com showed.
Over a quarter of the 2,000 people surveyed said they had gone naked in public at least once after drinking and tequila was the second most likely hard liquor to have driven them there, trailing behind vodka with 22.6 percent to 35.1 percent.