National Ugly Christmas Sweater Day 2019: Baby Yoda, White Claw, Popeyes, Letterkenny, Joker and More
National Ugly Christmas Sweater Day 2019 is today, December 20. If you haven't found the perfect Christmas sweater yet, we've rounded up the best ugly Christmas sweaters 2019. From Baby Yoda, White Claw, Cat Memes and more, these are the ugly Christmas sweaters to wear this year.
Ugly Christmas sweaters 2019
Baby Yoda
Star Wars
White Claws
Letterkenny
Joker
Woman yelling at cat meme
Golden Girls
49ers
Baby Yoda Ugly Christmas Sweater
It's no surprise that Baby Yoda merch will be incredibly popular this Christmas. If all you want for Christmas is Baby Yoda then check out this Baby Yoda sweatshirt. The unisex sweatshirt comes in black, navy, and green.
Star Wars Ugly Christmas Sweater
Star Wars fans should also check out this range of Star Wars sweaters, with multiple designs, colors, and sizes. Plus, these Star Wars ugly Christmas sweaters are on sale now.
White Claws Ugly Christmas Sweater
White Claw has been everyone's favorite drink of 2019, so it only makes sense to celebrate it with a White Claws ugly Christmas Sweater. The hard seltzer water has been given a Santa-themed festive makeover in this ugly sweater.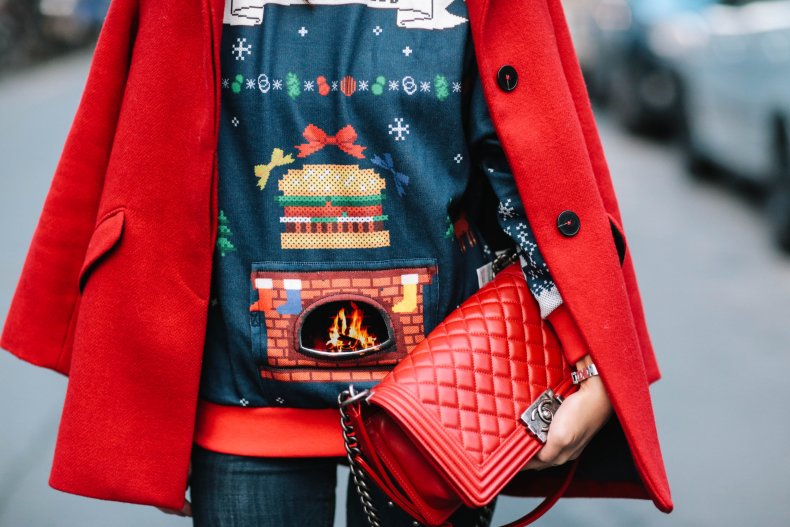 Letterkenny Ugly Christmas Sweater
This Letterkenny ugly Christmas sweater features the Letterkenny dog head and the words Pitter Patter. There's also this sweater featuring Wayne and the classic Letterkenny catchphrase. Pitter-patter let's get at'er and wear your Letterkenny sweater this Christmas.
Joker Christmas Sweater
This Joker sweater is perfect for any Batman fans. The Joker has been made over with a Santa hat in this festive Joker ugly Christmas sweater.
Cat Meme Christmas Sweater
Who doesn't love the woman yelling at the cat meme? This pair of Christmas sweaters is perfect for couples or friends. One person can wear the sweater featuring the yelling woman and the other can wear the cat sweater.
Golden Girls Christmas Sweater
A classic ugly sweater option is this Golden Girls Christmas Sweater featuring Dorothy, Rose, Blanche, and Sophia. The unisex sweatshirt comes in a range of colors including red, green, and blue.
49ers Christmas Sweater
Sports merch can be transformed into Christmas attire, like this 49ers Christmas sweater. Fans of San Francisco's baseball team can represent throughout the holiday season.
Controversial Christmas sweaters 2019
There have been some controversial Christmas sweaters this holiday season. Walmart Canada was criticized for its Let It Snow sweater which featured Santa taking cocaine.
A recent conspiracy theory surrounding Jeffrey Epstein has inspired holiday merch, such as the controversial 'Epstein didn't kill himself' Christmas sweater.
Popeyes' ugly Christmas sweater proved to be just as popular as its chicken sandwich as it sold out almost immediately. Unlike the sandwich, however, the Popeyes' sweaters won't be restocked.
Newsweek has affiliate partnerships. If you make a purchase using our links, we may earn a share of the sale.