National Veggie Burger Day: Best Restaurants in Top U.S. Cities and Recipes to Celebrate at Home
With 7.3 million Americans following a vegetarian diet, according to a Vegetarian Times study, is it any wonder that the nation celebrates National Veggie Burger day?
Where did vegetarianism come from?
The term was created by the British Vegetarian Society in the mid-19th century, but the dietary concept had been around before recorded history. Anthropologists believe that early humans ate mainly plant-based foods, supported by the human digestive system resembling that of other plant-eaters.
In Ancient Greece, mathematician Pythagoras was a vegetarian which led to other vegetarians referred to Pythagoreans before the 1800s.
In the U.S., however, it wasn't until 1971 when Frances Moore Lappé's bestseller Diet for a Small Planet brought more awareness of a plant-based diet. However, while vegetarians are in the millions in the U.S, they only account for a small percentage of the population.
The graphic below, provided by Statista, shows that eight percent of American vegetarians are aged between 30 and 49.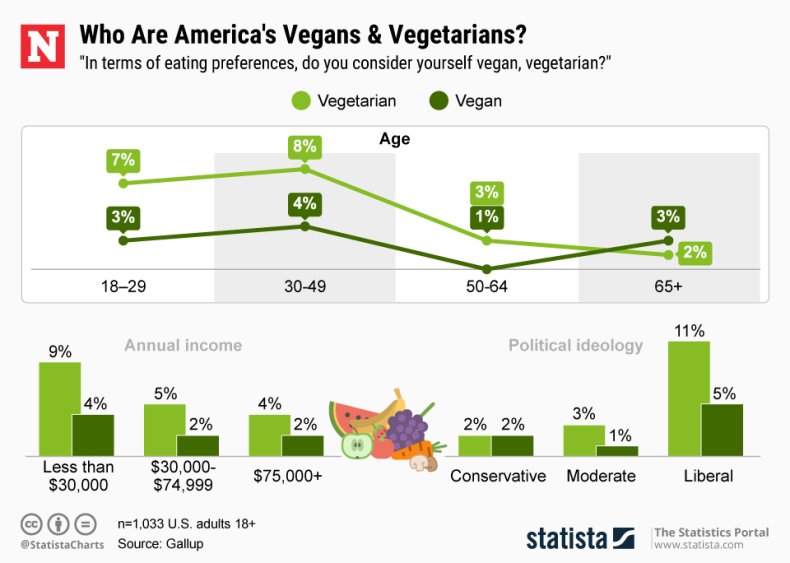 Today you can find many fast-food chains such as McDonalds and Burger King selling vegetarian patties to cater for animal-loving and health conscious customers.
Veggie Burger Recipes
Aloo Tikki Burger
Made from potatoes, green peas, rice, chilies and other ingredients, this burger is a fusion of American and Indian cuisine.
Black Bean Burger
This take on the traditional Chinese ingredient means vegetarians can enjoy a patty without sacrificing on flavor.
Eggplant Burger
This crazy apple makes the perfect foundation for a patty.
Where Are The Best Veggie Burger Restaurants Near Me?
Newsweek has compiled the top 10 places for Americans to find vegetarian burgers based on analyzing data on Yelp.com.
Jajaja, New York City: Try the Guacamole Burger, which is made from pinto bean-beet-quinoa patty, lotus chips, lettuce, tomato and chipotle aioli. Contains nuts.
Monty's Good Burger, Los Angeles: Try its 100 percent plant-based burger which is sourced from environmentally responsible vendors using fresh, organic and local ingredients.
The Chicago Diner, Chicago: Try the Buddha Karma Burger if you want to make up for all the meat-based burgers scoffed over the years. It contains curried sweet potato-tofu patty, grilled pineapple, lettuce, onion and chimichurri sauce, and optional avocado.
Barnaby's Cafe, Houston: This well-reviewed cafe makes a selection of vegetarian burgers including the falafel burger and the Boca burger.
Lucky's Last Chance, Philadelphia: Try the Peace, Love & Veggie Burger, which is an oversized black bean patty with a hint of spice. Topped with fresh guacamole, and diced tomato.
Green New American Vegetarian, Phoenix: Try the classic burger which is made with 100 percent plant-based ingredients.
Sweet Yams, San Antonio: Its Organic Mushroom Burger is made from marinated Portabella on a gluten-free bun with a roasted pepper garlic spread, topped with SY chutney. You can have organic house salad and organic rice on the side.
Plant Power Fast Food, San Diego: Try the Voodoo Burger with the restaurant's secret sauce and American "cheese."
Rodeo Goat, Dallas: All burgers here can be substituted for a vegetarian or quinoa burger. Try the Nanny Goat burger with herb goat cheese.
Slider's Burgers, San Jose: Try the avocado or mushroom cheeseburger.