National Voter Registration Day Google Doodle Helps People Register to Vote in 2020 Election
U.S. Voter Registration Day 2020 is observed in today's Google Doodle, which leads users to a tool that guides users on how to register to vote.
Today is the ninth annual National Voter Registration Day, which is always celebrated on the fourth Tuesday in September. It is a nonpartisan holiday that encourages U.S. citizens to register to vote—and Google is making the process a little easier.
The Google tool shows users how to register to vote by state, complete with links, and offers a guide to useful information like mail-in voting and deadlines.
As well as the Google tool, there are numerous organizations that help Americans vote, and that will be hosting special events today.
The National Voter Registration Day Organization (NVRDO) is a non-partisan collective of volunteers, nonprofit organizations, businesses, schools, libraries, and election officials, that works to get eligible voters to register.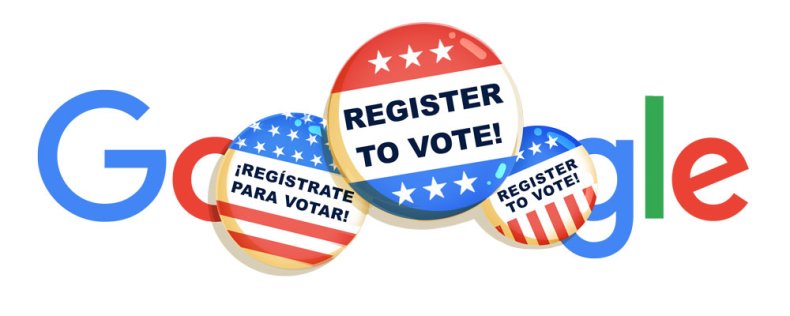 According to the NVRDO, encouraging Americans to vote has been a challenge this year due to the coronavirus pandemic, which has resulted in the closures of DMVs and voter registration field programs. The organization said that the number of new and updated registered voters has fallen since March.
Dr. Deborah Turner, president of the League of Women Voters, one of the founding organizations of National Voter Registration Day, said in a statement: "Civic participation is the cornerstone of a healthy democracy.
"We are excited and encouraged by the record-setting number of coalition partners assembled under the banner of National Voter Registration Day this year. This degree of participation underlines the fact that Americans are determined to keep our democracy strong despite the challenges presented by the pandemic."
Another organization, When We All Vote, was launched in 2018 by Michelle Obama, Tom Hanks, Lin-Manuel Miranda, Janelle Monae, Chris Paul, Faith Hill, and Tim McGraw. When We All Vote is hosting a "Couch Party" on Instagram Live today with guests including Michelle Obama, Zendaya, Tracee Ellis Ross, and DJ Khaled.
The party can be viewed on the @WhenWeAllVote Instagram page from 11 a.m. and end at 6:30 p.m ET.
Election Day is coming up on November 3, 2020. The guidelines for registering to vote will vary across the U.S., with differing rules surrounding ID requirements, who can register, and the deadline for registering.
To find out how to register in your state and to register to vote online, head to vote.gov.