National Waffle Day 2019: Free Waffles, Deals and Savings at Huddle House, Norma's Cafe and More
Today (August 24, 2019) is National Waffle Day, and to honor this doughy classic, Newsweek has ironed out the facts and found deals to help you waffle down this delicious treat.
What is National Waffle Day?
Separate from International Waffle Day (March 25), this particular celebration marks the day the first U.S. patent for a waffle iron was granted. It was issued to Cornelius Swarthout of Troy, New York, on this day in 1869.
In his letter that accompanied the patent, Swarthout wrote: "The nature of my invention consists in providing a handle, connected with and forming part of a waffle iron, by means of which the same may be readily turned over without danger of slipping and without the possibility of burning the hand."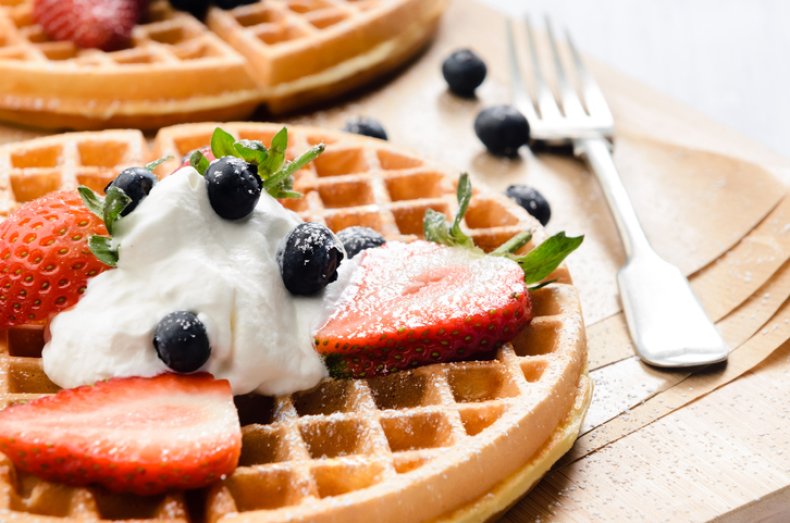 National Waffle Day 2019 Deals
Chompies: Go to any of the five Phoenix Valley, Arizona, locations on August 24, 2019, and get big savings on your favorite waffles. The company says that a stack of Classic Belgian Waffles served with fresh strawberries, blueberries, and whipped cream will be only $6.99. This National Waffle Day deal is available until 3:00 p.m.
Huddle House: It's not on August 24 itself, but if you go to Huddle House on August 28, you can get a free waffle when you spend $6. Kids also eat free on Monday and Tuesdays, according to the company's website.
Clinton Hall: The restaurant in New York City is offering half-priced Red Velvet Waffles for $12 all day long on August 24, according to Bake Magazine.
The Waffle House ® Museum: Take a tour of the very first Waffle House, which opened in 1955. Situated in Avondale Estates, Georgia, visitors can get free waffle samples.
Norma's Cafe: The Texas cafe has been keeping some menu items secret, according to its Instagram account. On August 24, the cafe will be serving Chicken and Waffles, with a free bottle of its Blackburn's syrup.
Frog Bowling Alley: The New York location is partnering with Send Me Waffles on National Waffle Day. According to an Instagram post, between 2:00 p.m. to 6:00 p.m. beer and waffles will be available.
How to make Belgian waffles
There two main types of waffles; Belgian waffles and regular waffles. The main difference between the two is that Belgian waffles are made with egg whites and a leveling agent, and are normally made with a waffle iron.
If you don't have a waffle iron or a waffle maker, then use this recipe to make the perfect waffles. They're also suitable for vegans as they don't contain eggs.
Correction: This story has been updated to include the correct name for Clinton Hall, not Clinton Food Hall as previously written.