Complete List of All the Best Wines You Need to Celebrate 2019 National Wine Day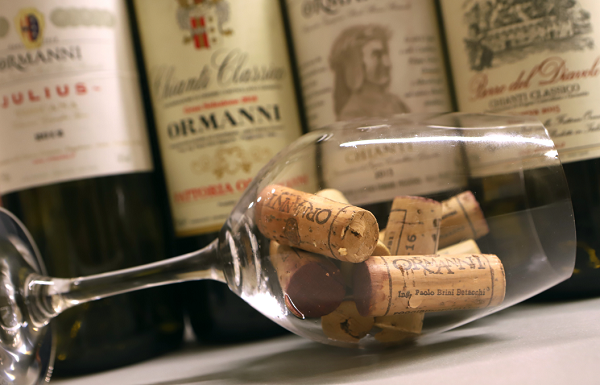 Every day is a celebration of wine for oenophiles, but on Saturday, the rest of the country will join in on the love of fermented grape juice for National Wine Day.
The origin of the annual holiday is unclear—it seems as though National Wine Day just suddenly popped up on everyone's calendar out of nowhere. It really doesn't matter how it landed on the nation's agenda, though. Wine lovers in the U.S. have come to love the holiday, and more than likely tons of people who enjoy the goodness grapes bring to an empty glass will likely be filling their's to the rim on Saturday.
If you haven't already stocked the cellar with bottles upon bottles of wine, we've compiled a list of all the champagne, red, white and rosé wines that will make your 2019 celebration one to remember. Read on below for the best wines to try on National Wine Day below.
Champagne
Champagne Gosset Blanc de Blancs Brut: Nothing says, "Happy National Wine Day," quite like a glass of bubbly. Made with 100 percent Chardonnay grapes from France's esteemed Champagne region, Champagne Gosset's Blanc de Blanc is the perfect apéritif to get the celebrations started. Fresh and airy with bubbles that dance gracefully in the glass, the champagne has a lively aroma that is both mineral and floral that blossom into white flowers and toasted honey on the palate. If the Blanc de Blanc's $90 price tag is too heavy on your wallet, Champagne Gosset Excellent Brut—blended with Pinot Noir, Chardonnay and Pinot Meunier—is an equally exquisite option for nearly half the price at $40.
Laurent-Perrier Cuvee Rosé Brut: One of the world's most recognized and oldest rosé champagnes is also one of the best. With 100 percent Pinot Noir grapes, Laurent-Perrier's rosé is the fresh picked strawberry on a gorgeous sunny spring day. Ripe with fruit and full of aromatics, this bottle of rosé is one you can expect to go quick. Retails for about $80.
White Wine
Cloudy Bay Sauvignon Blanc: No matter where you're celebrating National Wine Day, Cloudy Bay Sauvignon Blanc 2018 will surely transport you to the banks of Marlborough, New Zealand. It's expressive and vibrant and features a balanced minerality that is as juicy as it is acidic—like a bowl full of apples tossed in freshly squeezed mandarin oranges. A perfect partner for seafood, this Sauvignon Blanc is especially tasty when paired with scallops, clams, oysters and asparagus. Retails for about $28.
San Simeon Chardonnay: This Monterey, California gem is rich with tropical fruits that develop into smooth, spiced vanilla flavors on the palate. Not overbearingly oaky, the Chardonnay is aged in oak barrels, so there are some woody notes in there too but not enough to overpower the creamy goodness of the wine. Sure, seafood's a great pairing for this one but San Simeon Chardonnay is equally satisfying with a side of grilled chicken and veggies. Retails for about $20.
Red Wine
Château du Moulin-à-Vent Moulin-à-Vent: Horray for Gamay from Beaujolais! Smooth and complex with a hint of spice, the Moulin-à-Vent oozes with ripe cherry and currant fruit. If you like your red wine with a slightly bold finish, this little purple-tinted beauty is complete with an elegant lingering sensation that will likely lead you to pour another glass. Retails for about $40.
RouteStock Route 29 Cabernet Sauvignon: You want to spend your National Wine Day on a journey. You want to ride down the vino highway less traveled. RouteStoke's Cabernet Sauvignon will take you there, through the winding roads of Nappa Valley and beyond with every mouth-watering sip of the winery's signature expression. The flavor profile is very classic Cab Sauv—robust and structured—but it has the added edginess of black-plum and dark chocolate doubled down with eccentric notes of foraged mushrooms. Retails for about $26.
Opaque Darkness: Grown with Zinfandel, Syrah, Cabernet Sauvignon, Grenache, Petit Verdot and Petite Sirah grapes, this California red produced in the Paso Robles region is full of personality—and a complex one at that. On one hand, it's totally, lusciously fruit forward; on the other hand, it's completely spicy with hints of vanilla. Put both hands together, and you've got something that is ripe and bold, dense but fluid—just how a blend should be. Retails for about $30.
Rosé
Château Gassier Esprit Gassier: Is there anything more spring than a glass of rosé? We sure can't think of any—and since National Wine Day is a springtime holiday, it's only right that celebrators honor it with a bottle of pale pink juice. Produced in France's Côtes de Provence, Espirt Gassier is a chic little diddy comprised of Grenache, Cinsault, Syrah and Rolle. If there was ever a way to bottle up a good time, this is it. It even smells like happiness, reeking with aromas of white flowers and white fruits while the mouth zings with citrus. Retails for about $20.
Mas la Chevaliere Rosé De La Chevaliere: A blend of Grenache, Syrah and Cinsault give this zesty rosé its character. Packed with the red fruit essence of raspberries and red berries, this rosé is light but still manages to have body. It's nice and lively in the mouth on first sip with a splash of acidity, but the finish is as smooth as oyster pearls—which is fitting because it also pairs incredibly well with oysters. Retails for about $10.