Donald Trump Was Booed Twice in 96 Hours at Washington Nationals DC Stadium
As the Washington Nationals approached victory in Game 7 of the 2019 World Series on Wednesday night, President Donald Trump was once again the subject of ridicule by MLB fans. When an ad for Trump's 2020 Presidential campaign flashed across the screen at Nationals Park, fans began to boo. The incident marked the second time this week that baseball fans jeered at the president in the ballpark, after he was met with "Lock him up" chants on Sunday.
Washington City Paper sports editor Kelyn Soong captured some of the booing on Twitter, as a Trump campaign advertisement broadcast during Game 7 was shown on a screen in the outfield. One Twitter user caught footage of the jumbotron, writing "Can you hear the people sing?" an allusion to the encore of "Lock him up" chants and "boos" reverberating from the stands.
Alex Sopko, a former Obama White House staffer, also shared video of the booing and wrote, "For those keeping score... Nats fans 2 Trump 0 Trump's not even here but the entire #nationals park watch party just boo-ed his campaign ad." WUSA9 reporter John Henry also shared a clip of the scene.
Some seemed ready to celebrate the boo as fervently as the win. Former theater agent and convicted fraudster Roland Scahill wrote, "Every fan sitting in that stadium who booed Trump on Sunday night deserve[s] a World Series ring." Thanks Obama author David Litt called the Nationals' win and the Trump boos a "Good week for DC."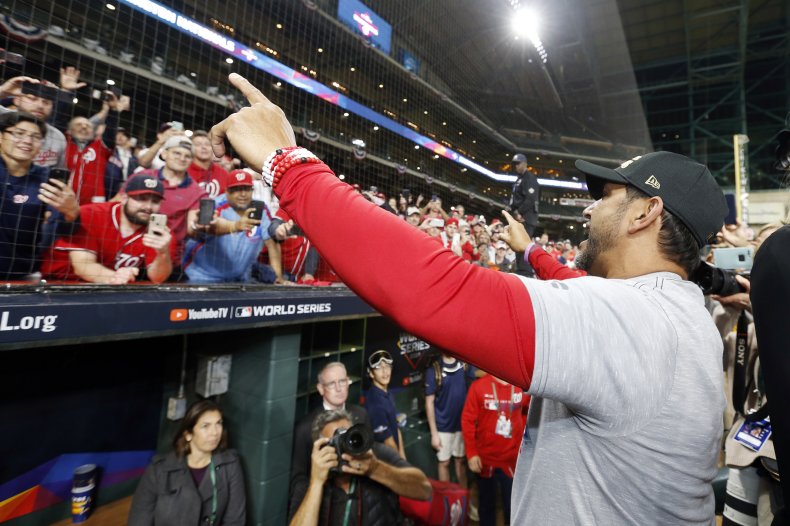 Mediaite also reported that a Nats fan interviewed on Fox 5 told a broadcaster that the World Series victory was "Huge for D.C." adding that "D.C. needed this," before calling Trump a series of profanities on live TV. The reporter quickly cut the fan off remarking that everyone in the bar was "happy for the Nats and everybody's had a lot to drink."
During Game 5 of the World Series, Trump attended the game in Nationals Park. When he was shown on the jumbotron alongside first lady Melania Trump and a number of Republicans, the stadium quickly shifted from cheering on players to a mixed bag of cheers and loud boos directed toward the president. The boos were followed by a "Lock him up" chant, which caused Trump's face to drop upon realizing that the crowd was cheering against him, rather than for him.
Despite the negative reaction he faced in their stadium, Trump tweeted congratulations for the Nationals shortly after Game 7 finished. He wrote, "Congratulations to the Washington Nationals on a great season and an incredible World Series. Game 7 was amazing!" Some responses to the tweet praised Trump's congratulations as a "class act." The 6-2 win marked the first World Series win for the D.C. team.