One of Nation's Largest Teacher's Union Will Still Push for Masks in Schools Despite New CDC Guidance
One of the nation's largest teacher's union will continue to push for face masks to be worn in schools despite new guidance from the Centers for Disease Control and Prevention (CDC) that says it is now safe for fully vaccinated people to take their masks off in most indoor settings.
The American Federation of Teachers (AFT), which represents 1.7 million members across the country, told Newsweek that the labor union is awaiting COVID-19 vaccine authorization for kids under age 12 before mask requirements are lifted in schools.
"It's great news that the vaccines are now so effective that vaccinated folks can take their masks off," AFT President Randi Weingarten wrote to Newsweek on Friday. "The specifics on how you make that happen will take a minute to figure out—but we are encouraged by these guidelines and can't lose sight of the bigger picture: this is a huge incentive for more and more people to get vaccines and push our country towards herd immunity."
On Monday, the Food and Drug Administration expanded emergency use of the Pfizer COVID-19 vaccine to children aged 12 to 15. Shortly after, the CDC formally adopted a recommendation from a panel of its independent adviser for the same, clearing the final hurdle to making the shots available to millions more of adolescents.
While vaccines are not yet available to all school children, 89 percent of AFT members have already been vaccinated, according to Weingarten.
Educators and support staff are largely immunized thanks to President Joe Biden's commitment to prioritize teachers in the nation's vaccine rollouts. Earlier this year, Biden faced growing pressure from teachers unions, which rallied the president to pledge that educators would receive vaccines before returning to in-person learning.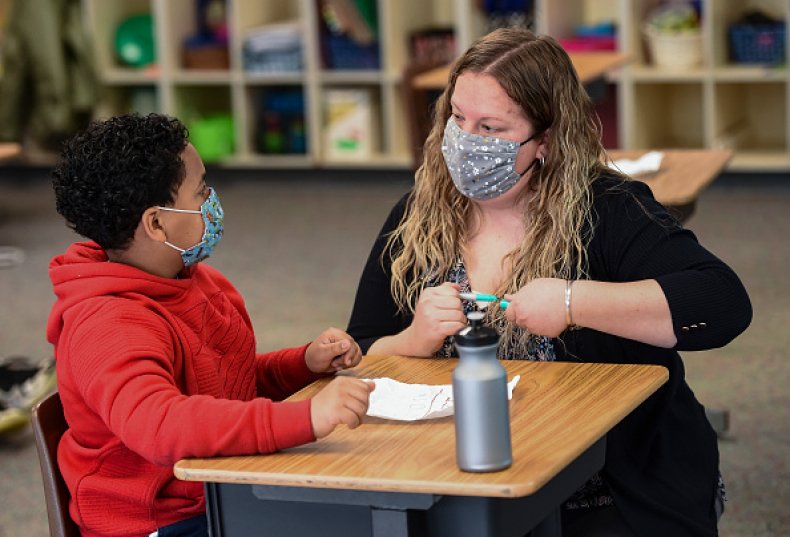 On Thursday, the CDC announced that it is now safe for fully vaccinated Americans to take off their masks, not only in outdoor settings, but in most indoor setting as well. The latest recommendation is proof that the various COVID-19 vaccines are effective at preventing symptomatic cases of the virus.
Even though the majority of the teaching population is vaccinated and it is safe to unmask indoors, in settings like classrooms and school buildings, the CDC told Newsweek that school guidance remains unchanged—once again creating some confusion around what is safe and what is not during the pandemic.
"Teachers, school administrators, and staff should continue to follow CDC's school guidance until more people and children are vaccinated," a spokesperson of the agency wrote.
The spokesperson did not specify when the guidance would be updated.
The CDC came under scrutiny earlier this week after a New York Times report said the health agency had overexaggerated the risk of contracting COVID-19 in outdoor settings. While the CDC said "less than 10 percent" of COVID-19 transmissions occurred outdoors, the report found that the rate is much closer to 0.1 to 1 percent.
The CDC isn't the only one hoping to keep masks in place in schools. The AFT also does not want existing requirements to be lifted anytime soon.
"Kids who are vaccinated, teachers who are vaccinated, it sounds like from the CDC guidance yesterday, that it says that they can be unmasked but we're going to have some protocols about who has the vaccine and who doesn't have the vaccine," Weingarten told CNN's New Day on Friday. "So it's going to take a minute or two to try and figure out what those protocols are."
The AFT president said that despite mask protocols still being up in the air, she is hopeful that the new recommendations from the CDC will allow more schools to open for in-person learning five days a week. Weingarten said the next step is to encourage parents to vaccinate their children, when possible, stopping short of calling for COVID-19 immunization requirements in schools.
"I'm a big believer in vaccinations, but with all the polarization right now and hesitancy right now, I think we gotta convince people to take the vaccines," she said. "We're still in emergency use and I think for this period of time, I think it's about convincing people."
"The social isolation has been the worst thing that has happened because of the coronavirus. I think there's some kids who did very well on remote—look, you know that before COVID, I was not a big believer in remote education," Weingarten added. "I think that in-school education is really important and it's not just being in school, but we have to recover and reimagine public education. But what's really been lost is the peer-to-peer contact. What's really been lost is the prolonged effects of social isolation."
Correction 05/14/2021, 4:17 p.m. ET: An earlier version of this story misstated that the AFT was the largest teacher's union in the U.S., when it's actually just one of the largest. The story and headline have since been corrected.