Nations targeted by the United States in an effort to overthrow their governments have spoken out, mocking the chaotic situation in the U.S. capital where protesters supportive of President Donald Trump stormed the country's top legislative building in an effort to interrupt a transition of power.
At least four people died, one by gunshot wounds, and dozens more were injured Wednesday as the pro-Trump mob clashed with security forces at the U.S. Capitol. To some observers, the scenes evoked images of other nations beset by unrest. For those hailing from countries accustomed to turmoil they accuse the U.S. of instigating, Wednesday's events served as an opportunity to criticize and ridicule interventionist policies pursued by Washington.
Among the first to react was communist-led Cuba, which has been subjected to a decades-long economic embargo dating back to the early days of the Cold War. In addition to trade restrictions, the U.S. has organized insurgencies and assassinations in an effort to topple the government there.
José Ramón Cabañas, a senior Cuban diplomat who served as the ambassador to Washington until October, said the U.S. was lucky it did not have to contend with itself as a world power.
"The events in the Capitol in Washington today are very regrettable, but they could have been worse if there was an American embassy in that city," Cabañas tweeted.
He then issued a more solemn assessment of past U.S. foreign policy moves.
"Today Americans have an opportunity to reflect on how they would feel if in the midst of the disorder that a foreign nation has lived through, it demanded a change of government, which leader to respect, or what legal action to take," Cabañas wrote.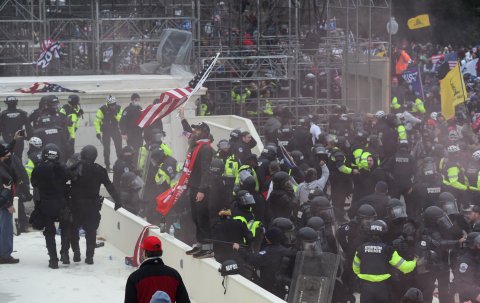 While former President Barack Obama took steps toward easing U.S.-Cuba tensions, the Trump administration sought to reverse these moves and amplify the pressure against the island state with even harsher sanctions. Many of these measures were motivated by Cuba's support for Venezuelan President Nicolás Maduro, another leftist Latin American leader at odds with the U.S.
Seeking to remove Maduro from power, the Trump administration recognized opposition-led National Assembly Leader Juan Guaidó as the country's rightful head of state two years ago after a disputed election. But despite mounting U.S. sanctions, an abortive coup attempt and even a failed rebel invasion involving two former Green Berets, Maduro's socialist administration remains in power, and his officials issued a statement mirroring many directed toward them by the U.S.
"The Government of the Bolivarian Republic of Venezuela expresses its concern with the acts of violence being carried out in the city of Washington, United States," the Venezuelan Foreign Ministry said.
Caracas expressed consternation toward the disorder in the U.S. capital, but noted that the country was undergoing the same kind of hardships it exported elsewhere.
"Venezuela condemns the political polarization and the spiral of violence that does nothing but reflect the deep crisis that the United States political and social system is currently undergoing," the statement read.
It went on to blame the U.S. for fomenting political violence in other nations.
"With this unfortunate episode, the United States is experiencing what it has generated in other countries with its policies of aggression," the statement said. "Venezuela hopes that the acts of violence cease soon, and that the people of the U.S. can finally open a new path towards stability and social justice."
Elsewhere in South America, a socialist leader who was successfully deposed spoke out as well. Bolivia's then-President Evo Morales was forced to resign amid mass protests regarded by his supporters as a coup following a disputed election, and was replaced with a right-wing government with friendly ties to the U.S.
Supporters of efforts to oust Morales lost a landslide election last year that brought Morales' party back to power, albeit under a new leader, President Luis Arce. Morales, who retains leadership of the party, returned from exile, however, and remains a vocal critic of U.S. foreign policy, to which he linked events in his country and the U.S.
"The Trump administration implements a self-coup to stay in power," Morales tweeted. "Just as it did in Bolivia, it promotes racist and fascist violence and is not interested in democracy. Our solidarity is with the American people."
The following day, he made connections between "racist far right" forces backed by the U.S. in both Washington and La Paz, and called for universal efforts to reject them.
"We must defend democracy throughout the world from racist and fascist groups that, through force and violence, promote coups, ignoring the popular will," the former Bolivian leader wrote Thursday.
Another toppled Latin American leader, former Honduras President Manuel Zelaya, also issued a social media statement that equated Trump's approach to Venezuela and Bolivia to that of his efforts to overturn his own election defeat.
Zelaya was overthrown in a 2009 U.S.-endorsed military coup after refusing to comply with a supreme court order to halt efforts for a referendum on potentially rewriting the country's constitution. In a tweet, he accused the "US Empire in decline" of fraud in Honduras, stealing the presidency in Bolivia and trying to kill Venezuela's Maduro.
Frustration over past and present U.S. intervention in light of recent events in Washington extended further overseas as well, reaching the Middle East, where a nation targeted by some of the most intensive Trump administration measures expressed deep concern given the president's actions.
"A rogue president who sought vengeance against his OWN people has been doing much worse to our people—and others—in the past 4 years," Iranian Foreign Minister Mohammad Javad Zarif tweeted Thursday.
As with inroads made on Cuba, a multilateral nuclear deal with Iran was abandoned by Trump and replaced with a campaign of increasingly tight sanctions. The Trump administration has also used military pressure against a country that insists it has never sought nuclear weapons, but is constantly reminded that the U.S.' has its own arsenal in the hands of Trump.
"What's disturbing is that the same man has the UNCHECKED authority to start a nuclear war; a security concern for the entire int'l community," Zarif said.
Iranian President Hassan Rouhani also discussed the event, describing it as a symptom for allotting so much power to one man.
"You see that an unhealthy person comes and takes power, affecting U.S. relations with the world," he said, "and undermining these relations and inflicting a lot of damage on his country, our country, our region, Palestine, Syria, Yemen and all regions of the world."
He then issued a plea to President-elect Joe Biden, whose election was successfully certified early Thursday morning, despite the disruptions.
"I hope this is a lesson for the whole world and for the next rulers of the White House, who will take power in two weeks to come," Rouhani said, "and make amends and return their country to the position that the great nation of America should have."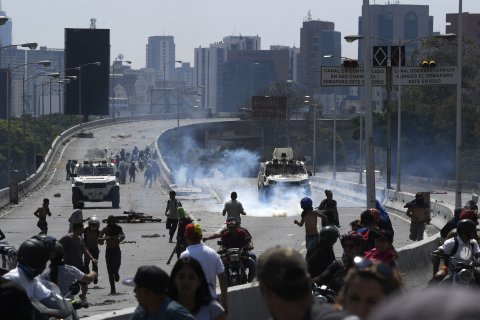 The top media outlet of Iran's ally, Syria, where the U.S. has sponsored efforts to overthrow President Bashar al-Assad, also followed the events in Washington closely. One editorial published by the state-run Syrian Arab News Agency proclaimed that "The Trump supporters' storming of Congress exposes the falsehood of the claims of American democracy."
Another SANA piece detailed the reactions of shocked and disturbed U.S. allies in Europe, which issued a series of statements expressing concern and condemnation.
Major U.S. rivals such as China followed others in pointing out a perceived hypocrisy over U.S. meddling abroad. In Beijing, Chinese Foreign Ministry spokesperson Hua Chunying pointed out obvious differences in the heroic portrayal by U.S. officials of demonstrations that rocked the semi-autonomous city of Hong Kong and its legislative hall versus the widespread vilification of the protesters who broke into the Capitol.
"What's the reason for such a stark difference in the choice of words?" Hua asked during a press conference Thursday. "Everyone needs to seriously think about it and do some soul-searching on the reason."
Still, she wished the best for China's top competitor, which enters 2021 on a difficult note amid a transition of power of unprecedented difficulty and a raging pandemic that continues to spread rapidly.
"We believe that the American people still cherish peace and safety, especially when they are still struggling with a difficult pandemic situation," Hua said. "We hope that they will have their peace, stability and safety back as soon as possible."