Nationwide Mask Mandate in April Would Likely Have Saved Nearly 40,000 American Lives, Study Finds
A new study said the number of Americans who died after contracting COVID-19 could have been 40 percent lower by June 1 if all workers who interact with the public were required to wear face masks at the start of April.
An estimated 99,446 Americans died of COVID-19 by June 1, according to data compiled by the COVID Tracking Project. Based on the study's findings, approximately 39,779 lives could have been saved by that date if all employees who regularly interacted with customers in person were required to wear masks two months earlier.
The study, titled "Causal Impact of Masks, Policies, Behavior on Early Covid-19 Pandemic in the U.S.," was published on Medrxiv last month but has not yet been peer-reviewed. It was co-written by a professor in Massachusetts Institute of Technology's Department of Economics and the Statistics and Data Science Center, and a professor and associate professor at the Vancouver School of Economics at the University of British Columbia.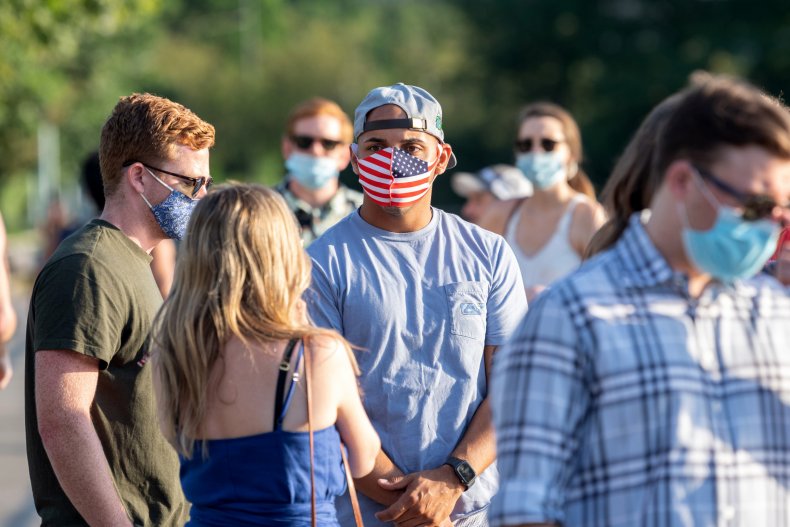 The study's authors said that, before beginning a peer review process, they had 90 percent confidence in their findings, which a Wednesday news release said meant a national mask mandate for workers could have prevented between 17,000 and 55,000 deaths between the start of April and the start of June.
"It is a very effective policy that includes relatively little economic disruption," MIT professor and co-author Victor Chernozhukov said in the release. "We found it produced a considerable reduction in fatalities."
The Centers for Disease Control and Prevention recommended all Americans wear masks that covered their noses and mouths in early April as a preventative measure against COVID-19. But the mask message has not always been clear. Around the time the CDC issued its mask recommendations, the World Health Organization said it was unnecessary for healthy individuals to wear them. Further research into asymptomatic spread of the virus resulted in the WHO changing its stance on face coverings. The global health agency now recommends all individuals—with exceptions for young children and people with health issues that make wearing masks difficult—wear them while around other people.
The U.S. has not issued a nationwide mask mandate, but several state and county leaders have implemented their own as case numbers fluctuated across the country. As several states began responding to new COVID-19 outbreaks in June following efforts to reopen their economies, mask mandates became a common way for politicians to combat rising infection rates.
The study's authors said they took the shifting policies on mask mandates into account as they analyzed case and fatality data. "Controlling for behavior, information variables, confounding factors—the mask mandates are critical to the decline in deaths," Chernozhukov said in the release. "No matter how we look at the data, that result is there."
The release said the researchers planned to continue studying the impacts mask mandates had on case and fatality rates as more states implemented them. Newsweek reached out to the MIT News Office for comment but did not receive a response in time for publication.