Nationwide #CloseTheCamps Protests Call for Shutting Down Migrant Detention Centers Amid Outrage Over Conditions
Immigration advocacy groups will hold nationwide protests on Tuesday to demand the closure of detention centers along the U.S.-Mexico border amid reports of inhumane and unsanitary conditions.
Over 170 demonstrations are scheduled to take place across the country, including in border communities and cities like New York and Los Angeles. The #CloseTheCamps mobilizations were organized within the last 72 hours by public policy organizations like MoveOn, United We Dream, American Friends Service Committee, and Families Belong Together.
"It's not okay to let this go on for a minute longer while thousands of children and families are suffering," Emma Einhorn, the campaign director for MoveOn, told Newsweek. "We're really calling on every member of Congress to use every power and every tool in their toolbox in order to make sure that we get relief to these families right now."
Protesters are demanding three things from lawmakers on Tuesday: to close the camps, to stop funding all family detention and to reunite families. They also want members of Congress to bear witness to detention conditions and personally visit facilities this week while they are on recess.
Unlike prior rallies against the Trump administration's immigration policies, these demonstrations are going to be smaller and more heavily focused on individual members of Congress. Protests will largely occur at the offices of lawmakers because participants want to deliver demands in person.
According to Einhorn, the protests are focused on Republicans who "seem to never stand up to the racist and xenophobic policies of Donald Trump." Though they are also targeting Democrats who voted last week to give more funds to Immigration and Customs Enforcement and Customs and Border Protection.
The House of Representatives approved the Senate version of supplemental aid legislation for border agencies. The $4.5 billion bill did not include any of the restrictions sought by House Democrats, including preventing funds from going toward immigration enforcement or additional bed space in detention centers.
While Tuesday's demonstration is not advocating for specific policy changes, Einhorn said they are calling on Congress to find some solutions to the crisis at the southern border.
"We don't need to be holding anyone in detention if we put our resources and use the knowledge that we already have to create an immigration system that treats people with dignity and respect," she added.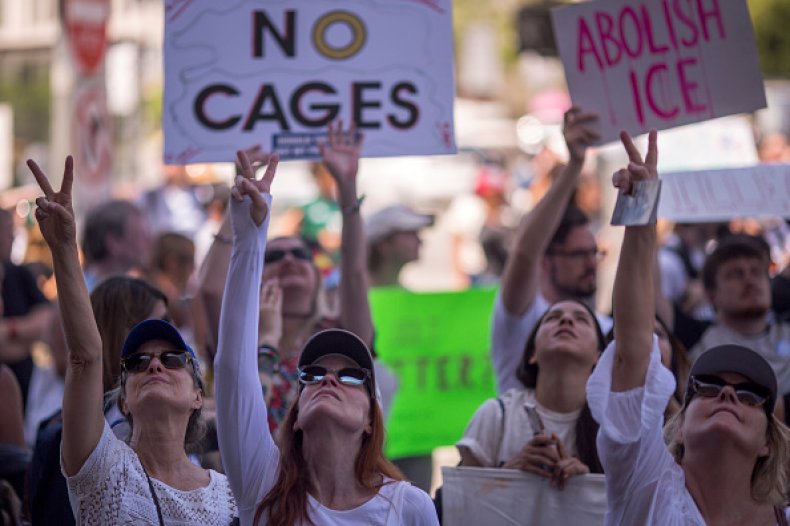 News reports highlighting the grim and unsanitary conditions at migrant detention centers have emerged over the past few weeks.
The Associated Press reported in late June that a Texas facility was neglecting migrant children, describing how a 2-year-old boy was handed off to be cared for by a group of young girls. Attorneys also warned the outlet that there was inadequate food and water for detained kids.
One doctor who visited detention camp in Clint, Texas, told ABC News that the conditions for migrants were comparable to "torture facilities." Children were forced to sleep on concrete floors with the lights on and had no access to hygiene products.
As these reports were being released, the Trump administration was arguing in court that migrant children being held in U.S. custody did not require basic hygiene products like toothbrushes and soap in order to be in a "safe and sanitary" environment. Lawyers with the Department of Justice claimed that forcing children to sleep on concrete floors in crowded cells also met safety requirements.
On Monday, more than a dozen House members visited detention centers in Texas in a trip organized by the Congressional Hispanic Caucus. Freshman Democrat Alexandria Ocasio-Cortez, who has made headlines for comparing detention facilities to concentration camps, claimed in a series of tweets that CBP officials displayed "inhumane behavior."
"Officers were keeping women in cells w/ no water & had told them to drink out of the toilets," she wrote. "This was them on their GOOD behavior in front of members of Congress."
She also claimed that CBP officers were "laughing" in front of lawmakers touring the facilities. When she discussed the inappropriate behavior, their superiors said that "officers are under stress & act out sometimes."