Nationwide School Bus Driver Shortage Persists Due to Low Hours, Month-Long Training
A school bus driver shortage is affecting the country as the 2021-2022 school year begins.
COVID-19 has wreaked havoc on the extended hiring of bus drivers—but that's not the only issue causing widespread issues as in-person classes resume for millions of students. A bigger issue is a lack of people wanting to fill the positions.
Operations Manager Steve Burnett of Oak Park City School District in Michigan spoke to WDIV regarding the current bus shortages in his area.
"Too many people are staying home, and we need people to do these jobs. I've been all the way to Hawaii, and there are signs up at every state I visit," Burnett said.
Executive director of the Michigan Association for Pupil Transportation Dave Meeuwsen also spoke to WDIV about the widespread shortages. Meeuwsen said that "long hiring processes" are to blame for many of the bus shortages in Michigan.
"It takes a good month to get somebody trained. So, it's not like I can put out an ad for a bus driver today and put you to work tomorrow," Meeuwsen said.
He also said the part-time offers that are being offered are simply not enough for some Michigan residents.
"It's a rough time because it's not a full-time job," said Meeuwsen. "It's a few hours in the morning, a few hours in the afternoon, potentially a field trip here or there. Maybe a noon run, but you can't support a family on bus driving."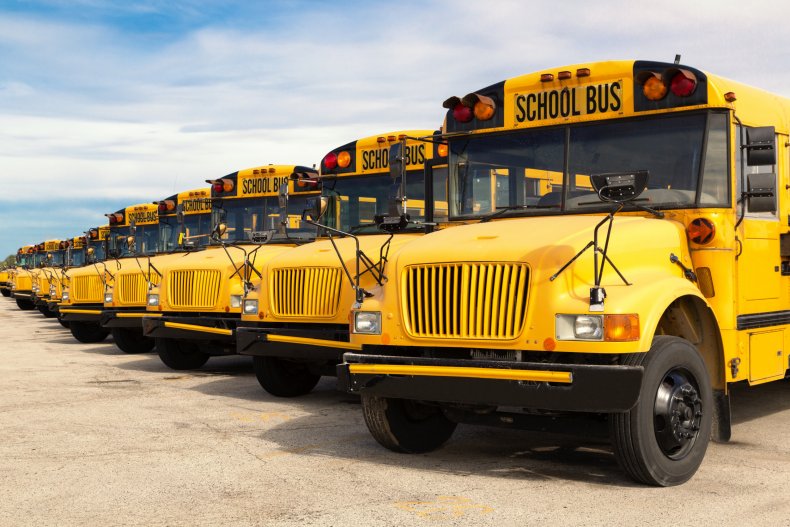 Other states across the U.S. are using cash incentives as motivation for potential new bus drivers.
A school district in Montana is offering $4,000 bonuses and allowing people to test drive the buses, hoping that they'll take the job at hand, according to The Associated Press.
Another Delaware school district is offering to pay parents $700 to handle their own transportation. In Pittsburgh, a school district had to delay the start of classes due to the bus shortage.
Joanna McFarland is the co-founder and CEO of school ride-service company HopSkipDrive, which tracks school bus issues. McFarland, who is based in Los Angeles, told The Associated Press that in March, "nearly 80 percent of districts that responded were having trouble finding enough bus drivers."
"It's really at a breaking point," McFarland said.
On August 18, President Joe Biden ordered his education secretary to pursue possible legal action against states that have blocked school mask mandates and other health measures meant to protect students against COVID-19.
Newsweek has reached out to the U.S. Department of Transportation for further comments.