Nationwide Sick-Outs Renew Discussion of Working Conditions Amid COVID-19
On Friday, workers at Amazon, Whole Foods, Target and Instacart, among other companies, participated in a high-profile strike over working conditions amid broader unrest about the dangers of the COVID-19 outbreak for retail employees.
Workers are demanding hazard pay, more generous paid leave policies, better protective equipment and communication regarding sick employees. Protests across the country also accompanied the strike.
"At Target, the foot traffic and guest behavior have been atrocious, putting us at needless risk when greater safety measures are required to ensure social distancing," the group Target Workers Unite, an independent coalition of Target employees, said in a release.
The mass action, which has been termed a sick-out, took place on May Day, a bastion for the international labor movement which has its origins in late-19th-century labor activism in the United States.
During sick-outs, employees traditionally call in sick instead of showing up to work. It is a popular tactic among workers who wish to avoid the more contentious framework of a formal strike.
In response to a request for comment, a Target spokesperson said that that it was aware of fewer than 10 employees who participated in the sick-out.
"The vast majority of our more than 340,000 frontline team members have expressed pride in the role they are playing in providing an essential service in our stores across the country, and we applaud them for their efforts," the spokesperson said, emphasizing that the company has implemented measures to "create a safe environment" inside its stores.
The spokesperson, however, would not comment on whether Target planned on retaliating against any employees who did participate in Friday's sick-out.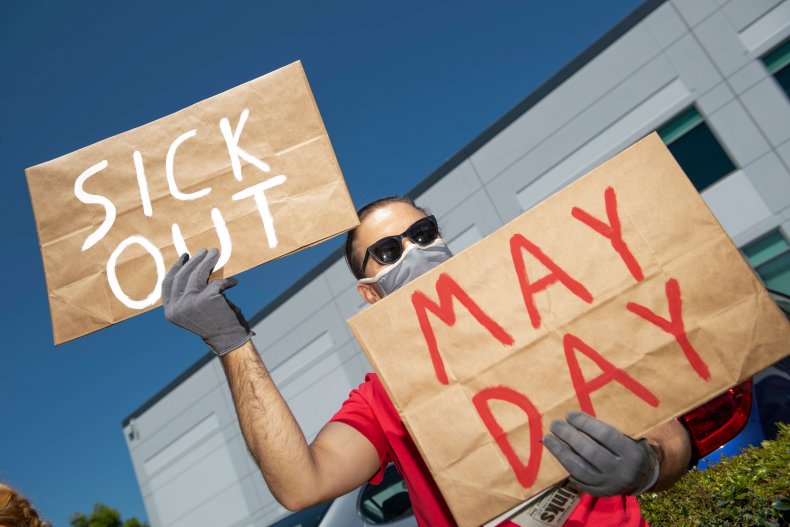 Kali Akuno, a coordinator with Cooperation Jackson, one of the outside groups pushing for the strike, said Target was "grossly underestimating" turnout, arguing that "it is in their interest to do so."
"There were more than 10 people who called in sick at the Target in Jackson, Mississippi, alone," Akuno told Newsweek.
Both Instacart and Amazon, which owns Whole Foods, disputed the impact of Friday's mass action as well. Instacart said that the company saw "no disruption" to its service. Amazon said that "the overwhelming majority" of its approximately 840,000 employees were at work.
"We see no measurable impact on operations," Amazon added. The company believes fewer than 100 people, mainly non-employee organizers, participated in demonstrations.
Akuno says that in his estimation, thousands of workers participated in the sick-out, but that it would take at least another day to determine an approximate number.
Protesters say they are invoking their rights under federal law to act in coordination with colleagues for their mutual aid, a benefit guaranteed by the National Labor Relations Act. Additionally, regulations issued by the Occupational Safety and Health Administration (OSHA) provide for the explicit right to refuse to work under unsafe conditions. But this right can only be invoked when the danger is so imminent that there is "insufficient time" to remedy the concern by first raising it with an employer.
Cynthia Estlund, a professor of employment at New York University School of Law, believes fears of the COVID-19 outbreak would be sufficient to trigger that condition.
"Workers who reasonably fear contracting this dangerous virus—given the nature of the job and employer's use or lack of safety precautions—should be protected by OSHA if they refuse to work," she said.
Employees at these companies have complained about inadequate working conditions and structural issues with their employment that, they believe, leave them uniquely susceptible to COVID-19.
"Whole Foods team members are putting their lives at risk by coming to work," Whole Worker, an independent coalition of Whole Foods employees, said in a brief. "Our current paid sick leave policy, which requires a formal diagnosis or a doctor-ordered quarantine in order to receive the two weeks' pay, is not adequate to keep workers safe."
Amazon disputes these characterizations of working conditions at its stores, noting that it has expanded leave options to encompass high-risk individuals and school closures.
"Health and safety is our top priority and we expect to spend more than $800 million in the first half of the year on COVID-19 safety measures," the company said, adding that it has implemented extensive measures to control COVID-19 transmission, including through distribution of face masks, disinfectant wipes and hand sanitizer.