GOP Candidate Questions Opponent's Native American Heritage, Says Real Laguna Pueblo Would Be Against Open Borders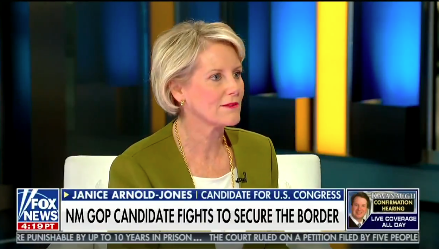 A New Mexico Republican candidate placed doubt on her Democratic opponent's Native American heritage, suggesting a genuine Laguna Pueblo tribe member would not support "open borders."
GOP congressional candidate for New Mexico's 1st Congressional District, Janice Arnold-Jones, questioned her Democratic opponent's Native American heritage, saying discussion over her becoming the "first Native American in Congress" are misguided because Deb Haaland was not "raised on a reservation." Although Arnold-Jones said she did not doubt Haaland's Laguna Pueblo lineage, she did call into question whether a "military brat" can really wrap themselves in a Native American identity.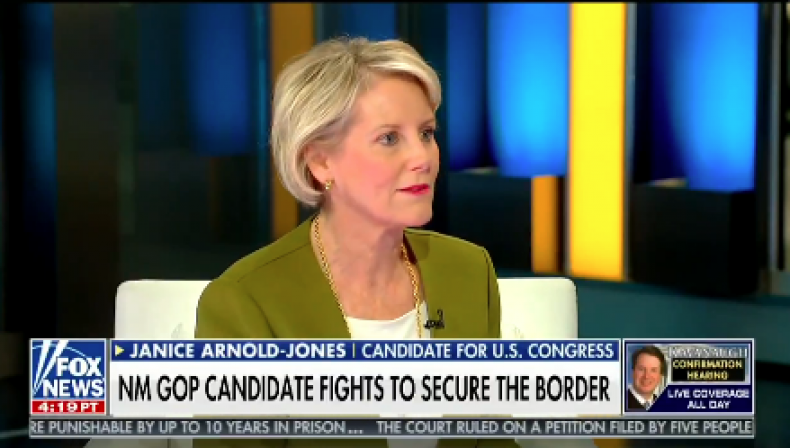 The Albuquerque-centered 1st Congressional District race was recently labeled one of the top 36 targets for midterm election seat flips by the National Republican Congressional Committee. The seat opened up after Democratic Rep. Michelle Lujan Grisham announced herself as a gubernatorial candidate. Arnold-Jones served in the New Mexico House of Representatives between 2003 and 2010 before a failed bid for governor in 2010.
Speaking on Fox News Thursday, Arnold-Jones was asked by host Ainsley Earhardt for her thoughts about Haaland potentially becoming the country's first female Native American in Congress should she be elected in November. "That's what they say, yes," Arnold-Jones responded, attempting to passively deflect the comment. "That's what they say?" the bewildered Fox & Friends host asked. "What do you mean by that?"
"Well, I'm saying there's no doubt that her lineage is Laguna, but she is a military brat just like I am," Arnold-Jones said on Fox. "I think it evokes images that she was raised on a reservation — she belongs to a Pueblo."
The Fox & Friends segment began with the host lamenting "illegal immigrants pouring in through our southern border."
The Republican, who has made immigration, jobs and the dismantling of health insurance "middle men" her key campaign issues, went on to say the federally recognized Laguna Pueblo tribe is a "wonderful lineage." But she said Haaland's "open borders" stance on immigration doesn't jive with her Native American heritage.
"That confuses me, because, here she's advocating for open borders and the people most vulnerable are our sovereign tribes and Pueblos where there is little law enforcement. And they would be the most vulnerable," said Arnold-Jones.
According to her campaign website, Arnold-Jones describes her position on immigration. "Good boundaries make good neighbors, because both neighbors respect the line. I will fight to make sure our government consistently and fairly enforces our laws."
Arnold-Jones recently received the endorsement of Dinesh D'Souza, a right-wing conspiracy theorist and filmmaker who was pardoned by Trump in May for illegal, felony-level campaign contributions. D'Souza is set to attend a September 7 fundraiser for Arnold-Jones in Albuquerque. Arnold Jones told the Santa Fe New Mexican the "Fire Up New Mexico with Special Guest Dinesh D'Souza" event was created because the filmmaker is "a modern-day version of de Tocqueville...He's got historical perspectives and credentials [as a historian] up the wazoo."
Her Democratic opponent, Deb Haaland, immediately ridiculed her for hosting a fundraiser that stars the convicted felon.
"Aside from being a racist, convicted criminal — it's important to point out that the crimes he committed were campaign finance violations," Haaland wrote of D'Souza. "My opponent is already right in line with this administration and their culture of corruption."
Arnold-Jones' questioning of Haaland's Native American heritage echoes the criticisms President Donald Trump levies against Massachussets Democratic Sen. Elizabeth Warren. Trump has repeatedly called into question her use of a Native American designation during college. At rallies, he frequently refers to her derisively as "Pocahontas."