Native American Elder in Viral Video Offers to Meet With Covington Catholic Students
The Native American elder in a viral video, which showed a group of students from Covington Catholic harassing him at an Indigenous Peoples March on Friday, has offered to meet with the teenagers after the incident sparked a nationwide debate.
Omaha activist Nathan Phillips is proposing to "travel as a delegate representing the international coalition behind the Indigenous Peoples March to Covington Catholic High School in Northern Kentucky and have a dialog about cultural appropriation, racism, and the importance of listening to and respecting diverse cultures," according to a statement released by the Lakota People's Law Project, a North Dakota-based organization working to "secure the Lakota's rights to autonomy and self-determination, and to renew their culture."
"Race relations in this country and around the world have reached a boiling point," Phillips said, as per the news release. "It is sad that on the weekend of a holiday when we celebrate the life and legacy of Dr. Martin Luther King, Jr., racial hostility occurred on the steps of the Lincoln memorial, where King gave his 'I Have a Dream' speech."
The crowd of Covington Catholic students—who were visiting Washington D.C. for the annual March for Life, an anti-abortion rally that was held at the same time as the Indigenous People's March—came under fire after a viral video was uploaded following the Friday events, which appeared to show them mocking Phillips as he peacefully chanted and beat a drum.
A longer video of the incident, uploaded to social media over the weekend, offered a more complete picture of what happened at the event. Phillips was closing the Indigenous Peoples March with a ceremonial prayer when, according to the footage, a group of Black Hebrew Israelites and the students began engaging in a heated argument. Seeing the altercation worsening, Phillips stepped between the groups and approached the students to diffuse the escalating situation.
"So I put myself in between that, between a rock and hard place," the 64-year-old former marine told the Detroit Free Press afterwards. "They were in the process of attacking these four black individuals."
Nick Sandmann, one of the students who can be seen in the footage standing directly in front of Phillips while smiling, said initial reports of the confrontation contained "misinformation" and "lies." On Sunday, the high school student claimed that "the protestor everyone has seen in the video began playing his drum as he waded into the crowd, which parted for him."
"I did not see anyone try to block his path. He locked eyes with me and approached me, coming within inches of my face," he continued. "He played his drum the entire time he was in my face."
Phillips rejected Sandmann's version of events on Tuesday. "Unfortunately, much of the students' behavior was understood by me and those with me as a mockery of our cultures," he said, adding that approximately half of the students performed the "tomahawk chop" to ridicule him.
"I have read the statement from Nick Sandmann, the student who stared at me for a long time. He did not apologize, and I believe there are intentional falsehoods in his testimony," Phillips said. "But I have faith that human beings can use a moment like this to find a way to gain understanding from one another."
Covington Catholic High School could not be reached for comment on whether they will accept Phillips' offer. Their website has been deactivated as of Tuesday and phone calls to the institution appear to have also been suspended.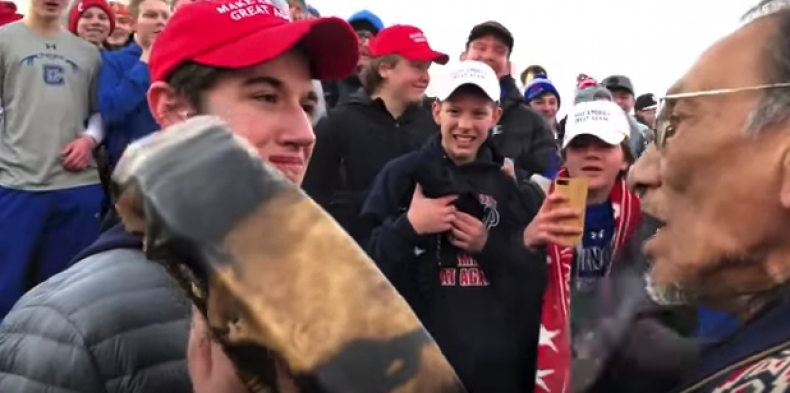 Native American Elder in Viral Video Offers to Meet With Covington Catholic Students | U.S.